Minister for Education Joe McHugh has said he expects schools will be able to re-open in September, and that work is under way to ensure this can be done in a safe way.
Speaking on RTÉ's The Week in Politics, he said those issues are already being discussed with a number of stakeholders. 
"We are going to work towards opening the schools because the NPHET advice is that schools will reopen in September," he said.
He added: "So the question now is, how can we do that in a safe way? I think it is too early to say how that will look. But that is a job we have started and we will continue to work our way through it.
"The last thing I want to do is say in the month of May what this will look like. That's why I want at the heart of this to have a proper consultation."
Mr McHugh also said the Government will consider introducing regulations that will strengthen rules to ensure people quarantine after arriving in Ireland.
He said people are already being asked to quarantine for two weeks after arriving in Ireland, but that there may be inconsistencies in how those rules are being adhered to.
Mr McHugh said he values the opinion of Dr Gabriel Scally, who said stricter border controls are needed between Britain and Ireland.
"We are going to be looking at regulations this week to try and strengthen what is already in place," he said.
He added: "If you ask people today who are abiding by the rules, doing the isolation and working really hard at a community level...what really annoys people is to see inconsistencies.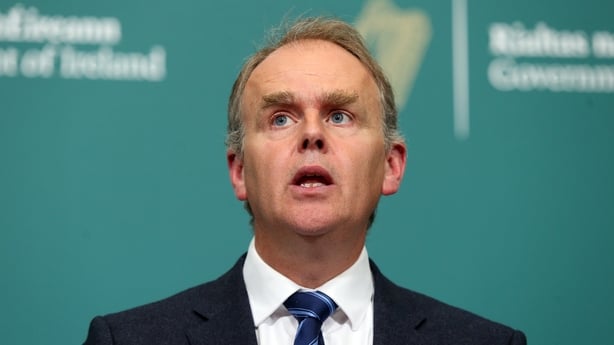 "If there are any inconsistencies that we can get rid of we will do that. If that requires regulations, we will do it in that manner."
Mr McHugh said it would not be possible to legislate because a Seanad has not yet been fully constituted.
"In relation to the interaction between both our islands, there are a lot of people coming back that is correct. But the rule at the moment is that people have to quarantine.
"The people I know from my own county that are coming back from places like London, they are doing that isolation for a two week period. But if we need to strengthen that further, that is the right thing to do," he said.
Speaking on the same programme, Fianna Fáil's Thomas Byrne said legislation might be needed to ensure people are abiding by the two week quarantine rule. 
"As I understand it the vast majority of people flying in to Ireland at the moment are Irish people coming home from abroad, eventually getting home through this pandemic. And I don't want to see them locked out of the country provided that they comply with public health advice in terms of quarantining," he said.
Sinn Féin's Donnchadh O Laoghaire said that people who are filling out forms to say they have been quarantined are not being checked.
He said more information is required. 
"We have asked the Department how many people are being checked, whether they are following up that people are following the public health advice, that they are going to where they say they are going that they are staying where they say they are staying," he said.