While Covid-19 brought towns and cities across China to a standstill in February, one woman and her children walked for five hours in an attempt to return to the mother's hometown.
Despite pleas from government to stay indoors, Front Line Defenders said the woman had no choice but to make the journey after she was beaten by her abusive ex-husband.
The Irish human rights organisation said she had called the police who refused to dispatch officers to help but instead told her to ask family to collect them.
However, authorities did not issue the special permit needed to travel between counties during lockdown.
In the end, her relatives were left with no choice but to convince her ex-husband to drive the mother and children to the county border where they were picked up by their relatives.
For women in Covid-19 lockdown around the world, rights groups are warning that the restriction of movement can be more harmful to them than the virus.
Many women and girls are sheltering 24 hours a day with their aggressors, unable to access shelters and necessary protections.
Even before the spread of the coronavirus, statistics show that a third of women globally have experienced some sort of violence in their lives.
It is as serious a cause of death and incapacity among women of a reproductive age as cancer, according to the UN.
Figures also show that those who are killed are more likely to die at the hands of someone they know.
In 2017, at least 87,000 women were intentionally killed and more than half of them were killed by intimate partners or family members.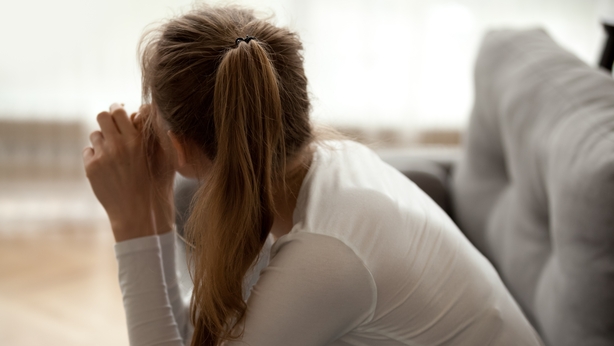 Human Rights Watch has said the restrictions imposed during the pandemic are likely to make it harder for women to access services which are struggling to function properly.
Already, data is being collected by governments and agencies which demonstrate a rise in women seeking help.
Both Lebanon and Malaysia have seen the number of calls to helplines double in March, compared with the same month last year, according the UN.
The Indian National Commission for Women has reported a doubling in the number of domestic abuse cases in the first week of nationwide shutdown.
It is a similar picture in Russia, where the country's human rights commissioner said that the reporting of domestic violence cases have more than doubled since the beginning of limitations of movements.
Speaking to Russia's RIA Novosti news agency, Tatyana Moskalkova said more than 13,000 women called domestic abuse phone line compared with just over 6,000 in March.
While in Turkey, at least a dozen women were killed at home in March according to 'We Will Stop Femicide Platform'.
The Turkish women's rights group also said that they have seen an calls to them increase by 55% this month.
It is an issue which spans across the developing world into developed nations.
Emergency services across Europe have seen a sharp rise in domestic abuse calls under sweeping coronavirus lockdowns imposed across the continent, the World Health Organization said.
WHO's regional director for Europe, Hans Kluge, said countries "are reporting up to a 60% increase in emergency calls by women subjected to violence by their intimate partners in April this year, compared to last".
The French Interior Minister, Christophe Castaner revealed in March that Paris recorded a 36% increase in domestic violence reports.
The Victims Commissioner for England and Wales, Dame Vera Baird QC said on 15 April that there had been at least 16 suspected domestic abuse killings in the country since coronavirus restrictions were imposed, citing campaigners that the figures were higher than the average rate for the time of year.
During Australia's restriction on movements in March, Google also saw searches on domestic violence up by 75% since the first recorded Covid-19 case.
In the place where the virus originated, the World Health Organization said there was a crippling in the number of domestic violence cases reported to a police station in the Hubei Province in China.
UN Secretary-General, António Guterres has described all of these surges in domestic violence which is linked to lockdowns as "horrifying".
Peace is not just the absence of war. Many women under lockdown for #COVID19 face violence where they should be safest: in their own homes.

Today I appeal for peace in homes around the world.

I urge all governments to put women's safety first as they respond to the pandemic. pic.twitter.com/PjDUTrMb9v

— António Guterres (@antonioguterres) April 6, 2020
However, it doesn't end there. Women and girls in the Americas already face some of the worst rates of gender-based, sexual and domestic violence.
Over one week in March, the Brazilian state hotline 'Logue 180' recorded an 18% rise in callers reporting domestic violence.
At least seven women were killed in femicides in Peru since the start of the country's shutdown, said the Peruvian Ministry of Women and Vulnerable Populations.
In Mexico, concern is growing for vulnerable women as lockdown measures have been extended until at least the end of May.
Almost 1,000 women were murdered in Mexico in the first three months of 2020, according to Reuters, which is an 8% increase than the figures last year.
Previous data collected in Mexico shows that two thirds of women have experienced some form violence with almost 44% suffering abuse from a partner.
The United Nations has warned that domestic violence cases globally could increase by at least 31 million if restrictions continue until the end of 2020 without the appropriate measures to protect women.
A number of governments, including Peru and Australia, have announced that they are deploying more resources to try and help women suffering from physical and mental abuse. The French government also created a toll-free text messaging service which puts women in touch with security forces.
But there is still a lot of work to be done.
Amnesty International added that it is "vital" governments, in particular in the Americas, take into consideration the specific risks that women and girls in the region face.
Chair of the European Parliament's Women's Rights Committee, Evelyn Regner said that women will be hit much harder by the post-coronavirus economic crisis and urged member states to increase support.
We've teamed up with #DV experts @NOMOREorg to provide essential guidance to #Survivors. IF YOU, OR ANYONE YOU KNOW NEEDS HELP the below hotlines offer free, confidential services to anyone who has been affected by #DomesticViolence 👇 ☎️ #IsolatedNotAlone pic.twitter.com/LQRFP7aFLB

— The Body Shop (@TheBodyShop) May 5, 2020
The universal pandemic message of "stay home, stay safe and save lives" is not a reality for everyone.
However beauty brands like 'The Body Shop' and 'Avon' want to let women know that even though they are in isolation, they are not alone.
---
Campaign under way to aid domestic abuse victims amid Covid-19
Read more coronavirus stories