The Department of Health has announced that a further 31 people who had been diagnosed with Covid-19 have died.
It brings the overall number of deaths in Ireland to 1,190.
The department also announced an additional 376 confirmed cases of the virus, bringing the overall number infected here past 20,000, standing at 20,253.
One of the deaths reported today involves a person in the 15-24 age group, the second such death in this category.
The latest data provided by the department shows that as of midnight on Monday, when 19,723 cases were confirmed, healthcare workers accounted for 28.2% of cases.
The median age of confirmed cases so far is 49, with a split of 58% female and 42% male.
Over 13% of cases have required hospitalisation, with 355 cases admitted to ICU.
Over 49% of cases are in Dublin, with Cork and Kildare next on 6% each.
Speaking this evening, Chief Medical Officer Dr Tony Holohan also said that as of last Saturday, more than 12,222 people have recovered from the virus (64%), while 1,164 cases (6%) have been discharged from hospital, giving a recovery rate of 70%.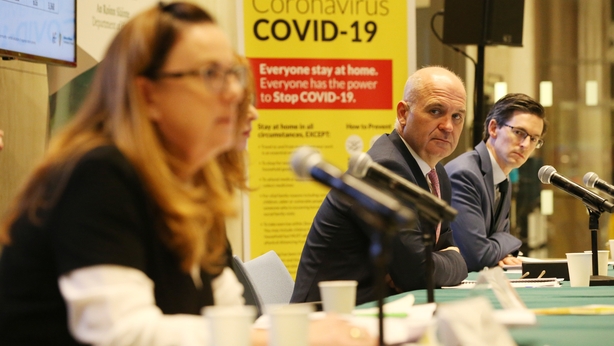 The figures also show there were 3,244 deaths in nursing homes between January and April this year.
There were 73 fatalities occurred in disability centres and 51 in mental health care centres.
Of these, Covid-19 accounted for 586 deaths in nursing homes, 16 in disability centres and 14 in mental health centres.
Dr Holohan also said that when he looks at the level of the disease in the population, he does not see "the kind of circumstances" today that would lead him to recommend an easing of Covid-19 restrictions.
He said his advice to the Government this evening would be "not to lift restrictions".
Ireland had made great progress and limited the impact of the coronavirus, he said, but added that he did not anticipate a significant change in the advice from the National Public Health Emergency Team in the coming days.
The Government is due to make an announcement on the restrictions, based on advice from NPHET, on Friday.
---
Read more:
Nine residents with Covid-19 die at Cork hospital
No evidence of non-compliance at Wexford mobile homes
Live coronavirus updates as they happen
Latest coronavirus stories
---
On advice about wearing masks, Dr Holohan said the measure would be given further consideration at the next NPHET meeting on Friday and that the advice would be passed onto the Government.
On the new testing criteria causing a spike in testing, he said it was too early to tell, but there has been an increase in referrals from GPs for tests.
We need your consent to load this rte-player contentWe use rte-player to manage extra content that can set cookies on your device and collect data about your activity. Please review their details and accept them to load the content.Manage Preferences

Dr Holohan said there were no reports to date of anyone in Ireland being re-infected with the virus.
On making the minutes of NPHET meetings available, Dr Holohan said they had made a decision to make them available, but there has been a delay in publishing them.
He said more effort will be put into that, with the minutes from two weeks ago currently on the website, and the work to put them up will continue.
Dr Holohan said the team is committed to transparency and it wants to make its thinking and rationale available and explain it as best it can.
'Not there yet to ease restrictions' - Varadkar
The figures come as Taoiseach Leo Varadkar earlier said the numbers around ICU admissions, new cases and deaths due to the virus "just aren't good enough yet" to start easing restrictions.
Mr Varadkar said he hopes to be able to set out the different steps to reopen the country and ease restrictions, but suggested that an easing would not be announced this week.
He said: "We expect to be in a position to share the exit strategy with the Irish public in the next couple of days, certainly over the weekend.
"We'll be getting new advice from the Chief Medical Officer on Friday as to when we should start that process of reopening the economy and the country."
Meanwhile, the HSE has confirmed that frontline healthcare workers who cannot attend work due to childcare difficulties will be paid to stay at home, on the basis that they remain available for work from home in other roles.
In a new protocol circulated to HSE managers today, National Director of HR Anne Marie Hoey stated that there is no special paid leave available for Covid-19 caring arrangements during this time.
However, she also informed managers across the HSE that as employees in this situation may be assigned alternative duties at any stage during the emergency, they will continue to be paid their normal basic salary and fixed allowances where applicable pending such an assignment.
Elsewhere, the Department of Education has abandoned plans for autumn school tests to replace this year's cancelled Junior Certificate examinations.
Instead, all third year students are to receive a certificate of completion, and schools are to award marks to students based on assessments or tests of their own devising.