Taoiseach Leo Varadkar has said the numbers around ICU admissions, new cases and deaths due to Covid-19 "just aren't good enough yet" to start easing restrictions.
"Maybe it'll change significantly by Friday, but as things stand I don't think we're there yet," he said.
Mr Varadkar said he hopes to be able to set out the different steps to reopen the country and ease restrictions, but suggested that an easing would not be announced this week.
He said: "We expect to be in a position to share the exit strategy with the Irish public in the next couple of days, certainly over the weekend.
"We'll be getting new advice from the Chief Medical Officer on Friday as to when we should start that process of reopening the economy and the country."
The Taoiseach said that in doing so he had to look at the number of patients in intensive care units with coronavirus, the number of new cases, and the number of deaths.
Mr Varadkar said: "I don't think I'd be [talking] out of school by saying that those numbers just aren't good enough yet."
He said he understood that people were at this stage "enormously frustrated" and had been responding well to the restrictions.
Any media speculation about restrictions was "just speculation", he said, and should be ignored.
---
Ultimately the politicians are accountable for handling of crisis, not NPHET
---
Mr Varadkar said that on a "per head per capita" basis, Ireland was the sixth highest country in the EU in terms of testing for the virus.

The Taoiseach was speaking after visiting a Covid-19 Community Assessment Hub at DCU in Dublin with Minister for Health Simon Harris and Health Service Executive CEO Paul Reid.
The centres are used by people who have tested positive for the virus so that they can be treated separately from other patients.
Mr Varadkar said the centres were currently working way below the level of capacity and this was "a good thing". He said that about 1,000 people had so far been treated at the hubs.
He also said the Government is considering advising people to wear "face coverings" in public.
He said there was a trend across the developing world advising people to wear masks in places where social distancing is difficult, such as on public transport or in an enclosed indoor space.
Mr Varadkar said it was not a straightforward decision based on science, as there was no agreement on the issue within the scientific community.
He said the Government would be in a position to offer revised advice to the public later this week.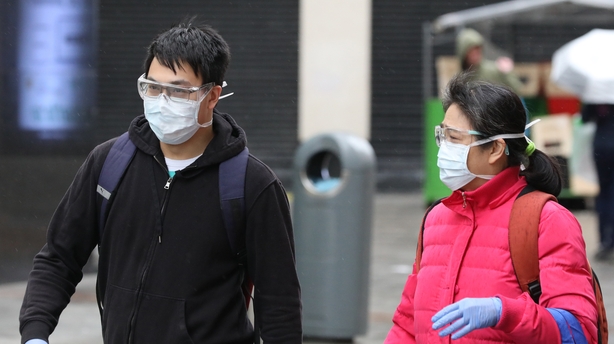 Liam Glynn, Professor of General Practice, Graduate Entry Medical School, University of Limerick is recommending that people wear masks in crowded public areas.
Speaking on RTÉ's Today with Seán O'Rourke, Prof Glynn said surgical masks should not be worn by the general public as they should be kept for healthcare workers, but the general public can wear homemade cloth masks.
He said a simple cloth or cotton can be used to make your own mask at home.
Prof Glynn added: "Cut it to shape. You need to be able to layer the cloth more than once, ideally three or four layers. It should be able to fit snugly around your face and secure with ties or ear loops.
"You need to be able to breathe with it and to wash it. Put it into your washing machine and wash your hands after that."
The capping of the price of masks should be considered, he said, as he is aware there is global profiteering taking place over Personal Protective Equipment (PPE).
He said it is important that the supply of PPE to healthcare workers is Ireland of an appropriate quality and that it gets to people who need it.
Society would benefit from easing of some restrictions - McConkey

Earlier, an infectious disease specialist at the Royal College of Surgeons said he thinks Irish society would benefit from an easing of some restrictions to allow people to go outside safely with social distancing.
Professor Sam McConkey said it was low risk and relatively safe for children and over 70s to work and play outside once masks were worn and people kept their distances.
He said it was inevitable the coronavirus would spread again and must be quickly and effectively identified within hours so that it can be traced and isolated and not continue to spread onwards.
He said it was really key that the testing system is robust and that when a GP orders a test a result is available within a few hours and is followed by action at a public health level to trace contacts within three to six hours.
This is the way to prevent one case being the seed of a new wave of infection, Prof McConkey added.
Speaking on RTÉ's Morning Ireland, Prof McConkey said that authorities responded promptly and effectively in the early weeks of the Covid-19 crisis, but that a different cross-party political approach is needed going forward to make "some of the hardest decisions we will make in 100 years".
Meanwhile, the Chief Executive of Ibec said the cost of the Covid-19 pandemic has been huge economically and efforts must begin to return to a new normal.
Danny McCoy said when this situation began, everyone believed it to be temporary, but this is clearly not the case and we will all be living with this virus for months.
He said we need a roadmap that reflects this reality and we need to be conscious of losing our livelihoods as well as our lives.
Mr McCoy pointed out that a return to work would involve sharing public space and said companies need to know how this will work.
---
Read more: Latest coronavirus stories