The Health Service Executive has confirmed that frontline healthcare workers who cannot attend work due to childcare difficulties will be paid to stay at home, on the basis that they remain available for work from home in other roles.
In a new protocol circulated to HSE managers today, National Director of HR Anne Marie Hoey states that there is no special paid leave available for Covid-19 caring arrangements during this time.
However, she goes on to inform managers across the HSE that as employees in this situation may be assigned alternative duties at any stage during the emergency, they will continue to be paid their normal basic salary and fixed allowances where applicable pending such an assignment.
Ms Hoey cites revised Covid-19 guidance for public service employers regarding working arrangements and temporary assignments across the public service from the Department of Public Expenditure and Reform.
She notes that in circumstances where one parent/guardian/partner is an essential healthcare worker, the other parent/guardian/partner will be supported by their public sector employer to remain at home to care for any children to ensure the essential healthcare worker can go to work.
Ms Hoey urges managers to engage with relevant employees to ensure appropriate arrangements are put in place, including flexible working arrangements, home working or adjusted shifts for the non-healthcare worker partner, in order to facilitate staff in balancing work and caring responsibilities.
---
Read more:
Healthcare workers who cannot find childcare to be paid to stay at home
Latest coronavirus stories
---
However, she goes on to state: "Though not anticipated, in the event that flexible arrangements do not allow the essential healthcare worker to attend work it will be dealt with on a case by case basis."
Temporary assignment to another role should also be considered, with the protocol stating: "If employees cannot work outside the home and cannot perform their current role remotely, the employee is still to be considered as actively on duty and available to work."
Ms Hoey tells managers that they are required to be "flexible and innovative" in terms of ensuring that employees remain as productive as possible during this time, saying this may include assigning work outside the usual core duties, in potentially a new role.
The HSE protocol says this must be continuously reviewed by management to ensure employees are placed where they are most needed to deliver critical services.
The key paragraph relating to pay states: "As employees in this situation may be assigned alternative duties at any stage during Covid-19, they will continue to be paid their normal basic salary and fixed allowances (where applicable) pending such assignment."
The HSE says employees in this situation are considered to be available for duty and therefore should not be treated as being on special leave with pay for Covid-19, sick leave, annual leave or any other type of leave (unless such leave was already pre-booked in the normal manner).
Meanwhile, managers are advised to consider requests for other forms of leave such as annual leave "in light of service requirements and the employee's particular circumstances".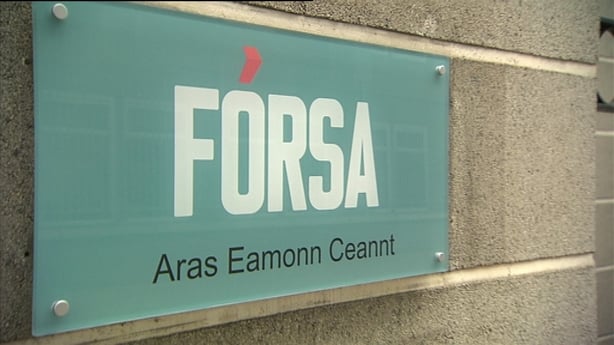 The Fórsa trade union has criticised the proposed arrangements, saying they fall far short of what is required to assist essential health staff, and to maximise staff numbers available in hospitals, community health services and nursing homes.
In an update to members, Fórsa states: "While it has been widely reported that the HSE was considering paid leave for staff with childcare responsibilities, clarification received from the HSE today confirms that this will not happen".
Fórsa said this possibility was raised by the HSE at a meeting with health unions yesterday, and that the union had sought clarification on the basis that "such a proposal seemed to contradict official DPER (Department of Public Expenditure and Reform) advice".
Fórsa also said the HSE proposal was unclear on how it would be compatible with providing essential services during the Covid-19 public health crisis.
The union said health unions have repeatedly sought a solution where the HSE provides direct childcare support to essential workers, and/or meets the costs of the childcare arrangements that individual staff members put in place for their children.
Fórsa insists that while health unions have pressed the Government to deliver on its commitment to provide childcare supports, the union did not seek the proposal floated by the HSE yesterday.
The union update says the HSE has confirmed that it is essentially following Department of Public Expenditure and Reform guidance on childcare supports for essential workers.
Fórsa stressed to the HSE that this remains the union position and that urgent action by Government is required.
"Last week's Government announcement that public servants who are partners of essential health staff could be given paid leave to assist with childcare is of little help. It will not help those hit hardest by childcare difficulties, single parents, and families where both adults are essential workers or assist health workers whose partners have jobs in the private sector," Fórsa said.
The union added that health service staffing pressures have worsened in recent weeks because significant numbers of health workers have contracted the virus or have had to self-isolate.
"Meanwhile, the lack of Government support means increasing numbers of health workers have been forced to take annual leave to cover gaps in their temporary childcare arrangements", the union states.
It said this has penalised the very people who provide essential services, often at considerable personal risk to themselves, and has further depleted the staff complements in hospitals and elsewhere.
Fórsa noted that for the seven weeks since Taoiseach Leo Varadkar announced the closure of all schools and crèches, the Government has been promising to "quickly" put childcare supports in place for essential staff treating patients with coronavirus.
It said that essential health staff are "dismayed" at the lack of progress.
The Irish Nurses and Midwives Organisation said it welcomed clarification from the HSE that frontline healthcare workers will be treated equally to other public servants.
In a statement general secretary Phil Ní Sheaghdha said: "The HSE's document sets out that managers must be extremely flexible, using rostering and other means to ensure that workers can safely balance childcare and work.
"Where that's not possible, employees may be assigned alternative duties at home. This would allow them to continue to work, but also to take care of their children. They will be paid their full salary and allowances, and will be considered available for duty, not forced to use any form of leave.
"This is a welcome step to ensuring that frontline nurses and midwives are not discriminated against simply because they have children to care for."
Meanwhile, the HSE's National Director of Human Resources told RTÉ News that paying frontline health care workers while at home due to childcare difficulties was a measure of "last resort".
Anne Marie Hoey said the HSE was very aware of the childcare responsibilities of staff, but had to balance that with the requirement to deliver health services.
She said that health care personnel wanted to come to work, and had shown great creativity in developing new ways to function during the Covid-19 crisis.
Ms Hoey stressed that in the first instance, managers were using every possible flexibility to assist workers, and noted that in delivering a 24/7 services, it was possible to vary working hours.
However, she said that where workers had to stay home, alternative home-based tasks would be found for them, including possible contact tracing, or delivering information on phone lines.
Ms Hoey said that the Department of Public Expenditure and Reform had confirmed that the HSE childcare proposals complied with the overall DPER guidance for public service work practices during the emergency.