Taoiseach Leo Varadkar has appealed for people to keep obeying the current Covid-19 restrictions.
At a press briefing to launch the Government's new wellbeing initiative #InThisTogether, he was asked about people becoming more relaxed about the measures currently in place until 5 May.
"People breaking the rules should bear in mind the consequences ... it could be having to extend the current lockdown for two to three weeks.
"We want to be in a position where we can ease restrictions but that is not going to be possible if the virus begins to reproduce at a faster rate," he said.
"I would really appeal to people [to obey the restrictions] as the next 11 days are going to be crucial.
"I don't want to be seen as waving a big stick but common sense should prevail. It is a real worry that people are becoming more lax."
Asked if there would be wider enforcement of restrictions by gardaí, the Taoiseach said that would be up to the Garda Commissioner.
The National Public Health Emergency Team met today to review the latest information about the spread of Covid-19 and consider its next move.
The meeting comes as all the evidence and modelling of the pandemic is indicating that the spread of the coronavirus in the community has been suppressed but that it is still growing in nursing homes.
We need your consent to load this rte-player contentWe use rte-player to manage extra content that can set cookies on your device and collect data about your activity. Please review their details and accept them to load the content.Manage Preferences
---
Read:
Latest coronavirus stories
---
Data revealed yesterday indicated that the number of new coronavirus cases being detected in nursing homes is running at about 100 per day and rising.
The number of confirmed cases being detected in the community is just under 500 per day, but trending downwards.
Testing for Covid-19 has been significantly ramped up in nursing homes, with 18,000 residents and staff already tested since last Saturday, according to the Health Service Executive Chief Paul Reid. 
Chief Medical Officer Dr Tony Holohan said earlier his expert team will consider what changes they might make to the rules and case definitions that determine who among the general community will be tested for the virus and when that testing might be done.
They will also consider the likely future path of the infection and what that means for any plans to the lift heavy restrictions on movement, work, and public gatherings imposed since 27 March.
An Emeritus Professor of Public Health and Epidemiology at the Royal College of Surgeons has said that we can only ease the measures imposed to curb the spread of Covid-19 if people take responsibility for how they engage in more relaxed behaviour.
Prof Ruairí Brugha told RTÉ's Morning Ireland that the measures we are under now is an "almost simpler" scenario because people know what they have to do, stay at home and social distance.
"It isn't enough to have four-fifths of us taking this seriously", he said.
"It only takes two or three per cent of us behaving in a really irresponsible way and this virus will jump up again."
How we behave when the rules are relaxed will determine if we maintain control of the epidemic or risk a second epidemic further down the road, Prof Brugha said.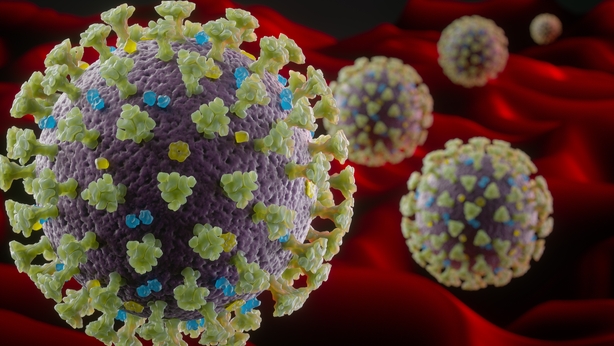 He added that once measures have been relaxed, it would be "very difficult" to put a halt to that.
"We need to be looking at a communication strategy moving forward," he said.
"Whether you're going to work or your child is going to school, each morning you should go through the monitoring of suspected symptoms and check temperatures.
"We have to double down on distancing measures and that will be difficult, because some people will think we're going back to normal. We're not."
Prof Brugha said that a vaccine is "a probability, eventually", but we do not know when.
He said that while treatment of the virus will certainly play a role, we are in this for "the long haul".
Meanwhile, Minister for Employment Affairs and Social Protection Regina Doherty has said the Covid-19 payment cannot be sustained indefinitely at the current level, but she said it will be sustained for as long as Ireland can borrow at the levels it can borrow at.
Speaking after the first meeting of a newly created Labour Market Advisory Council, she said significant support will be needed for people in industries that do not bounce back.
Minister Doherty added that employees within those sectors will need support to retrain or re-skill. 
WHO aims to speed up tests and vaccines
Meanwhile, the World Health Organization is expected to announce a landmark collaboration to speed up the development, production and use of safe effective Covid-19 drugs, tests and vaccines that will be accessible to everyone who needs them worldwide.
Yesterday, the Department of Health was notified of a further 28 deaths of people who had been diagnosed with Covid-19. 
There have now been 794 laboratory confirmed virus-related deaths in Ireland. 
Three deaths that had previously been reported are no longer classified as related to Covid-19. 
The number of additional cases of the virus diagnosed is 936, bringing the total number of cases here to 17,607. 
Elsewhere, new figures released by the Northern Ireland Statistical Agency show a third of all coronavirus deaths in Northern Ireland happened in care homes.
A total of 276 coronavirus deaths were recorded up until 17 April, with 93 or 33.7% occurring in care homes.
It said 166 (60.1%) occurred in hospitals, three (1.1%) occurred in hospices and 14 (5.1%) occurred at residential addresses or another location. 
The figures are different from the Northern Ireland Department of Health, which only counts deaths in hospitals.
Its latest update yesterday said 263 people had died from coronavirus in hospitals.
Around 80% of cases of Covid-19 will be a mild to moderate illness, close to 14% have severe disease and around 6% are critical.
Generally, you need to be 15 minutes or more in the vicinity of an infected person and within 2 metres of them, to be considered at-risk, or a close contact.
Additional reporting: George Lee