Taoiseach Leo Varadkar has launched a new initiative called #InThisTogether to help look after people's physical and mental wellbeing during the Covid-19 pandemic.
Mr Varadkar said it was more important than ever to stay mentally fit, physically fit and to stay connected. "I am missing the gym myself," he admitted.
The campaign - which starts today - encourages everyone to pick a new activity which could help them to feel a little healthier or a little better as we deal with Covid-19.
The Taoiseach was joined at the launch by Minister for Health, Simon Harris and Minister for Children & Youth Affairs, Katherine Zappone.
#InThisTogether signposts useful advice to help people of every age group to cope with the ongoing restrictions, whether they are looking after children, dealing with self-isolation, preparing for the Leaving Cert, or coping with cabin fever.
It will offer regular videos, ideas and activities for people of all ages over social media, broadcast media including RTÉ's 2FM - where Niall Horan will host a special show - and is being promoted by the Community Call forums which have been set up across Ireland.
All this information is being made available on gov.ie/Together, on your local authority website, on social media, television, radio and newspapers throughout the Emergency and you can find details of local initiatives on your local authority website.
Ms Zappone said a number of resources are being launched for children and parents.
The new online resource for parents, entitled Parents Centre will provide additional support for parents and their families.
Minister Zappone also launched an initiative for children – Let's Play Ireland a gov.ie resource to support children and young people's play during this time.
Let's Play Ireland is an online portal on Gov.ie, providing access to a range of play resources for children.
A key element of that support comes under First 5, the Government's strategy for babies, young children and their families, and includes play and learning resources for children under six.
CEO of Sport Ireland, John Treacy, said that it was up to the government to green light the resumption of sport. He said it would be trickier for contact sports to resume but non-contact sports played outdoors with room for physical distancing would be the priority.
World champion boxer Kellie Harrington spoke about the importance of physical activity to combat the isolation of lockdown.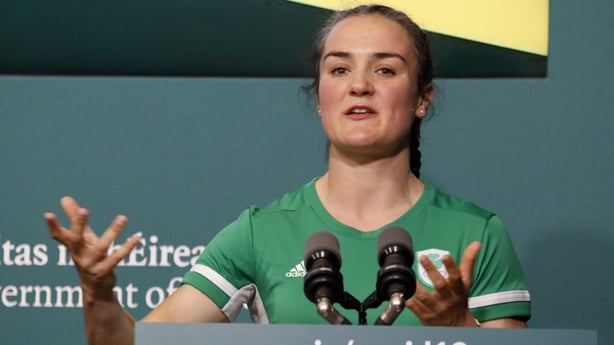 She said that training at home helped her through self-isolation and that Irish athletes will be posting fitness tips online as part of the campaign.
Minister Simon Harris said: "Our wellbeing goes beyond our physical health. Now more than ever, we need to be there for each other.
"Whether that be through group exercise classes, or through educational supports, video calling your family, we must do everything we can to protect our health - mental and physical. Supports are available and our health service is there for you."
Highlights of #InThisTogether at gov.ie/Together include:
A virtual Bloom At Home where well-known gardeners, show garden designers and Bord Bia Bloom staff will share their advice and tips throughout May, encouraging people to prepare their own plants and gardens, balconies and window boxes for a national celebration. This will culminate in a final virtual Bloom Day showcasing the nation's efforts.
Fleadh Cheoil na hÉireann, which attracted 750,000 visitors in 2019, will be reimagined as a digital and virtual Fleadh for 2020. TG4 is partnering with Comhaltas Ceoltóirí Éireann to deliver this special 2020 event;
Live concerts over the internet and social media through #IrelandPerforms;
Motivational exercise videos for people of all ages from Irish athletes;
Music-making initiatives for young people;
Online classes in dance, meditation, and movement;
Virtual classes in traditional skills like weaving, printing, basket making, jewellery, ceramics;
Educational tutorials for young people including learning an Irish-language song, or making your own podcast;
Thousands of e-books and e-audiobooks that you can access at home;
Activities for young people from Gaisce, Foroige and Comhairle na nÓg;
Walking challenges to encourage people to exercise in their locality.