US President Donald Trump has played down a furore over his suggestion that people could try injecting disinfectants to fight Covid-19.
He told journalists at the White House: "I was asking a question sarcastically to reporters like you, just to see what would happen." 
US President Donald Trump has said he was being sarcastic when he raised the possibility of using disinfectant inside people's bodies to fight the coronavirus | Read more: https://t.co/VN1SPeVHga pic.twitter.com/iBzdnZFpV4

— RTÉ News (@rtenews) April 24, 2020
During a press conference yesterday evening, Mr Trump turned to government scientists in the room and asked them about the role of disinfectants in killing the coronavirus.
Mr Trump said: "It knocks (the virus) out in a minute. One minute. And is there a way we can do something like that, by injection inside or almost a cleaning? Because you see it gets in the lungs and it does a tremendous number on the lungs." 
A number of doctors and manufacturers of disinfectant products have spoken out about the president's comments. 
President Trump now says he was talking to a journalist, putting "a sarcastic question to a reporter".
In fact, he was talking directly to a Department of Homeland Security official in the briefing room, Bill Bryan.
Sitting alongside Mr Bryan was top White House coronavirus medical advisor Dr Deborah Birx.
Mr Trump often spars with journalists at his daily briefings and he did again yesterday, calling two of them "fake". 
He also repeated his regular complaints that the media does not treat him fairly and plays down his accomplishments.
However, when discussing the injections, he had not even reached the question-and-answer stage of his briefing, and the whole discussion was between him and other officials.
The comment about the disinfectants caused widespread confusion and alarm today.
The White House spokeswoman, Kayleigh McEnany, said the media had taken "President Trump out of context," but did not say he was being sarcastic.
We need your consent to load this rte-player contentWe use rte-player to manage extra content that can set cookies on your device and collect data about your activity. Please review their details and accept them to load the content.Manage Preferences
Dettol firm advises against using disinfectant
The company that makes Dettol has urged people not to try injecting disinfectants as a way of treating Covid-19
Disinfectant manufacturer RB, the company behind the Dettol and Lysol brands, said: "Due to recent speculation and social media activity, RB has been asked whether internal administration of disinfectants may be appropriate for investigation or use as a treatment for coronavirus.
"As a global leader in health and hygiene products, we must be clear that under no circumstance should our disinfectant products be administered into the human body (through injection, ingestion or any other route)."
A number of doctors in the US have spoken out about the president's comments on disinfectant.
Speaking to NBC News, Pulmonologist Dr Vin Gupta said the idea of injecting disinfectant into the body was "irresponsible and dangerous".
Others warned that breathing fumes from bleach could cause severe health problems.
"Inhaling chlorine bleach would be absolutely the worst thing for the lungs," San Francisco General Hospital Pulmonologist John Balmes told Bloomberg News.
"The airway and lungs are not made to be exposed to even an aerosol of disinfectant."
Anne Moore, senior lecturer in biochemistry in @ucc warns against ingesting or injecting bleach/disinfectant. #todaySOR

— Today Sean O'Rourke (@TodaySOR) April 24, 2020
It has long been known that ultraviolet light has a sterilising effect, because the radiation damages the virus's genetic material and their ability to replicate.
A key question, however, will be what the intensity and wavelength of the UV light used in the experiment was and whether this accurately mimics natural light conditions in summer.
"It would be good to know how the test was done, and how the results were measured," said Benjamin Neuman, chair of biological sciences at Texas A&M University. 
"Not that it would be done badly, just that there are several different ways to count viruses, depending on what aspect you are interested in studying."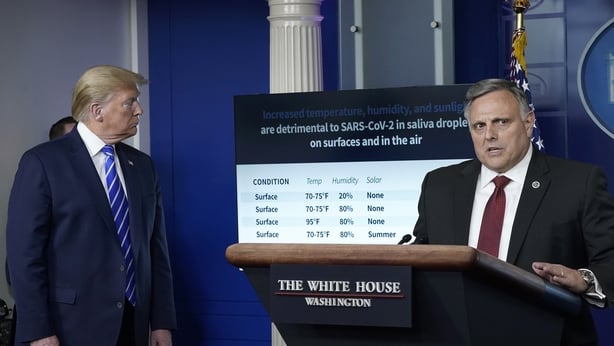 ---
Read:
Latest coronavirus stories
---
US to test some immigrants for coronavirus before deportation 
The United States plans to begin testing some migrants in detention for Covid-19 before deporting them, an official familiar with the effort has said, after infections among deportees in Guatemala, Haiti and Mexico. 
Immigration and Customs Enforcement (ICE) will acquire 2,000 tests per month from the US Department of Health and Human Services (HHS) to screen deportees, the official said, without mentioning the timing. 
The agency is unlikely to have enough tests for all deportees and will need to prioritise, the official said, speaking on condition of anonymity. 
ICE and HHS did not immediately respond to a request for comment. 
The move comes amid criticism from foreign governments about receiving migrants infected with the coronavirus. 
Guatemala said it would stop receiving deportees from the United States after dozens of returning migrants tested positive. 
Cases of infection among deportees have also been reported in Haiti and Mexico. 
ICE moved to step up testing to avoid risking more countries pulling back cooperation with deportation flights, the US official said. 
More than 250 immigrant detainees in US custody have tested positive for Covid-19. But only some 425 tests had been conducted on the more than 32,000 detainees nationwide, an ICE spokeswoman said. 
Dozens of unaccompanied migrant children in HHS custody have also tested positive for the virus, the agency has said. 
US Congress passes €500bn rescue package 
Meanwhile, the US Congress has passed a $500bn rescue package, the latest in a series of economic stimulus plans to deal with the impact of the coronavirus.
The money will be used to assist small businesses as well providing funding for hospitals and expanded Covid-19 testing. 
It will be used to replenish a small business relief programme, which ran out of money earlier this month.
From today businesses such as hair salons and gyms will be able to reopen in the state of Georgia but Mr Trump has criticised the move.
Last night, he said that social distancing guidelines may be extended beyond their 1 May end date.
An array of businesses in Georgia and other states are preparing to reopen for the first time in a month under newly relaxed coronavirus restrictions, as another week of massive unemployment claims highlighted the grim economic toll of the pandemic. 
From Tennessee and Texas to Ohio and Montana, a handful of governors around the country have announced plans to swiftly allow a return to business for some workplaces that had been ordered closed in an attempt to curb the spread of the coronavirus. 
Those plans have drawn fire from public health experts and other governors who warn a premature easing of stay-at-home orders and business closures imposed over the past five weeks could trigger a renewed surge in coronavirus cases. 
Contrary to even White House objections, Georgia Governor Brian Kemp, a Republican, has cleared the way for gyms, hair salons, bowling alleys and tattoo and massage parlors to resume business today, followed by cinemas and restaurants next week.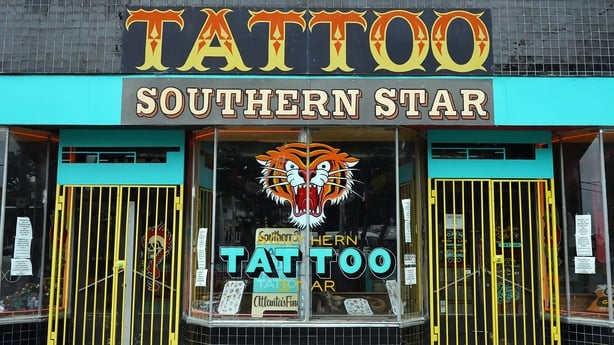 South Carolina began to ease restrictions on Monday. Florida opened some of its beaches last Friday. 
Georgia has recorded nearly 850 deaths out of more than 21,000 cases, the 11th-highest fatality toll among the 50 US states. 
US Labor Department data released yesterday showed 26.5 million Americans had sought jobless benefits over the last five weeks, effectively erasing all jobs gained during what had been the longest economic expansion in US history and rendering a level of unemployment not seen since the Great Depression of the 1930s. 
While some idled workers have welcomed moves to reopen the economy, others fearful of returning before it is safe to do so face a quandary - state unemployment laws generally bar them from collecting jobless benefits if they refuse work, said Thomas Smith, an associate professor at Emory University's Goizueta Business School. 
"You're asking people to put their life on the line," Prof Smith said. "These people aren't Army Rangers - those people signed up for combat. A barber did not." 
The United Auto Workers (UAW) union moved to keep its members from facing that dilemma, despite steps taken by Detroit's major car makers to restart production in early May with Michigan's governor under growing pressure to permit it. 
"We strongly suggest to our companies in all sectors that an early May date is too soon and too risky," UAW President Rory Gamble said, citing insufficient coronavirus testing to assure workplace safety. 
Underscoring risks posed to industrial plants, where workers have little if any space for social distancing, the nation's largest meatpacking union said more than 5,000 meat and food-processing workers have been infected with or exposed to the coronavirus, with 13 deaths. 
Major meat processors, deemed essential businesses, have been forced to close numerous beef, pork and poultry plants in recent weeks due to outbreaks, limiting US production as demand has increased at grocers.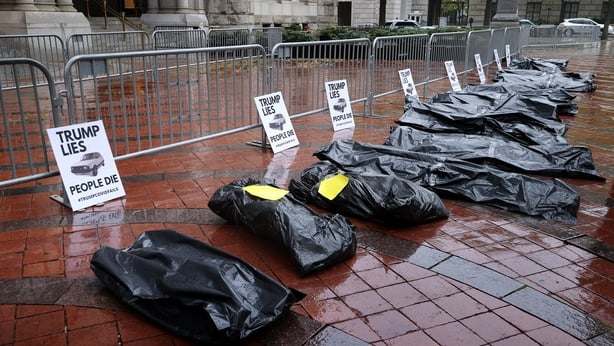 Chanting "Trump lies, people die!" demonstrators in Washington, DC placed fake body bags outside the Trump Hotel and called for Mr Trump's resignation over his handling of the coronavirus crisis. 
"Thousands of people are dying because of this incompetent president. This sick president. The whole world wants him out," said one unnamed masked protester during the rainy demonstration outside Washington's Trump Hotel. 
The United States is now approaching 900,000 coronavirus cases, and nearly 50,000 fatalities from Covid-19, according to a Reuters tally.