"We don't want to get the virus either," laughs Gary, an inmate at Cloverhill Prison. "We're working together (with the prison service and the prison officers) on this one alright."
It is not unusual for the country's prisons to go into lockdown, but it is unprecedented that they do so because of the dangers posed by a global pandemic
The Prison Service has introduced a range of measures to prevent an outbreak of Covid-19 in the prisons.
Social distancing has been brought in for staff and inmates; the gyms and recreation halls have been closed; deep cleaning systems are in place and all visits have been cancelled.
Such restrictions would under normal circumstances would give rise to tension, which has in the past led to violence and riots in the prisons.This time, however, the situation has remained calm.
That is because everybody involved in the prison system is working together to prevent an outbreak of coronavirus in any Irish prison.
So far all their efforts have been successful. Eighty inmates have displayed symptoms, but they have been isolated and none have tested positive yet.
Prison officers, medics and other frontline staff must wear Personal Protective Equipment - gowns, goggles and masks - when dealing with these inmates.
They have been specially trained and in the true spirit of public service have actually volunteered to do this work. Cloverhill in Dublin has designated its F Wing as an isolation unit for these inmates.
Cloverhill is one of the more high risk jails for Covid-19. It is a remand prison so more than 100 inmates would be admitted and released every day.
With more people coming and going from the outside, the risk of the infection getting into the self-contained prison environment is high. Prisons, like nursing homes, are therefore high risk.
Prison nurse Sean Monaghan said: "We have taken all the steps we can to keep it out, including assessing and taking the temperature of everyone that comes into the prison from the outside, including inmates, staff, prison service officials and gardaí."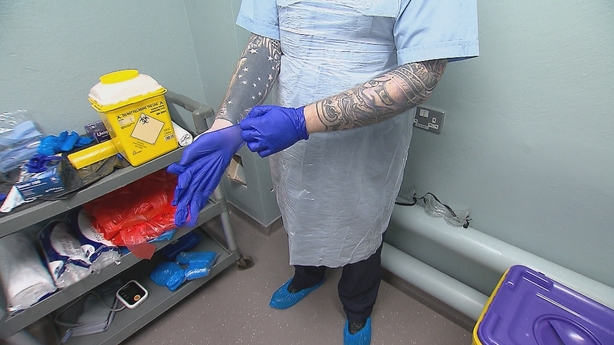 The routine of the prisons has been changed.
Large numbers of inmates can no longer congregate together and the prisoners are fed in smaller groups at mealtimes, with social distancing markings everywhere to be observed.
Plates and mugs are no longer used. Hot food is given to the inmates in disposable carry out cardboard containers. 
Another 300 inmates have also been given special temporary release as part of the measures to combat the virus and reduce the risk of contagion.
The prisons are overcrowded but the Director of Care and Rehabilitation, Fergal Black, insisted that no one who poses a potential danger has been freed. "Public safety is paramount," he said. 
The Prison Officers Association is also supporting the measures pointing out that its members are among those most at risk.
There are 60 prison officers self-isolating after becoming symptomatic and some have contracted Covid-19. 
POA Assistant General Secretary Gabriel Keaveney said while prison officers would not normally take a "hands off" approach when dealing with inmates, they understand in these circumstances why the inmates do not want contact with officers or staff because transmission from outside is a risk.
We need your consent to load this rte-player contentWe use rte-player to manage extra content that can set cookies on your device and collect data about your activity. Please review their details and accept them to load the content.Manage Preferences
Trusted prisoners and red cross volunteer inmates are spreading the message to their fellow inmates to wash their hands and maintain social distancing.
The prisoners say their greatest fear is catching the virus from the staff. They are aware of the dangers and understand the reasons for the lockdown, which has changed their routine. 
Another unexpected development has been the reduction in drugs and contraband now coming into the prisons.
This is not only because of the restrictions, but also because of the increased garda visibility outside and the reduction of drugs on the streets. 
"Prisons are a microcosm of society", Assistant Governor at Clover Hill David Tracy said. "What happens outside is reflected inside."
As one inmate succinctly put it: "It's not only harder to get the drugs in, it's harder to get the drugs, full stop."