Irishman Clive Anderson got an alarming letter from his local medical examiner's office in New York last week.
The letter said that New York officials were expecting 5,000 deaths due to Covid-19 and they needed his help.
"Now, that puts goosebumps on the back of your head," he said.
Mr Anderson owns Pelham Funeral Home in Westchester County, about a 30-minute drive from Manhattan.
The Cork native has been a funeral director for over a decade in the United States.
It was a direction he wanted to take since he was a teenager after his father died from cancer.
He bought the funeral home from the children of its owner in 2014.
Now living in the epicentre of one of the biggest crises of a generation, he is going above and beyond to help New Yorkers grieve in a new restrictive world.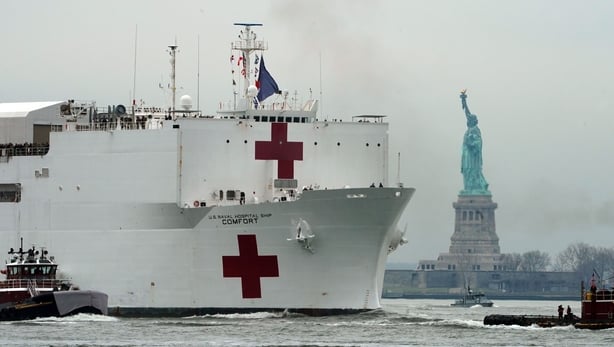 As temporary hospitals are built in Central Park and a floating medical facility is docked on the Hudson River, Mr Anderson said there aren't enough mortuaries to deal with the projected number of deaths in New York.
The medical examiner is concerned that they won't have the staff to transport patients who die from Covid-19 and store their remains.
"My fear is that if we don't at least give the family an opportunity to say their farewells and spend some time with their loved one this is going to have an effect on their lives 10 years from now, 15 years from now, 20 years from now. We're doing everything we can."
Mr Anderson told RTÉ's States of Mind podcast that the medical examiner's office reached out to those with funeral homes to see if they could assist the state.
As of yesterday, 1,218 people have died from coronavirus in New York, an increase from the 965 deaths on Sunday.
If numbers start to surge further, the bodies of those who die will be transported and kept in facilities like Mr Anderson's until proper burials can take place.
Like millions, Mr Anderson's life changed drastically this spring.
Funeral homes have been deemed essential by New York Governor Andrew Cuomo, but Mr Anderson has had to overhaul his business.
Not only does he have to restrict the amount of people in the funeral home, he's stepping in to console families during this difficult time.
"You're only allowed to go in with your immediate family, you spend a couple of minutes, and then you leave the funeral home and you go to the cemetery," he said.
"We had one this morning… and when we got to that cemetery, the cemetery told us that it's only the hearses allowed into the cemetery and the family have to stay outside."
He said that families "can't get any closure" right now as the Catholic Church has suspended all funeral masses and clergy are prohibited from entering funeral homes due to the outbreak.
We need your consent to load this rte-player contentWe use rte-player to manage extra content that can set cookies on your device and collect data about your activity. Please review their details and accept them to load the content.Manage Preferences
He said he's trying to do everything he can to help families suffering.
"It's nearly like I'm becoming Father Clive now you know? I'm a funeral director… and I'm trying to be there and help them as much as I can, and try and have some kind of a service. Even though I'm not an ordained clergy, I'm trying to do something because right now these people have absolutely nothing."

The moment the phone rings, he said, "we let them know we're open and we're there to help them through this".
All the paperwork is now done over the phone. When a family has to come in, they restrict numbers to ten in the building, to try and give people a chance to say goodbye but also look out for their safety.
But if another group of immediate family members is waiting outside, he always gives them a chance to pay their respects when the first ten leave.
He said it is "absolutely important" that these people do get to spend some time with their loved ones.
"Because back in 9/11… so many people couldn't find their loved ones. They were buried under the rubble and they were never able to have funerals. That has an impact on these people," he added.
"My fear is that if we don't at least give the family an opportunity to say their farewells and spend some time with their loved one this is going to have an effect on their lives ten years from now, 15 years from now, 20 years from now. We're doing everything we can."
Not only are people trying to deal with grief, many are also devastated after becoming unemployed.
More than three million Americans lost their jobs a fortnight ago due to the pandemic.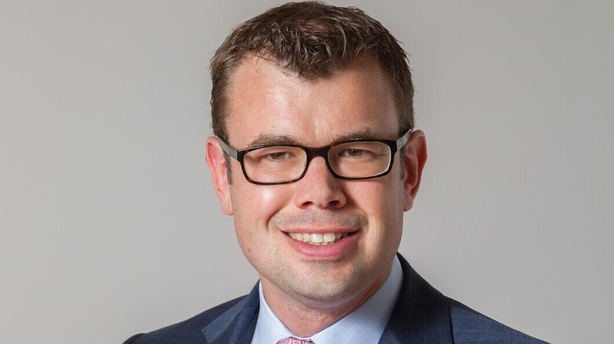 "For me being a funeral director, I'm with people at the most difficult time in their life. I'm with people who have lost their loved one. A lot of the time, they might have just lost their job the week before," Mr Anderson said.
Amid the panic in New York City, not too far from him, is a glimmer of hope that the curve is flattening.
New Rochelle, 1.6km from Pelham, was the first place in New York where there was an unexpected cluster of coronavirus cases.
Officials in the town imposed strict rules on its citizens to contain the outbreak with rigorous testing.
Authorities introduced a containment zone on 12 March of a 1.6km radius for 14 days.
Health care workers fanned out across the area in groups of three, dressed head-to-toe in protective gear to test quarantined residents in their homes.
Numbers are now going down.
"We're seeing the back end of the curve. They've listed the one-mile barrier around New Rochelle. I feel like up here in Westchester we're not as densely populated. People have been practising social distance and people have been very, very careful. You look out the window here and it's like a ghost town."
But Mr Anderson has hope, and he prays that this will be over soon.
"We prepare for the worst and pray and hope for the best. So even though the medical examiner is predicting 5,000 deaths, I always say… hopefully, that this is the worst-case scenario," he said.
"Let's stay positive. Let's practice the social distancing. Let's do what we're told to do and obey the guidelines. Let's hope it doesn't get to this. And that's my prayer every night before I go to bed that it doesn't get to that and hopefully that will be so."
Listen to the full States of Mind podcast on iTunes or on Spotify