The Government has reached an agreement with the private hospitals association to use its facilities for the treatment of both Covid-19 and non Covid-19 patients.
Taoiseach Leo Varadkar said private hospitals have 1,000 rooms for solo occupancy, which are ideal for those who need to be isolated.  
They can provide 194 ventilators, as well as the use of nine laboratories. Mr Varadkar said there were 19 private hospitals being used in the partnership.
This includes 11,000 inpatient beds, 2,300 day beds, 47 ICU beds and 54 high dependency unit beds.
Minister for Health Simon Harris said the partnership will represent a 17% increase in capacity for the Irish health service.
He said that whilst this should provide reassurance, he said today's announcement "should never allow for complacency".
Mr Harris added that each person's actions "can do more" than any action taken by the Government.
Statement by Taoiseach @LeoVaradkar and Minister for Health @SimonHarrisTD | Follow the latest developments on #Coronavirus with our live blog: https://t.co/uDMsda4VtI https://t.co/Bdr7M04MET

— RTÉ News (@rtenews) March 30, 2020

The Taoiseach also said the Government was not going to close Irish borders as a measure to stop the spread of the virus.
He said there were Irish people abroad who still need to come home, and said imports and exports needed to continue.
Mr Varadkar added that the National Public Health Emergency Team will examine whether additional controls could reduce the risk of imported cases.
This evening, eight more deaths from Covid-19 were announced in Ireland and 295 new cases were diagnosed.
Health insurer VHI has said that the agreement would change the nature of the services that it can provide to its customers in the months ahead.
It said that in previous years when the VHI had a reduction in claims, it returned that money to its customers.  It said it was now committing to do that again.
"We hope to be in a position to update our customers about what form the changes to their premiums will take by early next week," the insurer added.
In addition to looking at returning money that is not used for claims, VHI said it was also looking at a package of financial supports forcustomers who need them at this time.
New data on Covid-19 from the Health Protection Surveillance Centre (HPSC), that was published this morning, shows that there are 22 clusters in nursing homes and 19 in hospitals in the Republic of Ireland.
Mr Harris met representatives of Nursing Homes Ireland at the Department of Health to discuss the crisis.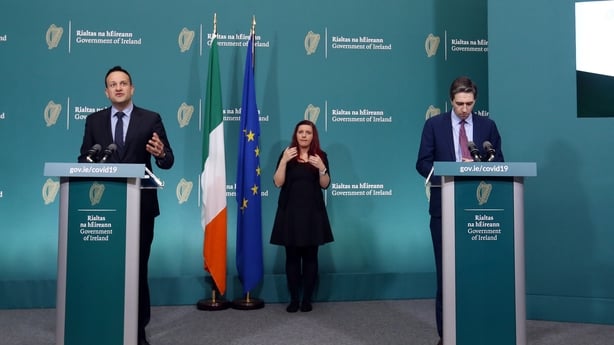 He said the National Public Health Emergency Team will consider measures tomorrow for nursing homes during the Covid-19 outbreak.
He said this area was a key priority given the number of clusters.
The NHI said that access to personal protective equipment is patchy in some areas and homes should always have access to at least three days' supply.
It also said there were problems with securing oxygen, which has been in short supply.
The NHI said there were staff shortages and it wanted to see some staff currently being recruited by the HSE to be deployed to nursing homes.
The organisation's member homes care for about 25,000 vulnerable people.
---
Read more:
Seven Irish citizens to be repatriated from Algeria
Live Covid-19 updates as they happen
Latest coronavirus stories
---
The latest available data analysis of Covid-19 cases in Ireland gives an age breakdown of the deaths that have occurred here in patients diagnosed with the virus.
It is based on 2,216 confirmed cases recorded up to midnight on Friday 27 March.
At this time, there were 43 deaths recorded.
One of the people to die was aged between 25 and 34. Another was aged between 35 and 44.
From these figures, 88.4% of deaths in Ireland linked to the coronavirus occurred in patients aged over 65, which is 38 out of 43 people.
One patient in the 45-54 category and two patients aged in the 55-64 category also lost their lives.
These figures show that among a total of 77 intensive care admissions since this crisis began, 29 cases (37.7%) were among the "over 65s".
The 55-64 age group accounted for 17 cases (22%), while the 45-54 category made up 19 (24.7%) of all ICU admissions so far.
Seven people from the 35-44 group (9%) and four people from the 25-34 group (5.2%) were also admitted to intensive care units around the country to be treated for Covid-19.
So far only one child has been admitted to an ICU. That child is between 5 and 14 years of age.
This breakdown by the HPSC shows that of the cases detected up until midnight 27 March, 51.5% were male and 47.8% were female. The median age is now 47.
Dublin is still the area to have the most recorded cases of the virus, accounting for 55.6% of cases (1,233), followed by Cork at 9.4% (208).
A total of 506 cases are among healthcare workers. Of these, 292 are in the east of the country.
Of the 506 cases who are healthcare workers, 60% of them had no history of foreign travel in the 14 days prior to the onset of symptoms.
Reporting Laura Hogan and Dmitri O'Donnell