It's a moment in history, in a race against time.
The things we do now, will decide our future.
Our fate and of others, is in our hands, literally.
In years to come, people will likely speak of the pre-Covid and post-Covid period, such is the scale of change.
While some things will return to the way they were, there is a feeling that nothing will ever quite be the same.
The past is a different country, they do things differently there, to borrow from L P Hartley.
Events change people and dramatic upheavals transform a people forever.
We must take the good from the Covid-19 crisis where we find it, in the humanity and community strength but also learn from the mistakes.
Each day, this national emergency brings something new and at times unsettling. The information overload can certainly be hard to absorb, even for health authorities.
And who would ever think that a 'cough assault' would become a problem on the streets? Or that virtual hugs would become the new norm?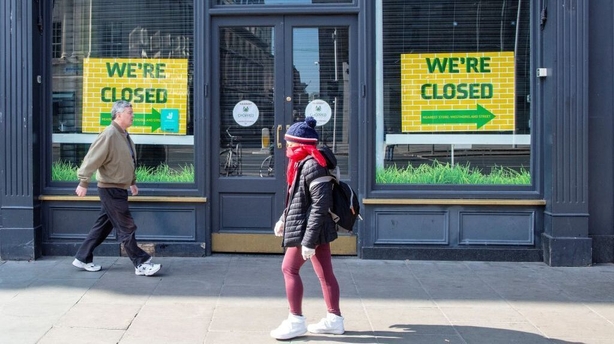 Undoubtedly, one of the biggest concerns this week has been a shortage of supply of personal protective equipment (PPE) for health staff, in certain areas. Another badly-needed shipment is due to arrive this weekend from China.
Access to PPE has been challenging, as the marketplace is in something of a frenzy, given the global situation. Every country is trying to secure supplies. Even in the US, there have been reports and pictures of health staff in New York City, using rubbish bags as protective clothing, in order to continue treating patients.
Health staff must be protected, otherwise we lose our frontline of defence.
They too have families to protect, and over 23% of people infected here so far are health staff.
With the major change in the testing protocols introduced last week, testing is now being focused on priority groups, so testing is now for those with major clinical symptoms and also they must also be within a defined at-risk group.
Those at-risk groups are close contacts of a confirmed case, health staff and vulnerable groups who have symptoms.
The testing criteria changes came suddenly and upset some people who were waiting and expecting to be checked. Part of the reasoning for the change was because about 94% of all tests being done at the National Virus Reference Laboratory were negative.
There is logic behind the change.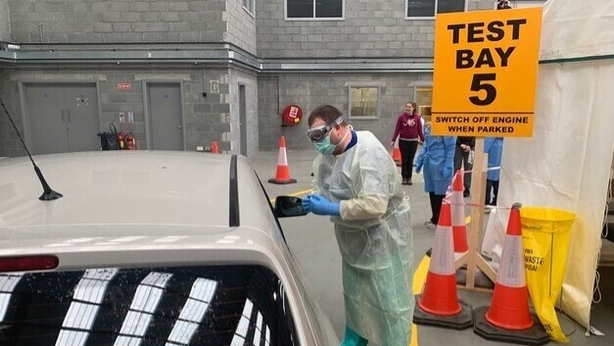 However, it does mean that widespread general testing is no longer taking place and so the daily figures will give us more of a snapshot of where we are, but not a complete picture of how the virus is moving in the community. The decision was based on the advice of the National Public Health Emergency Team.
Doctors around the world are having to make some of the most difficult choices in treating those who are seriously ill with Covid-19.
What if the doctor has one ventilator and two patients? Who would want to face these practical and ethical dilemmas, with decisions to be made in real time, as every second counts.
In the HSE, for weeks now, the work has been focused on building up the number of ventilators, PPE, testing, and hospital capacity, including taking over private hospitals for the duration of the emergency.
Around 40 Clinical Assessment Hubs are also to be put in place, where patients will go if their symptoms deteriorate, or if their GP believes they should move to.
Staff numbers are also being increased with the large number of people who have asked to join or re-join the health service, including student nurses who will be paid to work as healthcare assistants.
While the overall number of cases here is rising each day, the figures to focus on, in particular, are the number of hospitalisations, and of those, the number of patients in ICU. Everyone else is at home or in the community hopefully managing with the illness.
---
Read more:
Five positive things happening now amid Covid-19
Latest coronavirus stories
Irish man helping in NYC's fight against coronavirus
Taoiseach warns ICU beds could reach capacity 'within days'
---
But that could change if there is a surge of patients who need ICU and the capacity to meet this pressure is not there.
We have seen 419 patients hospitalised, with 59 of these in ICU, according to the latest figures. Each of these cases is a major concern.
In terms of numbers, the figures are relatively low but that appears to be changing fast.
While the ICU capacity has been expanded for this crisis, we come from a poor start in terms of ICU beds versus other countries and there is a big lesson here, after this crisis passes. Official studies here, published well before anyone heard of Covid-19, had called for a need to boost Ireland's ICU capacity.
The stories from some nursing homes are truly harrowing - elderly residents diagnosed with the virus needing hospital admission.
I know from some communications I have received that sadly some of these patients were deemed unsuitable for ventilation.
Because of the risk of spread of the illness, some have died alone, without a religious ceremony, going straight to the cemetery.
The country feels deeply for the families affected, as this is not how we do things in Ireland traditionally. There will be a time in the future, when other ways to remember lost loved ones will be possible. For now, people offer their condolences from afar.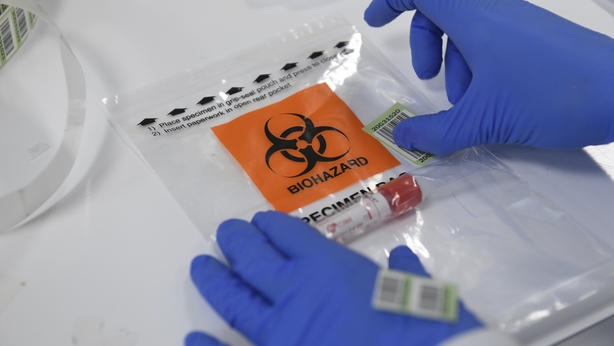 The Irish health service is unrecognisable today. On Friday, there were just eight patients waiting in emergency departments for admission to a bed - in all the acute hospitals around the country. People are staying away from emergency departments, unless they must attend.
But there has also been a warning from the Irish Health Foundation that people with symptoms of heart disease and stroke are not going to hospitals, because they do not want to burden the health system at this time.
While the hospital system is gearing up for a likely surge in Covid-19 cases - it still must provide essential care in other areas. So if people believe their illness is significant, they should still go to an emergency department.
They will be seen, and in the current circumstances very quickly too.
The worst situation would be people with cardiac, or stroke conditions, being admitted too late because they were reluctant to go to hospital. People who ignore these symptoms are also risking their lives. The advice is that anyone experiencing symptoms of a stroke or heart attack should follow the normal protocol and call an ambulance without delay. The service is there to respond.
Ireland has had some valuable time to prepare for this emergency. People have seen events unfold in Italy, Spain, Britain, the US and elsewhere. We have seen the 'bell curves', projections and a flood of statistics that can be hard to absorb.
Covid-19 is still a new virus. So even the experts are still learning and there are questions we all have to which there are no clear answers yet.
For that reason, the precautions lay in the simple things - social distancing and proper hygiene measures.
For now, the world-renowned 'Céad míle fáilte' must go into deep freeze, until the country is ready to re-open its doors.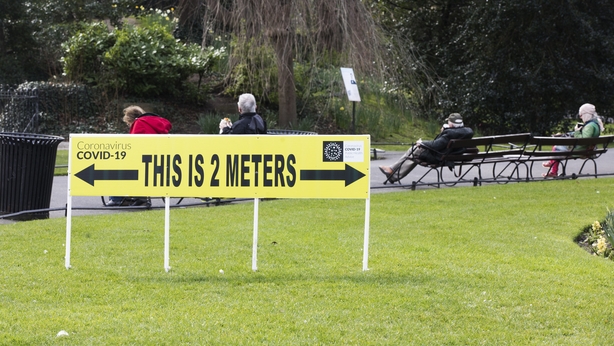 There will be a recovery period, but first we have to get there.
Figures would suggest that if 90% of people social distance properly, the virus might be controlled in three months.
If that drops to 80%, the virus may be controlled in 4 months.
But if the figure falls to 70%, we might not be able to control the spread.
A sobering point made this week by one medical expert on RTÉ Radio was that around 60% of people who are infected and infectious, display no symptoms, or mild symptoms. The average period from infection to death, where this occurs, is 17 days. The average incubation period is five days but can be 2-14 days.
Generally, breathing does not spread Covid-19, it spreads via droplets. While it can remain on surfaces for several days (the amounts are tiny and it does not grow on surfaces), the bigger risks are in person to person contact, emphasising the importance of people focusing on the primary risks, rather than being overly concerned about much smaller risks, like picking up food in a supermarket.
But, you can't blame people for an abundance of caution.
If people feel more comfortable wearing gloves while out shopping, no one should complain about that. Most people are just trying to cope, in the most trying times imaginable.
One of the most positive developments during the week was the data showing that on average, the number of close contacts of confirmed cases had reduced to five, compared to 15-20. While it is early days in the trajectory of this virus here, that statistic points to a real impact in terms of people heeding the social distancing advice.
Throughout this crisis, various media organisations are battling to provide the best coverage available to people, with key facts and analysis, on a subject where developments take place by the minute.
It has been very saddening to see some local and regional newspapers have to close, or scale back, temporarily. As a print journalist originally and knowing the vital importance of local newspapers, I hope the damage is not lasting. But the fall in advertising revenue and sales due to people limiting their movement has hit papers hard.
One of the those newspapers that has closed is the Leinster Express, where I worked for a short period in the early 80s, with fond memories. I wish all my media colleagues, wherever they are working, safety in these difficult times.
RTÉ of course is not immune to its own challenges during this period. There has been a confirmed case here, with Claire Byrne detailing what happened to her.
Everyone within the organisation is taking the measures to protect themselves, while working at home, or out reporting, each day. The news service has to adapt hour by hour to the challenge of Covid-19.
Our job is to keep citizens up to date with each development via TV, radio, online and on social media. One of the enjoyable images during the week was posted on Twitter by my colleague, Bryan Dobson, co-presenting Morning Ireland from his dining room.
This is a first! Presenting @morningireland from the dining room. #remoteworking pic.twitter.com/pFQc8DV0gb

— Bryan Dobson (@BryanMIreland) March 24, 2020
There are others doing the same.
My colleagues and I continue to receive a large volume of emails and DMs on Twitter, from the public, with important points, key questions and sometimes those seeking advice. These messages are valuable and we try to respond to as many as possible, within the other demands of the working day.
It is a critical line of communication into the pulse of the nation. Social media has really come into its own in this crisis, keeping so many people connected, even if they are ill and self-isolating. Many media interviews are now done via Skype, or using other platforms, for health and safety reasons.
In all of this, it can be easy to forget that Covid-19 is mostly a mild, or moderate illness. Over 113,000 people have recovered from the virus - think about that.
Ireland has had time to prepare for this pandemic, much more than some others.
We knew it was coming and the dangers posed.
The HSE has spent time ramping up testing, trying to secure as much personal protective equipment as possible and advising the public on what they can do.
Schools, crèches, universities, pubs and a whole swathe of businesses are closed.
Realistically, these measures are likely to last several months.
2020 will be a year like none in living memory. The most challenging time probably lies just ahead.
Last night saw the last of the big measures announced, with the stay at home order, with limited exceptions.
Things just got even harder.
Health service staff are delivering care, in the most difficult of circumstances.
Their dedication and bravery have been rightly applauded, on the doorsteps, streets and in our national parliament.
For each one of us, in our own way, this must also be our finest hour.
If you are currently unwell with Covid-19, that's where the reality really gets personal.
You may be self-isolating, but you are certainly not alone.
The people of Ireland are with you.