Minister for Health Simon Harris has said there could be quite a few more cases of Covid-19 in Ireland over the coming period.
Minister Harris said there was no room for either complacency or panic.
So far there has been one confirmed case of coronavirus in the east of the country.
Mr Harris said he anticipated that the National Public Health Emergency Team will produce guidance tomorrow on mass gatherings.
The minister will also update the Cabinet on the virus tomorrow.
In a press briefing tonight, the National Public Health Emergency Team said that public health experts are interested in close contacts of any confirmed case, who would have been in contact for 15 minutes or more.
Confused about #coronavirus 'risk of transmission' and 'contacts of contacts'? Deputy Chief Medical Officer Dr Ronan Glynn explains. | Full coverage: https://t.co/yro2bXPnFk pic.twitter.com/kdiWsHqzJb

— RTÉ News (@rtenews) March 2, 2020
The officials said that siblings not attending the school concerned, parents and other members of the community are not regarded as contacts and "can continue their daily routine as normal."
Ireland remains in a containment phase.
The team will meet tomorrow, to consider the evolving international situation and consider Ireland's ongoing preparedness.
Department of Health officials have said that all close contacts of the confirmed case have now been identified.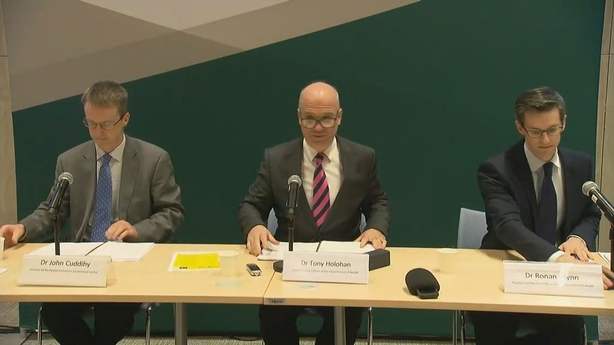 It was confirmed on Saturday night that a male student contracted the virus in one of the affected areas of northern Italy.
The school he attended has been closed for 14 days from today, during which time all pupils and teachers are being asked to restrict their movements.
The Department of Health is not releasing the name of the school to protect the patient, his family and the community.
A meeting of parents of students at the school has taken place tonight at a venue away from the school.
Parents and guardians were assured that the school would be professionally cleaned before it reopened.
The HSE also said they would only test people for the virus, if they were showing symptoms of the illness.
Experts also advised that if the test is done too early, it will not work.
Meanwhile, most of Google's 8,000 staff and contractors in Ireland have been told to work from home tomorrow after a member of staff reported flu-like symptoms.
While it is thought unlikely that the worker has the virus, it is understood that the company decided to use the opportunity to test its capacity to have all staff work remotely in case the situation surrounding the coronavirus escalates.
---
Read more:
Google staff told to work from home due to virus scare
What are financial implications of Covid-19 for workers?
More than 50 people dead from coronavirus in Italy
Practical advice as Ireland sees first coronavirus case
---
Earlier, Chief Medical Officer at the Department of Health Dr Tony Holohan said he believes the risk of the Covid-19 infection spreading in Ireland was low.
Speaking on RTÉ's Morning Ireland, Dr Holohan said staff and pupils at the school have been advised to limit social interactions, which he said was a proportionate response.
More than 50 people have now died from the disease in northern Italy.
Dr Holohan added that measures were in place that will ensure any more cases are picked up as quickly as possibly.
He urged other sports clubs who are reported to have cancelled training and matches not to do so, saying these steps are "simply not necessary" and have no basis in fact.
Dr Holohan said the actions that need to be taken are those recommended by the HSE and that clubs and groups should contact the HSE if they have concerns.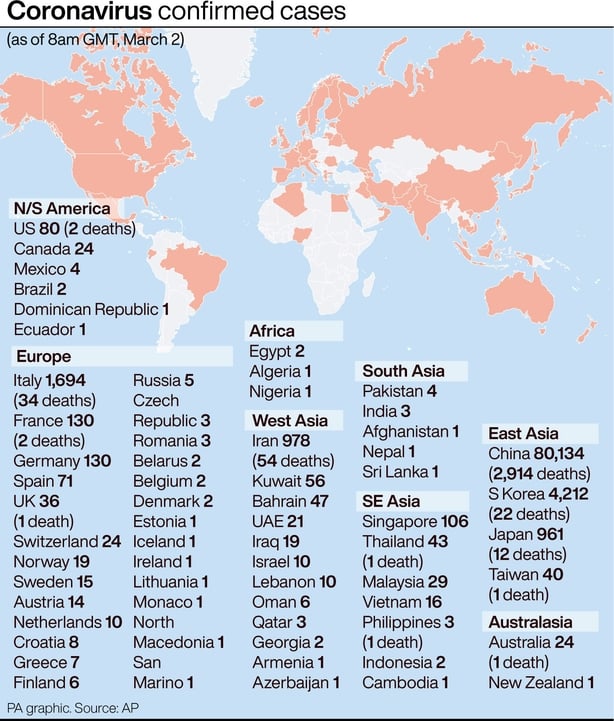 Dr Holohan added that anyone with access to social media has access to the HSE website where all the reliable and up-to-date information can be found.
He said measures taken by the HSE are focused on children and staff at the school, not their families and the wider community.
In addition, there will be follow up by public health doctors over the incubation period.
We need your consent to load this rte-player contentWe use rte-player to manage extra content that can set cookies on your device and collect data about your activity. Please review their details and accept them to load the content.Manage Preferences
Dr Holohan said that health officials will contact by text those individuals affected by the isolation measures, to see if they have any symptoms of coronavirus over the next two weeks. If they display symptoms, they will be tested.
He said currently there is no immediate implications for the St Patrick's Day celebrations, but this is a fast changing situation and it is difficult to predict what might happen over the coming ten days.
He said that the hospital system has sufficient isolation rooms for the current containment phase but said that if the situation changes and the number of cases grow, then consideration will be given to isolation in other settings, such as at home.
When asked if a person could contract the virus twice, he answered that this is "an open ended science question".
The Department of Health said it also wants any other people who suspect they might have the infection to know that their patient confidentiality would be respected and to avoid cases going unreported.
Anyone requiring further information should contact the HSE helpline on 1850-241850.
Ryanair cancels some Italian flights
Ryanair has said up to 25% of its short-haul flights across Europe to and from Italy are being cancelled for a three-week period "in response to the Covid-19 virus".
In a statement this afternoon, Ryanair said it had notified passengers that it was reducing its short-haul flight program (mainly to and from Italy) by up to 25% from Tuesday 17 March to Wednesday 8 April.
The airline said that over the past week it "has seen a significant drop in bookings over that late March/early April period" as well as "a significant step up in passenger no-shows on flights, particularly from and within Italy."
CEO Michael O'Leary said: "Our focus at this time is on minimising any risk to our people and our passengers.
"While we are heavily booked over the next two weeks, there has been a notable drop in forward bookings towards the end of March, into early April.
"It makes sense to selectively prune our schedule to and from those airports where travel has been most affected by the Covid-19 outbreak."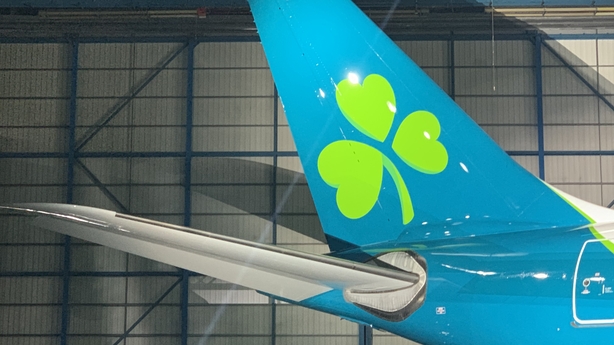 Aer Lingus has announced changes to its booking policy for passengers with travel plans to or from Northern Italy.
Passengers due to travel in the next seven days to four airports - Milan Linate, Milan Malpensa, Venice and Verona - can change the date of their flight or the airport they fly to or from, free of charge.
Passengers must travel within 30 days of the original booking. They must also rebook to or from any airport that the airline serves in Italy, Switzerland or Nice in France.
In a statement issued to RTÉ News, the airline says that it is continuing to operate to and from all destinations on its network and it says 'there are no travel restrictions to the locations we fly to'.
Unlike Ryanair and British Airways, Aer Lingus continues to operate fully, but it has said that it will keep its operations "under constant review".
Dermot O'Leary, the General Secretary of the National Bus and Rail Union (NBRU), has said his members are "concerned" about the difficulty of maintaining hygiene standards on the Bus Éireann fleet.
Speaking on RTÉ's Today with Seán O'Rourke, Mr O'Leary said given that public transport is under pressure in terms of capacity, he said it is "impossible to follow the advice of maintaining three feet from another person if they are coughing or sneezing".
"If you're travelling on a DART or a suburban train any morning or evening, three feet is a premium, you can't even get three inches never mind three feet," he said.
Northern Ireland's First Minister Arlene Foster has emphasised the importance of an ongoing close working relationship between the administrations on both sides of the border in efforts to contain the coronavirus.
Speaking in the Stormont Assembly this afternoon, Ms Foster told of a weekend conference call between Taoiseach Leo Varadkar, Minister Harris, the chief medical officer in Dublin and herself, Deputy First Minister Michelle O'Neill and Northern Ireland's Health Minister Robin Swann.
She said that protocols put in place were working well and continued conversations would take place as time moves on.