A new report into the use of Irish sheep wool has called for the establishment of a national body to market and develop the product.
The report comes as farmers say the cost of shearing a sheep far exceeds the value of the fleece produced.
However, a recently established wool co-op for the Galway breed of sheep is bucking the price trend, and celebrating the positives of sheep wool.
A sunny morning in Athenry Mart, and as the local Comhaltas Ceoltóirí musicians tune up to play, members of the Galway Wool Co-op are setting up to receive high quality wool from breeders of Galway sheep around the country.
The Galway is a traditional breed of sheep, once very popular in Ireland.
It is the only native breed with official recognition and is known for heavy fleeces of white wool. The co-op was founded to try and get better prices for the wool while encouraging farmers to improve quality and presentation.
Blathnaid Gallagher, secretary and co-founder, said: "Irish wool in general is in dire straits. It could never be any worse than it is at the moment. To fix that entire problem is a mammoth task so I decided to concentrate on Galway.
"What we are doing is trying to bring the message to the public that there is wool in Ireland, of excellent quality, crisp clean and strong. Its ideal for sustainable interiors. We went to the market and looked for customers interested in buying Irish grown wool."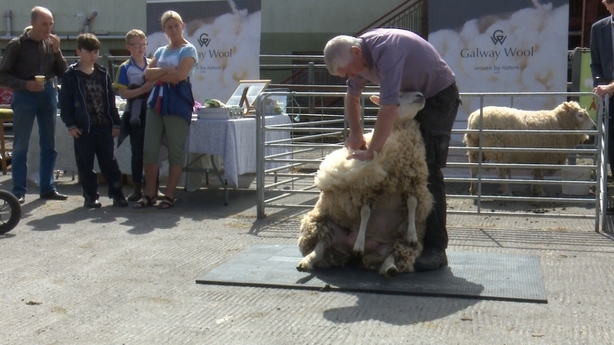 She says Ireland is awash with wool imported from the southern hemisphere, which does not help Irish farmers who are generally only getting 20 cent per kilo of wool.
However the Galway Co-op is bucking the price trend according to Ms Gallagher.
"20c per kilo does not cover the cost of shearing sheep. To shear a sheep on the farm now costs about €2.50 and if you get three kilos of wool and bring it to a depot you are going to get 60 cent.
"So its costing you money yet shearing has to be done.
"Its a welfare issue and sheep must be shorn at this time of the year.
"What we did with the Galway Wool Co-op was go to our customers and say we are going to give you a heritage product, that's got full traceability back to the Irish farm. They in turn are now able to make wool products and sell them to consumers who know the wool was grown on the island of Ireland.
"The Co-op is getting €2.50 per kilo of wool and we pass on €1.65 to the farmer. The rest is retained for running costs."
As we speak, the musicians have struck up, hand shearing is being demonstrated and cars and jeeps pulling large and small trailers are pulling into the Mart yard with large bags of wool ready for weighing and drop off.
Details of each farmers consignment are carefully noted after which a receipt is issued for payment.
"If you bring in one hundred kilos of wool here today you are getting a docket for €165 and you will receive the money for that before Race week, a lovely bonus for farmers," says Ms Gallagher.
The Galway Wool Co-op's collection is taking place in the week that a new report was published by the Department of Agriculture on the future prospects of Irish wool.
We need your consent to load this rte-player contentWe use rte-player to manage extra content that can set cookies on your device and collect data about your activity. Please review their details and accept them to load the content.Manage Preferences
The Wool Feasibility Study makes numerous recommendations including improving wool handling by farmers.
The foremost recommendation is the establishment of a Wool Council to promote and brand Irish wool in the domestic and international markets.
Sheep farmer Mathew Carroll is involved in the Galway Wool Co-op and was also a member of the group that produced the Wool Feasibility Study.
"We found that the co--op model was working well for Galway Wool and other similar groups and more of that would be beneficial. We suggested a central body, a national Wool Council that could champion Irish wool and create a brand, creating new opportunities for Irish wool."
He says the low price being paid for wool generally is affecting farmers attitudes to the product.
"It's low prices for a beautiful natural resource and the perception of wool is lower because of that low price and we need to raise the perception of Irish wool and take a bit of pride in it."
He says there are many uses for the wool, traditional and very new.
"There is a huge range of opportunities there, the traditional textiles and carpets. There is also insulation which is very topical at the moment, and there is cutting edge research being done in Ireland into the keratin and by-products from the wool that is really interesting and trying to add value to the product and look at it in terms of a circular economy and a bio-economy," said Mr Carroll.
Ms Gallagher said Irish wool needs to rebranded in order to get better prices.
"For a hundred kilos you would get €20 euro. You would be able to buy a couple of fence posts and thats about it. The market for Irish wool in general is flat. We have no market. At the moment its really a byproduct of the meat industry here in Ireland and we are expecting to be able to sell it on the international stage as Irish wool," she said.
"We need to rebrand Irish wool, we need to market it, and find direct route to market. We need customers for Irish wool and right now we don't have customers because we are quite happy to ship it to Bradford and let it go off into international markets. The Asians love strong Irish wool that is ideal for carpets and rugs. We need to retain that market here in Ireland,"