The Department of Justice has said the withdrawal of a tender application for a direct provision centre in Co Galway will exacerbate a shortage of accommodation for those seeking asylum.
In a statement, Minister for Justice Charlie Flanagan said the move followed "grossly misleading comments" about the nature of the services provided to refugees by the State.
He said calls to close DP centres had not been matched with alternative proposals about where those living in such facilities could be housed.
The department said it is "disconcerting to see a new trend emerging" where local communities are engaging in protests regarding proposed locations for such centres.
The comments come after plans to repurpose a hotel in Oughterard, Co Galway as a direct provision centre were abandoned following weeks of protests by residents.
Developer Seán Lyons said he was walking away from the process, in light of the ongoing demonstrations and a lack of support from the State in recent weeks.
He said that 90% of the problems in Oughterard had been caused by a lack of information.
Mr Lyons told Galway Bay FM that he had sought assistance from State agencies but had been told there were no resources available to deal with the protest.
He said he had written to the department to voice his concerns at what he described as a "horrifying lack of support" from officials.
Mr Lyons' decision to abandon plans for a DP centre at the former Connemara Gateway Hotel was welcomed by those involved in the round-the-clock picket at the site.
Organisers say they are working to devise alternative proposals to ensure those seeking refuge will not have to be housed in what they term "camp like conditions".
They have not outlined what form those proposals could take.
The demonstration outside the hotel has now ended.
Construction workers remove materials from Connemara Gateway Hotel, after plans to repurpose premises for Direct Provision were abandoned. More on @rtenews pic.twitter.com/cUEMCImVa6

— Pat McGrath (@patmcgrath) October 1, 2019
Construction workers spent much of the day removing tools and building materials from the premises.
Anti-racism groups have claimed that "malicious elements" from the far right have manipulated public sentiment against direct provision centres in recent months.
The Leitrim and Roscommon United Against Racism group said these efforts had blocked new DP centres in Moville and Rooskey, and now Oughterard.
Meanwhile, opposition parties have expressed concern at the latest developments.
Fianna Fáil's justice spokesman Jim O'Callaghan said it was important that protests did not stop the DP tender process. He said a situation could not develop were protests or lawlessness resulted in such centres not going ahead.
But his party colleague on Galway County Council, Séamus Walsh, said that the people of Ireland could learn a lesson from the protests in Oughterard by "doing what we did".
He encouraged those in areas being considered to host DP centres to "put your shoulder to the wheel ... and safeguard your communities".
Labour Senator Aodhán Ó Ríordáin - a former minister of state at the Dept of Justice - described the situation in Oughterard as a "damning indictment" of the department.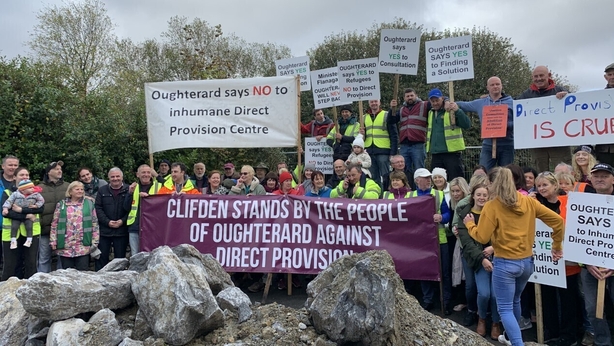 Direct provision 'far from ideal'
Taoiseach Leo Varadkar said direct provision was far from ideal, but he said the alternative was camps and containers.
Speaking during Taoiseach's Questions in the Dáil, he said this was the case in France, Germany, Greece and Italy, but he said he hopes Ireland never gets to that point.
He said that proper consultation with communities is important in places all over the country.
Mr Varadkar said direct provision was not compulsory and people could leave at any time.
Minister for Justice Charlie Flanagan said: "In recent weeks grossly misleading comments have been made about the nature of direct provision services in this State. 
"The nature of the services, which have improved steadily over many years and are now in line with EU law - have been totally mischaracterized.
"People have demanded we close down our accommodation centres. They have been less forthcoming with proposals as to where housing would be sourced for the 6,014 people availing of services in centres and the 1,379 people being provided with shelter and services in emergency accommodation."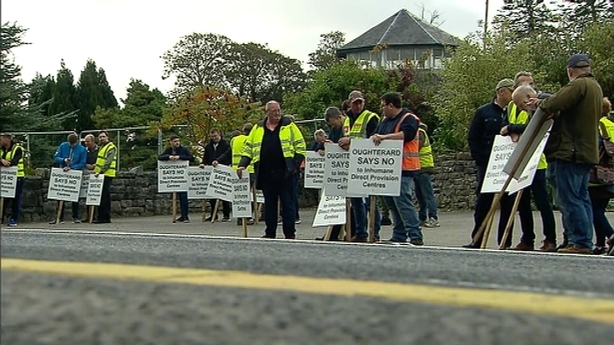 Call for alternatives to direct provision
Meanwhile, the Chief Executive of the Immigrant Council of Ireland has said there needs to be a conversation about alternatives to the direct provision system.
Brian Killoran told RTÉ's Today with Sean O'Rourke that Ireland had a very small proportion of asylum seekers, but the current model tends to 'cluster' people together instead of integrating them into the community.
He said the Government was talking about improving direct provision services rather than changing the system.