Sinn Féin has pledged to abolish the Universal Social Charge on income under €30,000, open 1,500 beds and hire thousands of nurses and midwives in health and build the largest social housing programme in the history of the State if in government.
The party's election manifesto also says that Sinn Féin can deliver all its promises while also returning a surplus.
Doubling of the length of maternity leave and abolishing third level fees are also among the promises made by the party.
In its manifesto Sinn Féin pledges to build 100,000 council homes over five years, at a cost of €6.5 billion.
The party says a refundable tax credit will reduce rent by 1,500 a year, while they have also pledged to freeze rents for three years.
On health, the party plans to hire 2,500 more nurses and midwives and 1,000 more doctors and consultants. It says this will cost €358m.
Meanwhile it plans to introduce free GP care and open 1,500 more beds.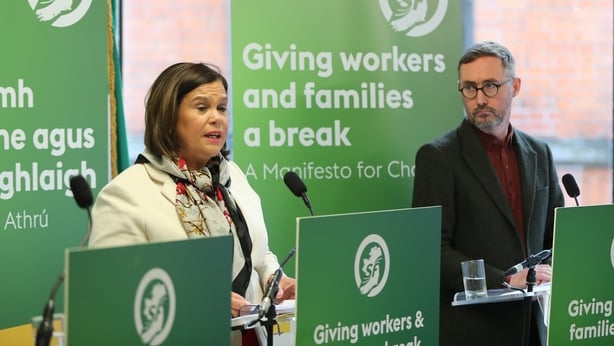 Sinn Féin has also pledged to increase Garda numbers to 16,000, and will recruit 2,000 extra civilian staff to release more Gardai onto frontline duties.
For families, the party has pledged to increase maternity or paternity benefit by an additional 26 weeks and increase the payment by €50 a week
The party says it will reduce the cost of childcare by €500 per child per month and will invest €9.6m to up-skill workers in the early childhood sector to degree level.
Meanwhile Sinn Féin says it will abolish third level fees at a cost of 243m and increasing the student maintenance grant by 10%.
The party also says it will establish a Back to School Bonus child benefit payment of €140, at a cost of €173m and make school books free books.