The aviation sector will return to profit this year with air traffic passing pre-pandemic levels by June, according to one of the world's largest aircraft leasing firms.
In its 2023 outlook, Dublin-headquartered Avolon says the sector will "thrive" this year - in large part due to a strong recovery in Asian traffic.
"Despite the implementation of testing requirements, reopening of the world's second largest aviation market [China] will drive a rapid uptick in air travel," the report says.
"The expected mild recession in the West should not impede the positive outlook for air travel, driving a return to operating profits for the airline sector in all regions," it adds.
Avolon predicts the sector will record a profit of around $4.7 billion this year - echoing forecasts by the International Air Transport Association (IATA).
This comes after a combined loss of $180 billion in 2020 and 2021, followed by a near break-even position in 2022.
A separate report on aviation from PwC predicts a 21% increase in revenue paying passenger per kilometre this year, followed by a 17% increase in 2024.
However PwC's Aviation Industry Review and Outlook is more cautious in its outlook for air traffic recovery, saying that passenger numbers should return to 2019 levels "within the next 24 months".
We need your consent to load this rte-player contentWe use rte-player to manage extra content that can set cookies on your device and collect data about your activity. Please review their details and accept them to load the content.Manage Preferences
In the meantime much of the sector's growth will be driven by rising prices, with the Avolon report pointing to a faster recovery in airlines' revenues when compared to traffic levels.
This is partially due to the difficulty some airlines have had in building back capacity following pandemic shut-downs, as demand for flights has recovered at a faster pace than had been anticipated.
The sector is also constrained by a shortage in the delivery of new aircraft.
This has been to the benefit of lessors like Avolon, as it has helped to boost the long-term value of existing aircraft.
Avolon's report also notes the increased role lessors now have in providing capacity to the sector.
"Airlines have shrunk their owned fleets by 3% since 2019, whereas lessors have grown theirs by 17% and now manage 53% of the global passenger fleet by value," the report says.
"Aviation markets are adjusting to higher interest rates, and lease rates are increasing, creating opportunities for well capitalised investment grade lessors."
However the PwC report highlights challenges for the leasing sector, particularly in terms of financing the supply of new aircraft in the near future.
"As the airline industry looks forward to taking delivery of more than $100 billion of new aircraft this year, lessors, lenders, investors and rating agencies will need to look beyond the near-term to ensure that sufficient and affordable liquidity is available for deployment," said Dick Forsberg, senior aviation finance consultant at PwC Ireland.
Work required to ramp up sustainable aviation fuel production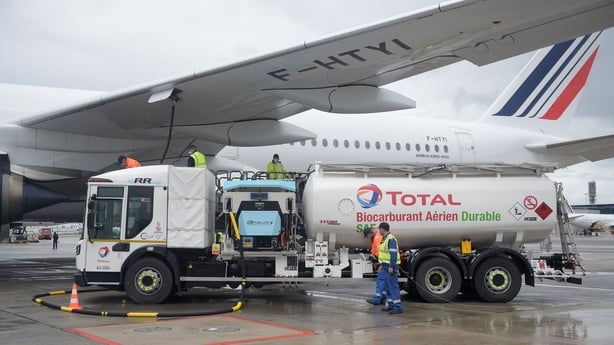 Avolon's report also highlights how far the sector has to go in improving its sustainability, as it calls for more progress on the long-term environmental impact of aviation.
"Sustainable Aviation Fuel production tripled in 2022 but still represents only 1% of the amount hoped to be produced in 2030," it says. "Lifting SAF production to 10% of jet fuels will require $250 billion in investment and collaboration between all industry stakeholders."
PwC's report also says that growing the amount of Sustainable Aviation Fuel to meet that need will require "urgent focus".
It says that achieving net zero carbon by 2050 will be "extremely challenging" for the sector.
"It is clear that Sustainable Aviation Fuel can deliver the largest benefit of the four elements that will all be required to achieve the net zero ambition over the next 27 years," said Mr Forsberg. "However, the ability to scale up production and make SAF an affordable alternative is far from reality.
"The ability to blend any SAF product with kerosene close to the 50% maximum currently mandated for safety reasons is unlikely to be met for at least a decade unless there is a step change in production capability."