2022 got off to a rocky start for many businesses in the hospitality and retail sectors.
Following a spike in Covid cases before Christmas, the Government introduced new restrictions in December that would last for most of January.
These included an early closing time of 8pm for all restaurants, bars and cafés.
Capacity limits were also introduced, alongside social distancing rules.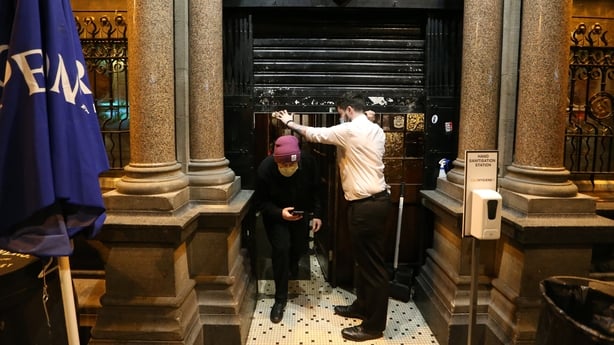 The new restrictions were aimed at curbing the spread of the Omicron variant, which was causing huge concern at the time.
Not only did many firms miss out on that crucial pre-Christmas trade, but that first month of the new year was almost wiped out.
The Minister for Social Protection announced that the Pandemic Unemployment Payment (PUP) would be reinstated for all those who lost jobs as a result of the new restrictions.
I know many workers will be worried tonight. The Pandemic Unemployment Payment will reopen for applications for workers impacted by latest restrictions. My Dept @welfare_ie will work on this as a matter of urgency & full details will be announced over coming days.

— Heather Humphreys (@HHumphreysFG) December 3, 2021
21 January 2022
Relief came for businesses and the public on 21 January, as the then Taoiseach Micheál Martin announced that almost all restrictions would be eased the following day.
"Today is a good day," he told the country.
In a televised addressed, he said Ireland had weathered the Omicron storm.
After almost two years of pandemic restrictions, some semblance of normality was set to return.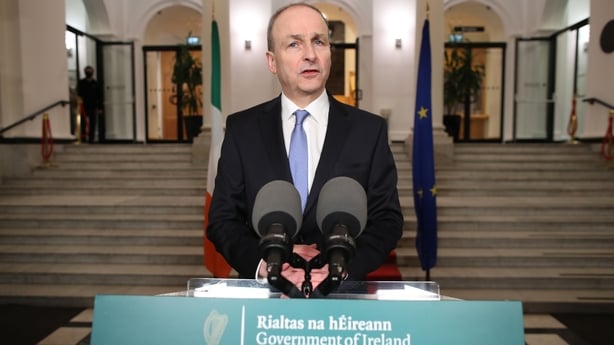 The hospitality industry welcomed the announcement, with the Licensed Vintners Association (LVA) describing the day as "monumental".
Vintners and restauranteurs said they were looking forward to rebuilding their businesses and planned to start hiring extra staff.
In Taffe's pub in Galway City, there was joy and excitement as customers watched the announcement on the lifting of restrictions.
Pints were pulled, music played, and glasses raised.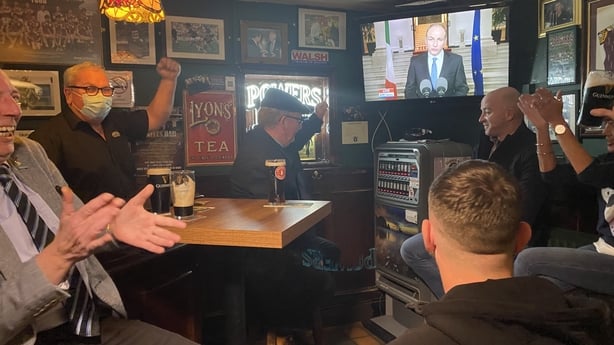 The Restaurants Association of Ireland (RAI) said it was an emotional day for the sector after an "economic hammering" over the past two years.
The Irish Hotels Federation said the announcement marked a "new dawn" for the tourism and hospitality industry and the 270,000 livelihoods it supports.
As Covid fears began to ease, things started looking up for the retail sector too.
Figures from the Central Statistics Office (CSO) showed that sales volumes in January were 19% higher than the same time the previous year - when a full Covid-19 lockdown of non-essential retail and services was in force.
Consumer confidence picked up and shoppers returned to stores in greater numbers.
As a result, the proportion of retail sales conducted online fell to 5.8% in January, compared to 9.7% during the previous month.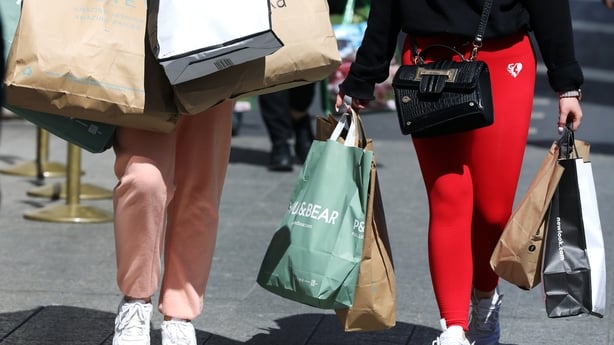 February
As we all learned to live alongside Covid-19, the Government continued to scrap the remaining restrictions.
The mask wearing mandate for retail settings and public transport was lifted on 28 February.
The move came almost two years to the day that the first case of Covid-19 was confirmed in Ireland.
Duncan Graham, Managing Director of Retail Excellence, said he believed the move would help retailers across sectors.
"It's been a long, hard couple of years for retail, but Irish people have a love affair with shopping which has stood the ultimate test since the emergence of the pandemic.
"It will be great for shoppers and staff to see smiles on faces again," he said at the time.
Hospitality workers were also no longer required to wear face coverings.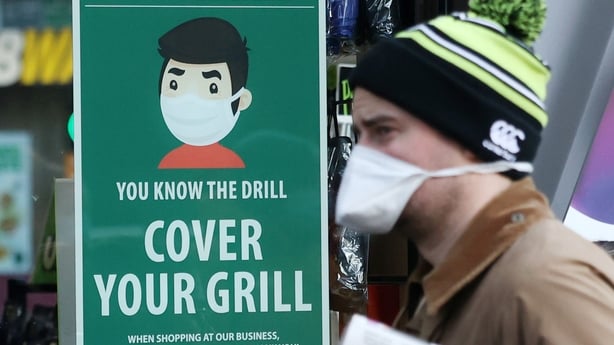 The knock-on consequences of the Covid pandemic began to weigh on businesses, and staff shortages became the main worry.
Research by Fáilte Ireland revealed that as many as nine out of ten hospitality businesses were having big problems recruiting much needed staff.
Across the sector there were fears that the lack of chefs, bar staff and even managers would reduce the range of services they'd be able to provide to tourists.
24 February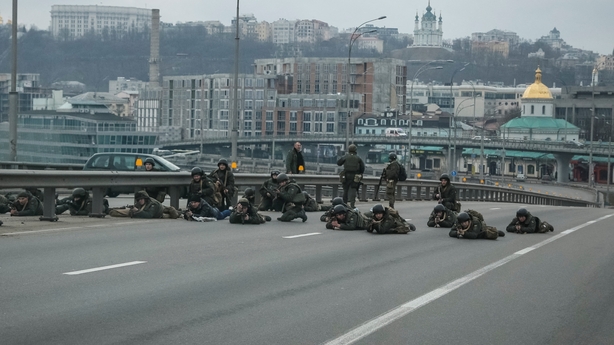 On 24 February, Russia invaded neighbouring Ukraine drawing condemnation from around the world
As the crisis escalated, questions began to arise about what the invasion would mean for Ireland, and more specifically its economy and businesses.
Experts warned that the economic impacts would flow not only from the disruption and fear of war but also from sanctions that could be imposed on Russia by the west.
With Russia producing much of the world's oil and gas supply, energy prices and security were top of the list of worries.
March
By March, the Covid-19 pandemic had faded into the background for many, and rising prices became the top concern.
From petrol and diesel, to bread and butter - prices were soaring.
Figures from the Central Statistics Office (CSO) showed that inflation hit a 22-year high of 6.7% in March.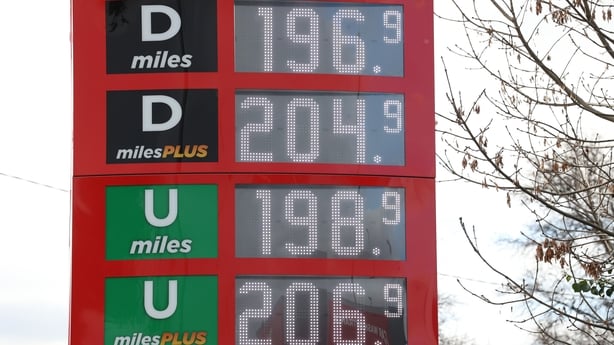 However, the CSO data suggested that rising prices had little impact on consumer spending during the first quarter of the year.
Retail sales volumes rose by 0.6% on a monthly basis in March - and were 4.4% higher than pre-pandemic levels two years ago.
When compared to the same time last year, retail volumes were up by 2.9%.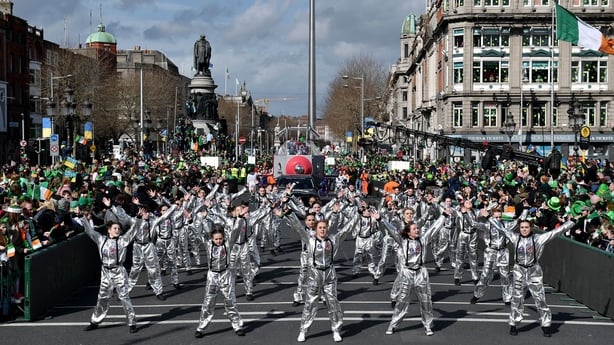 Businesses in the hospitality sector recorded a surge in spending on St Patrick's Day.
Data from AIB revealed that hotels had their busiest day on 17 March, recording over 50,000 transactions throughout the day as people enjoyed the national holiday.
Meanwhile, pubs recorded 345,000 transactions on the day, compared with only 28,000 transactions on the quietest day of the month, 21 March.
While restaurants did record a surge in spending on St Patrick's Day, the data showed that their busiest day of the month was 26 March, the day after pay day for many workers across the country.
April
Consumer behavior well and truly started to shift in April - with the main driver being inflation rather than Covid.
The annual rate of inflation rose to 7%.
Businesses across all sectors were forced to pass on rising costs to their customers - by hiking prices.
The weekly trip to the supermarket became a struggle for many - and competition between retailers ramped up as people searched for the best deals.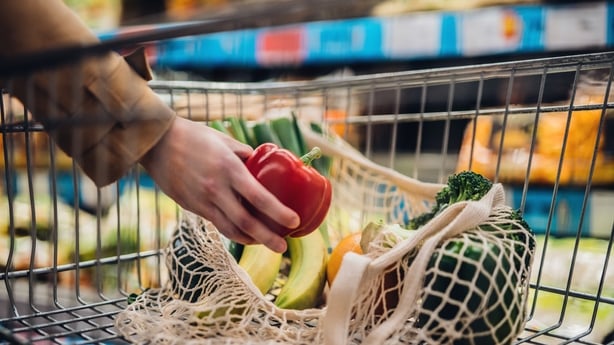 According to market researcher Kantar, Irish supermarket sales dropped, partly due to the fact that more money was being spent in pubs, cafés and restaurants.
CSO figures revealed that spending in pubs jumped by over 500% compared with the same time last year.
May
As businesses geared up for the busy summer season, staff shortages, particularly in the hospitality sector, continued to persist.
Many pubs were forced to close two days a week due to the staffing crisis which was exacerbated by the Covid-19 pandemic.
"I have had owner operators crying out for staff... they are closing Mondays and Tuesdays, not because the business isn't there, just they cannot get staff," said Paul Moynihan, President of the Vintners' Federation of Ireland.
Groups representing pub owners told the Oireachtas Committee on Tourism, Culture, Arts, Sport and Media that they had suffered a huge loss of chefs, managers and senior bar staff after two years of closures and restrictions.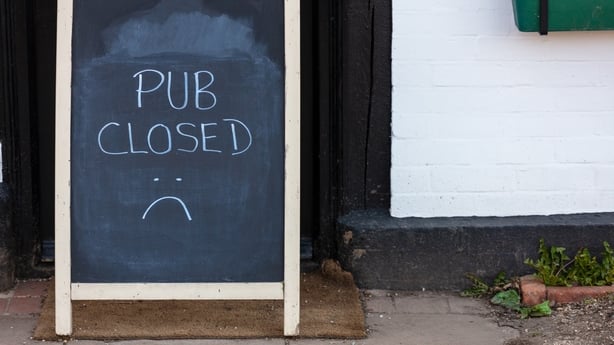 Fáilte Ireland launched a national campaign to address staff shortages in the tourism and hospitality sectors.
The aim of the initiative was to attract more people to jobs in the sectors.
"The loss of skilled workers and the difficulty in recruiting and retaining staff is the greatest barrier to the tourism sector's recovery from the pandemic," Paul Kelly, CEO of Fáilte Ireland said.
It is understood that many people who previously worked in the industry may have retrained and gone to work in other sectors during the pandemic.
Many may also have left the country to return to their home countries for the duration of the pandemic.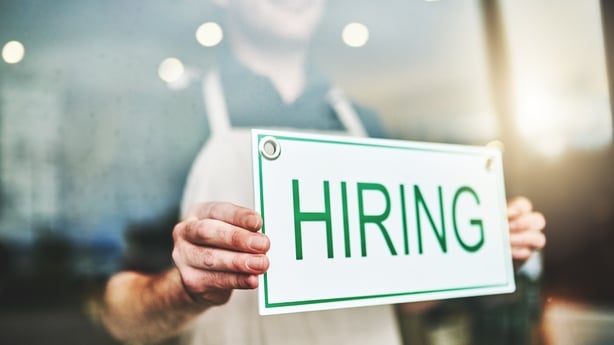 Prices kept increasing in May, with the annual rate of inflation hitting 7.8% - the highest rate in 38 years.
A survey showed that energy bills were the biggest concern facing SMEs on the island of Ireland with 86% citing it as an issue.
This was followed closely by overheads at 84% as the impact of Brexit and Covid-19 decreases.
InterTradeIreland's Business Monitor for the first quarter of 2022 revealed that over half of all firms described rising energy costs as a "huge issue".
June
Holidaying in Ireland in summer 2022 was impossible for many, due to soaring prices.
Hoteliers hit back at allegations of price-gouging and rip-off rates.
Claims widely circulated that accommodation providers were using the strong rebound in demand to raise prices.
The Irish Hotels Federation said at the time, that a combination of reduced supply and strong demand meant the bulk of average priced hotel rooms were selling out months in advance.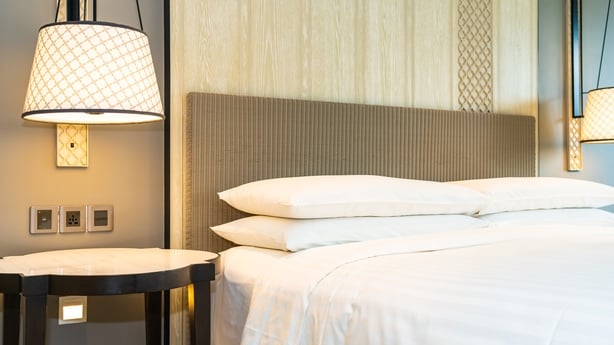 Fianna Fáil senator Eugene Murphy spoke of how he had slept in his car twice because he could not find suitable hotel accommodation in Dublin under €200.
Minister of State Patrick O'Donovan said it was unfair to have ballooning hotel prices every time there was a concert on - when the Government had cut the VAT rate for hospitality.
Then Tánaiste Leo Varadkar warned that the future of that lower VAT rate could be at risk if hotels were found to have been price-gouging.
Prices continued to soar, with inflation hitting 9.1% in June.
Figures from the Central Statistics Office (CSO) showed that the volume of retail sales was down 1.3% in June when compared to the previous month, and by 6.6% on an annual basis.
July
Business confidence dropped sharply in July to its lowest level since October of 2020.
This was due to rising concern about the impact of strong inflationary pressures on demand.
The latest Accenture/S&P Global Ireland Business Outlook revealed that some firms were concerned about the potential for recession.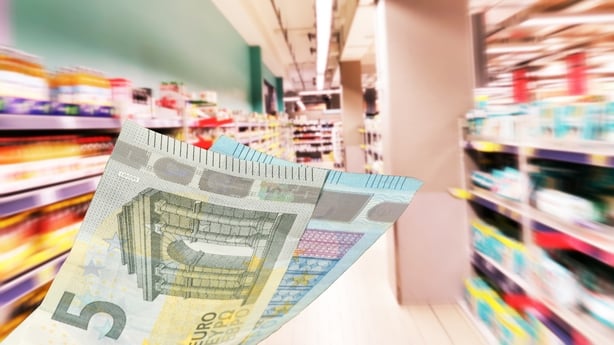 Inflation remained steady at 9.1% in July, and people began to wonder if it had peaked - or if there was worse to come.
Gerard Brady, chief economist with employers' organisation Ibec, said it was too early to tell.
"The inflation figures could potentially flatten out over the next couple of months," Mr Brady said.
"People will only really start to feel the inflation figures when they turn the gas on because that's when the price increases will really cost them in their household bills," he added.
August
Good news came for businesses and consumers in August, as annual inflation slowed for the first time in seven months.
CSO figures showed that prices were up 8.7% compared to a 38-year high of 9.1% in the previous two months.
However, businesses continued to struggle and called for urgent supports in the upcoming budget to deal with surging energy bills.
Ibec warned that energy costs posed a significant threat to the viability of many firms in Ireland.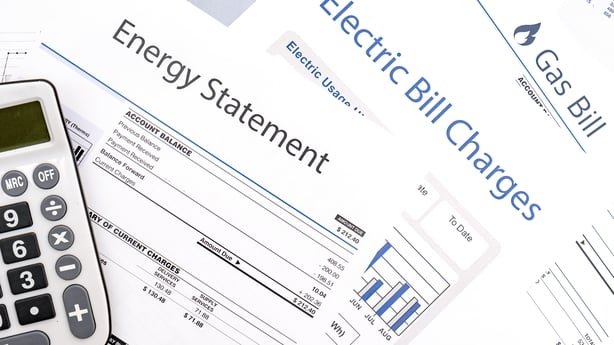 September
In September, some hoteliers reported electricity price increases of over 400% and gas price increases of over 300% since 2019.
The figures from the Irish Hotels Federation (IHF) showed that linen costs were up 29%, food up 22%, and beverages up 12% in the past 12 months.
Denyse Campbell, President of the IHF said that businesses would need support in Budget 2023, to offset the financial shock that businesses were facing.
"As the main tourism season draws to a close, businesses are reporting skyrocketing cost increases, which are nothing short of frightening," Ms Campbell said.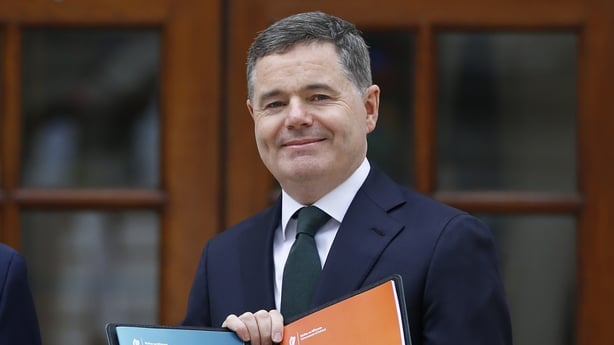 On 27 September - Budget Day, the then Minister for Finance announced measures to support business and enterprises in Ireland through what he called "these exceptionally challenging times".
Budget 2023 saw the introduction of a Temporary Business Energy Support Scheme to assist businesses with their energy costs over the winter months.
Paschal Donohoe said the new scheme would be open to businesses that are tax compliant and have experienced a significant increase in their natural gas and electricity costs.
But the Minister for Finance held firm on the decision to return the VAT rate for hospitality to 13.5% next year.
It currently stands at 9% and will continue until February 28, 2023.
However, the Government said it would review the situation surrounding the hospitality VAT rate before it increases in March.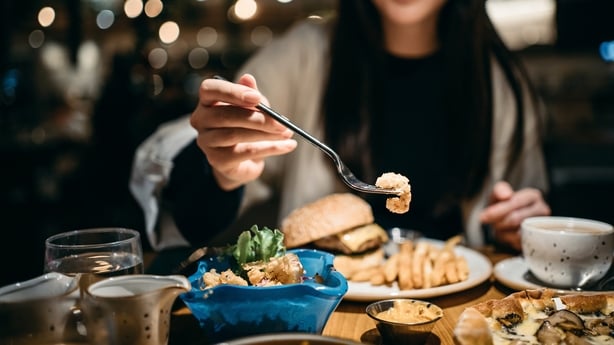 The Chief Executive of the Restaurants' Association of Ireland said there was "big disappointment" around the decision not to extend the 9% VAT rate for the hospitality industry.
Adrian Cummins said that there was "no price gouging" within the restaurant industry and that an increase in VAT in February would place further pressure on businesses and consumers.
The Licensed Vintners Association (LVA) also said it was disappointed by the decision.
"The current VAT measures continue until the end of February 2023, so we look forward to further engagement with Government and hope they will extend this rate beyond the current timeframe," said Donall O'Keeffe, Chief Executive of the LVA.
Denyse Campbell, President of the Irish Hotels Federation, said that while elements of the Budget would help hoteliers, the sector felt that the Government missed an opportunity to continue support for employment recovery and growth in tourism.
"This increase will make Ireland's tourism VAT rate the second highest in the European Union, and far above other European countries where tourism is a significant part of their economies, such as Portugal, Turkey and Malta.
October
The supports announced in Budget 2023 were too little, too late for some businesses.
In Wicklow town, Co Wicklow, Jackie Buckley was forced to close her café 'Jackie B's due to rising costs.
"We made everything here from cakes to sandwiches getting all ingredients from local suppliers," she explained.
"The cost of packaging went up, takeaway cups and the paper roll for the credit card machine. Butter went from €2.29 to €3.39.
"It was kind of this drip-drip feeling of how much more expensive things are," she said.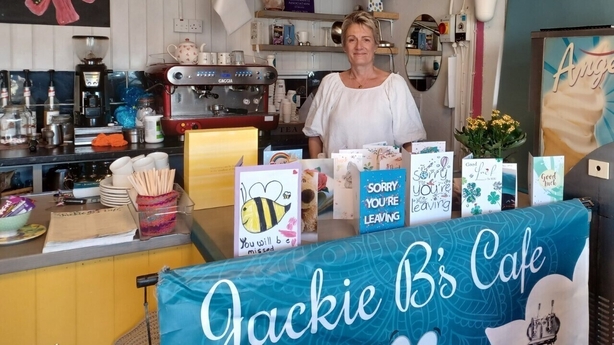 Ms Buckley said that she felt dismissed by the Government in Budget 2023.
"It was about two or three hours after the Budget was announced that I made the decision to close, I became so disillusioned.
"I don't think the Government thought down to us. It felt like they were saying 'thanks but, you can go now'."
November
Retailers geared up to make the most of Black Friday - the first since Covid-19 pandemic restrictions were removed.
Research from the Competition and Consumer Protection Commission (CCPC) revealed that over one in three consumers planned on shopping in the Black Friday sales this year.
"While slightly down on last year, this still represents a very significant percentage of consumers who, on average, intend to spend almost €400," said Gráinne Griffin, Director of Communications at the CCPC.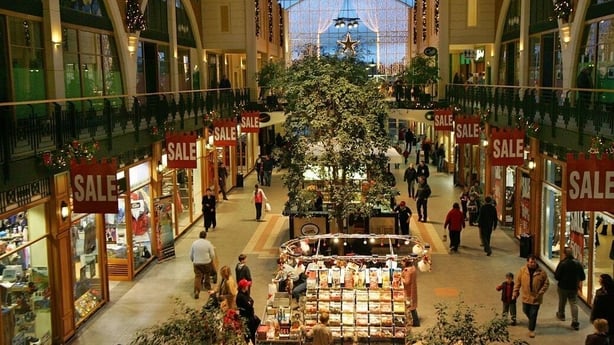 Irish retailers encouraged consumers to make it a Green Friday and to buy Irish and sustainable products.
"Two third of online shopping goes outside the country so we are asking people to think of and support local online and bricks and mortar businesses," said Evelyn Moynihan, co-founder of Champion Green, a campaign set up to support and promote small and medium-sized businesses in Ireland.
"A lot of small businesses rely on business in the final quarter and if we don't support them, we will lose them," she said.
December
Figures published in December revealed that 24% of hotel rooms, about 15,000 of the total of 60,000, were being used by the Government to house refugees from Ukraine and asylum seekers.
Eoghan O'Mara Walsh of the Irish Tourism Industry Confederation (ITIC) urged the Government to come up with a more balanced approach.
"If you don't have the bed stock for tourism you won't have tourism activity, and that will mean livelihoods being lost next year", Mr O'Mara Walsh said.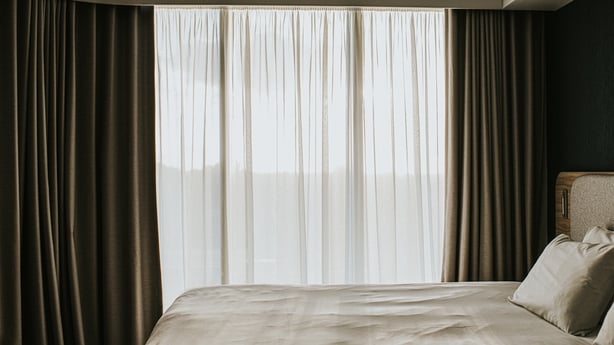 Footfall in shops across the country increased significantly in December compared to the same time last year - according to Retail Ireland, a representative group for the sector.
Speaking on Morning Ireland, Arnold Dillon, Director of Retail Ireland said fears around the Omicron variant of Covid-19 impacted pre-Christmas trade last year.
"It is a completely different situation this year," he said.
"Although there were no retail restrictions this time last year, there was significant anxiety around the Omicron variant and that reduced footfall dramatically, particularly in that last week running up to Christmas," he said.
This December, Mr Dillon said footfall returned to the pre-pandemic levels of 2019.
"People are determined to get that full festive experience that they missed out on over the last few years," he said.
However, Mr Dillon warned that challenges will remain for retailers into 2023, particularly around rising costs and consumers who are themselves increasingly budget conscious.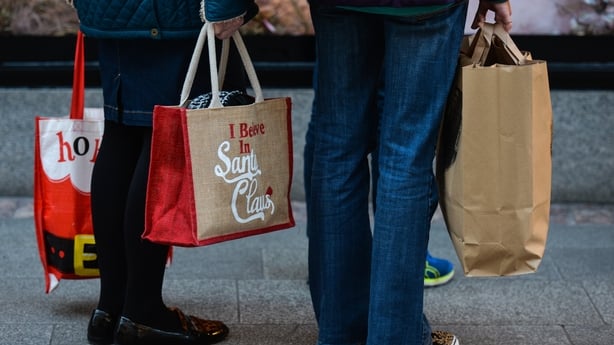 December was also a good time of year for many parts of the services and hospitality sector, in particular pubs.
The Licensed Vintners Association said it was by far the most important month for its members – with revenues typically being two to three times what they'd see in an average month.
With no Covid restrictions this year, they expect sales to be back to where they were in 2019.
That boom in trade will run all the way through to the New Year.
But the problem then is that, almost overnight, the trade switches from what is by far its best month, to what is without doubt its worst month.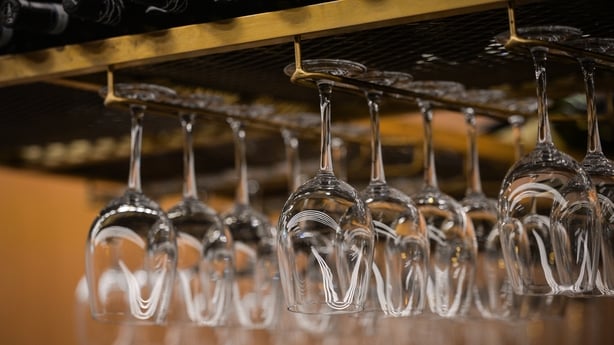 Christmas is an important time of the year for restaurants too, with the Restaurant Association of Ireland recording a pick up in sales.
It said this was particularly notable at the higher end of the market – with customers trading up on extras like wine.
It also saw more spending going onto the corporate credit card – up on 2019.
December can be a bit of a mixed bag for hotels because it's a pretty quiet period for their bread and butter of selling rooms.
But their restaurants and bars see the same kind of pick-up that standalone operations do - and they also do well from Christmas events, like office parties and family gatherings.
No doubt businesses will be making the most of this busy Christmas season, and will be hoping for an even busier 2023.