Many pubs are being forced to close two days a week due to a staffing crisis which has been exacerbated by the Covid-19 pandemic.
Groups representing pub owners told the Oireachtas Committee on Tourism, Culture, Arts, Sport and Media today that they have suffered a huge loss of chefs, managers and senior bar staff after two years of closures and restrictions.
The Thatch Bar and Restaurant in Lisselton in Co Kerry will close its doors on Sunday for the final time.
A shortage of chefs and rising costs have forced its owners to make the difficult decision.
Owner Joanne Riordan O'Connor said: "the hikes in the food costs, not being able to get the chefs and the stress like... the stress of it all has just been so hard, trying to manage everything and keep things going".
Joanne said the cost of food has gone up between 30% and 40% in the last few months and the gas and ESB bills have also skyrocketed - which she said have crippled her business.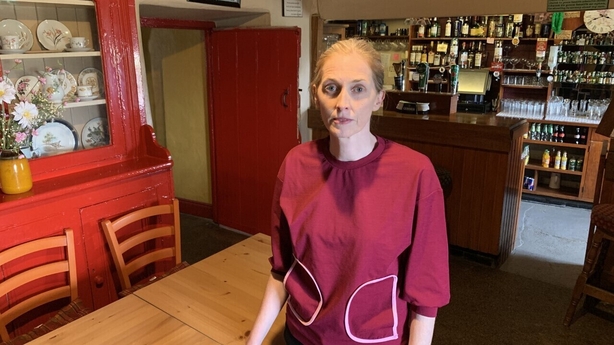 "We did a price increase in April and we only went to about 12.5%, like we should have probably went to about 25% at the time but we couldn't do that because we would have nobody coming in our doors," she explained.
After five years building up their business the owners of the Thatch Bar and Restaurant will trade for the final time this weekend, an indication of the pressures facing the industry.
Joanne says they had hoped they would not be forced to close.
"We are gutted, we put five hard years into the business. I wish we didn't have to close but I just think we are drained from it at this stage," she said.
Meanwhile, groups representing pub owners told politicians today that the pandemic has resulted in serious staff shortages.
Donall O'Keefe Chief Executive of the Licensed Vintners Association said: "Two years of closures and restrictions have had a devastating impact on staff retention in our sector.
"In all we estimate about one third of our staff have departed the sector.
"Given the shortages of skilled staff that existed pre-Covid the loss of chefs, managers and senior bar staff from the sector has made a difficult situation all the more challenging".
Mr O'Keeffe told members that they have been encouraged by the level of business since the sector reopened, and that staff availability is now the biggest inhibiting factor to full recovery.
He said the lack of accommodation is most extreme in Dublin, and is a barrier to returning international staff to the pub industry.
It was also a barrier for people moving from the country to work in Dublin, he said.
We need your consent to load this rte-player contentWe use rte-player to manage extra content that can set cookies on your device and collect data about your activity. Please review their details and accept them to load the content.Manage Preferences
Meanwhile, the Vintners' Federation of Ireland said pubs have had to adjust to the skills shortage in many ways.
President Paul Moynihan said: "I have had owner operators crying out for staff like... They are closing Mondays and Tuesdays, not because the business isn't there, just they cannot get staff.
"There is pubs having to close down for a week to give holidays for staff," he said.
Chief Executive of the VFI, Paul Clancy, said that the Covid pandemic was a game-changer like none other.
He said many businesses were saved by Government interventions and without those supports most pubs would have gone out of business.
Publicans 'crying out for staff'
Mr Clancy also said that Covid has had a serious impact on labour supply for members, and that pub owners are "crying out" for staff.
He said that pubs have had to adjust to the serious skills shortage in many ways, including training new staff who are both young and inexperienced.
He told politicians that this is not sustainable if businesses are to remain viable.
The LVA and the VFI have called for a single Government department or state agency to take responsibility for the hospitality sector and training.
They have also called on the Government to review the work permit scheme which they say is not fit for purpose.