The EU and euro zone are likely to tip into recession in the final quarter of the year because of Russia's invasion of Ukraine, according to the latest economic outlook from the European Commission.
Europe faces "exceptional uncertainty" as the war continues with the biggest threat coming from the risk of gas shortages, especially in the winter of 2023.
"Amid elevated uncertainty, high energy price pressures, erosion of households' purchasing power, a weaker external environment and tighter financing conditions are expected to tip the EU, the euro area and most Member States into recession in the last quarter of the year," according to the Commission's Autumn Economic Forecast published today.
Ireland's GDP growth rate is put at 7.9% for 2022, falling to 3.2% in 2023 and 3.1% in 2024.
The forecast says net Irish exports, particularly in the multinational sector, are expected to remain resilient and be the main driver of growth.
Irish inflation is expected to peak at 8.3% in 2022 this year, slipping back to 6% in 2023 and "moderating" to 2.8% in 2024.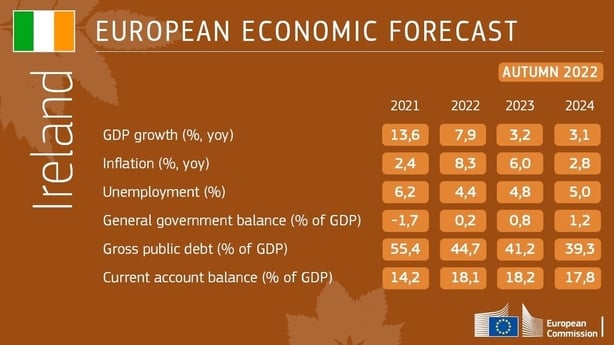 Today's report says high energy prices are the main driver of Irish inflation "with food prices accelerating notably over the last months".
The Commission forecast notes the heavy presence of multinationals in the Irish economy, which it says may "continue to cause volatility in the country's economic growth figures".
"The current very high intake of corporate taxes may be temporary and thus also entails downward risks for Irish public finances," the report adds.
Overall, with inflation cutting into households' disposable incomes, the contraction of European economic activity is set to continue in the first quarter of 2023, the report says.
Growth next year overall is expected to be a mere 0.3%, rising to a forecast of 1.6% in the EU as a whole and 1.5% in the euro zone in 2024.
Despite that gloom, the forecast says that momentum from 2021 and strong growth in the first half of 2022 will mean GDP stands at 3.3% in the EU as a whole, compared to the 2.7% that was forecast in the summer outlook.
The outlook says the largest threat to the economy comes from "adverse developments" on the gas market and the risk of shortages, especially in the winter of 2023-24.
"Beyond gas supply, the EU remains directly and indirectly exposed to further shocks to other commodity markets reverberating from geopolitical tensions," the report says.
Longer than expected inflation and potential "disorderly adjustments" on global financial markets to high interest rates "also remain important risk factors".
The report also says the EU is "among the most exposed advanced economies, due to its geographical proximity to the war and heavy reliance on gas imports from Russia."