Around 350 Irish-based employees are at risk of losing their jobs at Facebook parent company Meta.
The firm has announced that it will reduce the size of its global workforce by about 13% and let more than 11,000 employees go.
There are around 3,000 people directly employed by Meta in Ireland and the 13% cut is expected to be applied, meaning that around 390 jobs would be at risk.
However, RTÉ News understands from people with knowledge of the process that the figure is closer to 350.
It is understood all potentially affected Irish-based employees were being informed today.
"In Ireland, the timeline and process will be defined by Irish Government guidelines which will see potentially impacted employees entering collective consultation," a Meta Ireland spokesperson said.
The company said today's announcement does not affect contract workers employed by third-parties.
Around 6,000 people provide support services to Meta's operations in Ireland.
Meta said it has informed the relevant policy stakeholders - the Department of the Taoiseach, the Department of Enterprise, Trade and Employment and IDA Ireland.
"As the location of our international HQ, Ireland is an integral part of our company and our operations. Today's announcement and the process does not have any impact on Ireland's status, or on our long-term investment plans in Ireland.
"We appreciate Ireland's and in particular the Irish Government's ongoing support for our operations here," Meta Ireland said.
The company employs around 87,000 people globally.
We need your consent to load this rte-player contentWe use rte-player to manage extra content that can set cookies on your device and collect data about your activity. Please review their details and accept them to load the content.Manage Preferences
---
Read more:
What is happening in the tech sector right now?
---
Today's broad job cuts, the first in Meta's 18-year history, follow thousands of layoffs at other major tech companies, including Microsoft and Elon Musk-owned Twitter.
The pandemic boom that boosted tech companies and their valuations has turned into a bust this year in the face of decades-high inflation and rapidly rising interest rates.
Meta, whose shares have lost more than two-thirds of their value, said it also plans to cut discretionary spending and extend its hiring freeze into the first quarter of next year.
Taoiseach Micheál Martin has said the Government will do "everything we can" to assist Irish employees at Meta who are facing job losses, adding that his understanding is there will be "full consultation" between Meta management and employees - in line with Irish employment law.
'Very, very sad and difficult news'
Mr Martin described the prospect of yet more job losses in the tech sector as "very, very sad and difficult news" and told the Dáil that the role for Government is to engage with the company and ensure employees received the necessary supports and potential employment opportunities.
However, Mr Martin appealed for people to retain what he termed "perspective and balance", adding the tech sector was clearly going through a difficult phase globally, and there were examples of that now in Ireland, but foreign direct investment is still very strong in the country.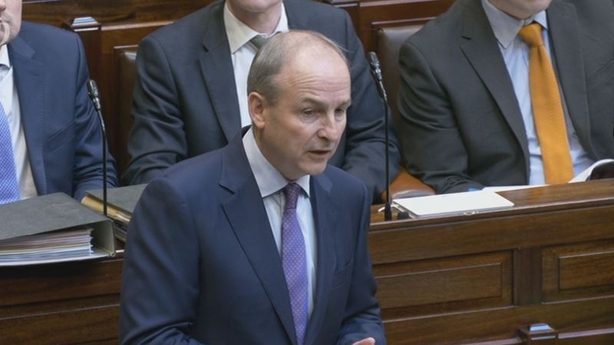 He added that his understanding is there will also be full consultation between Stripe management and its employees, who also face job losses, but he was on record as not being "happy" with the way Twitter had handled job cuts.
He was replying to Labour leader Ivana Bacik, who said tech staff across her constituency do not know if they will have a job in a few weeks' time and they were "absolutely devastated" at that prospect.
She said it was a "grim irony" that many of them were finding out their fate in real time, online.
Ms Bacik said the fact that employees were learning they lost their job when they were "suddenly locked out of email accounts" was no way to treat employees.
She said there was a clear need for stronger rights for workers, given that some of the tech companies were "stridently anti-union" and therefore workers are not represented.
US employees to receive severance package - Meta
Meta said that its US employees will receive 16 weeks of base pay, plus two additional weeks for every year of service, as well as all remaining paid time off, as part of the severance package.
Details of the redundancy package on offer to affected Irish-based employees will form part of the consultation period that staff will enter.
In a message to employees, Meta's Chief Executive Mark Zuckerberg said: "Not only has online commerce returned to prior trends, but the macroeconomic downturn, increased competition, and ads signal loss have caused our revenue to be much lower than I'd expected.
"I got this wrong, and I take responsibility for that," he said.
Mr Zuckerberg is among several top US executives who have this year sounded the alarm on an upcoming recession.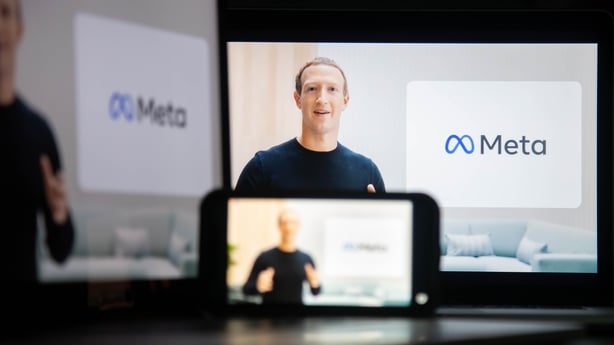 Some of Meta's wounds, however, have been self-inflicted.
A pricey bet on metaverse, a shared virtual world, has seen the company forecast as much as $100 billion in expenses for 2023.
That has drawn skepticism from investors who are losing patience with investments that Mr Zuckerberg himself expects a decade to bear fruit.
The company is also grappling with stiff competition from TikTok and privacy changes from Apple, while it is also in the crosshairs of regulators around the globe.
Meta had 87,314 employees as of the end of September.
Cabinet briefed on tech sector job losses
Tánaiste Leo Varadkar has briefed Cabinet on the situation in the tech sector. He said his thoughts are with the employees affected as it is a very difficult time of year to receive bad news.
He said companies have given assurances that legal procedures will be followed, including at least 30 days' notice and consultation, as well as enhanced exit or redundancy packages in most cases.
The Tánaiste said staff affected will be offered full assistance from the Government to find other employment, set up their own business or return to education or training.
He also indicated that the tech sector is still growing, that this should not be seen as a major crisis in the tech sector. It is a downsizing after years of phenomenal growth. The sector will grow again in the medium. The future is digital, he said.
The Minister for Public Expenditure and Reform has described today as "a dark day" for anyone who is being told they will lose their job as a result of cutbacks at Meta.
But Michael McGrath said the company is "fully complying" with all legal obligations in this country.
Speaking on RTE Radio's News at One, the minister said State agencies will provide as much help as possible and that those involved have skills which are in demand across the Irish economy, including the tech sector.
"Due process will take its course," he said in relation to how the Irish job losses will come about. "The company will be making additional statements."
We need your consent to load this rte-player contentWe use rte-player to manage extra content that can set cookies on your device and collect data about your activity. Please review their details and accept them to load the content.Manage Preferences
Additional reporting Paul Cunningham