Wind Energy Ireland has called on the Government to increase its renewable energy ambitions and fully decarbonise the Irish electricity system within 13 years.
The calls comes as energy prices continue to rise amid widespread concern here over the slow pace of the development of renewable energy.
Eirgrid announced last week that after a world leading groundbreaking project, up to three quarters of electricity flowing through our national electricity grid at any time can now come from variable renewable sources such as the Mount Lucas Wind farm in Co Offaly.
No other country in the world can come anywhere near that and very few have the wind energy potential that we have.
Wind Industry Ireland has said that Ireland's electricity can be net zero emissions by 2035.
It wants the Government to match their ambition and address the planning and grid connections problems holding them up.
Chief executive of Wind Energy Ireland Noel Cunniffe said that it is supposed to take An Bord Pleanala 18 weeks to process renewable energy project applications.
But he said that over the past two and a half years it is taking 60 weeks to process such applications.
He said that it is the same situation regarding applications to Eirgrid for access the national electricity grid.
One of largest renewable energy operators in the country, RWE, told the annual conference of the Irish Wind Industry in Dublin this morning that it is ready to invest €1.5 billion in onshore wind, offshore wind and battery storage facilities in Ireland over the next eight years.
It will also expand its Irish employment in Ireland from 20 employees currently to 150 in three to four years' time.
RWE Country Chair Cathal Hennessy said the issues of renewable energy and the climate crisis are now in alignment and that his company is ready to go with its investments.
He said the key to delivering net zero technologies will be supporting policy and regulatory frameworks.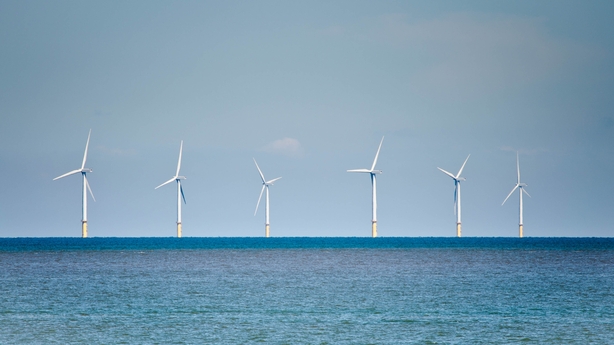 Ireland had the largest offshore wind farm in the world with the Arklow wind bank off the coast of County Wicklow in 2004.
The country was a world leader then, but in the meantime, however, we have done nothing with that advantage.
No new offshore wind generation capacity or facilities have been added and Ireland has fallen way behind other countries in offshore energy generation.
Now the target is for Ireland to have 200 times more electricity coming from offshore wind farms by 2030 - just eight years away.
It is crucial too that that target is reached, given that Ireland now has very challenging and legally binding targets for renewable energy combined with the passing of the Climate Act into law last year.
The money is there, the industry is there, and the technology is there.
But the sector is waiting for the issues around the panning system and grid connection to be resolved so that they can all get ahead with the job.
Wind Energy Ireland said the technical debate is over and that we have the energy, the technology and the investment to build a fully decarbonised electricity system by 2035.
It launched a new Strategic Plan to achieve that objective at its annual conference today and has called on the Government to accelerate the development of renewable electricity in Ireland.
It has specifically called for Minister Darragh O'Brien to instruct An Bord Pleanála to prioritise planning applications from renewable energy projects and related grid infrastructure.
It also wants Minister Michael McGrath to ensure that An Bord Pleanála, the National Parks & Wildlife Service and other key environmental stakeholders get the resources they need in this year's budget to properly process planning applications.
Wind Energy Ireland has also urged Minister Eamon Ryan - and all politicians - to work with EirGrid, ESB Networks and industry to build an electricity grid that is strong enough to accommodate the onshore, offshore and floating wind energy we will need to be net-zero by 2035.
"We are ready for the challenge, and we are calling on the Government to join us in building an Ireland which is energy independent, with warmer homes, cleaner air and a renewable energy industry employing tens of thousands of people who will lead our fight against climate change," Noel Cunniffe said.
"Ireland has some of the best wind energy resources in the world. The sooner we can build the new wind farms, on and offshore, the sooner we will not only decarbonise this country but be able to export clean power to help cut carbon emissions across Europe," he added.
RWE's Cathal Hennessy said that renewable energy can help Ireland meet its greenhouse gas reduction targets and will also play a key role in delivering energy security for the Irish economy.
"But this will only happen if the correct policy frameworks are in place and adequate resources are available within key areas such as planning and energy provision," he added.