Two companies have announced new jobs for Co Louth today, with Hiab to create 100 jobs at its Dundalk facility and tech firm ITRenew creating 40 jobs in Drogheda.
Hiab, one of the world's leading manufacturers of truck mounted forklifts, has announced the creation of 100 jobs at its Dundalk facility in Co Louth.
Hiab will also invest €50m in a new "factory of the future" in the town which will be built by 2023.
The company is currently identifying a suitable site in the Dundalk area, but it said that to meet unprecedented global demand for its machines it is recruiting for the new jobs immediately.
"While we are developing our new facility here in Dundalk, we are not standing still. We are looking to hire 100 new staff for roles at our current Dundalk facility", Senior Vice President for Truck Mounted Forklifts at Hiab, Rogier van der Linde, said.
Another 100 jobs will be created during construction of the plant which will include a global innovation and research and development centre.
The company already employs 300 people in Dundalk.
Seven out of 10 truck mounted forklifts in the world come from Hiab's Dundalk plant.
"Hiab's operation in Dundalk is a key part of the company's global success story. It has been home to innovation and production of truck mounted forklifts since 1986", Mr van der Linde said.
"It will continue to lead the world in new product development and solutions that ultimately help other business sectors be more effective and efficient in their transportation operations," he added.
The majority of the new roles are for general operators with mechanical skills in addition to support roles in Manufacturing Engineering, R&D Engineering, Quality, Warehousing and Planning.
Hiab is also establishing a second facility in Ohio in the US.
IDA Ireland's chief executive Martin Shanahan has welcomed the announcement and said the jobs are a considerable boost to the economy of the North-East region.
Meanwhile ITRenew, which decommissions data centre hardware, is to establish a new facility in Ireland which will create 40 new jobs in Drogheda, Co Louth.
Founded in 2000 and headquartered in California, ITRenew securely decommissions data centre hardware for the world's global cloud service providers.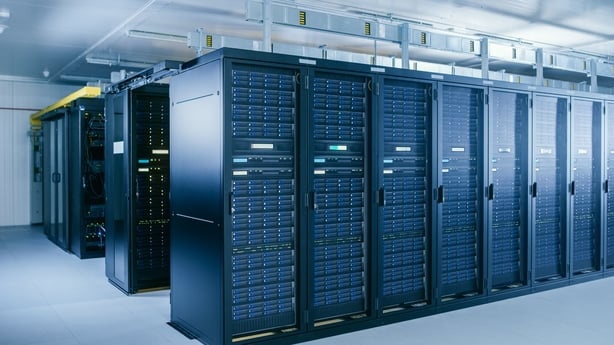 It transforms the hardware into everything from critical components to fully integrated edge and data centre systems.
ITRenew employs over 500 people globally and has had a presence in Ireland for several years, with staff responsible for hardware procurement, secure transport and decommissioning.
Ali Fenn, President of IT Renew, said that Drogheda offers the company the skills and resources it needs to open new financial opportunities for its EU customers and help them achieve their sustainability goals faster.
"The roles we're creating will be highly skilled, ranging from operators to process engineers, with responsibility for data sanitization, component recovery, and responsible recycling," the company boss added.
IDA Ireland chief executive Martin Shanahan said the decision by ITRenew to establish in Drogheda is very positive news for Louth and the North-East region, where the company will benefit from a rich pool of tech-based talent.
"Winning jobs and investments for regional locations is a key pillar of IDA Ireland's strategy Driving Recovery & Sustainable Growth 2021-2024 and today's announcement by ITRenew demonstrates the continued commitment to that pillar," Mr Shanahan added.
Minister for Business, Employment and Retail Damien English said the company's expansion in Ireland speaks highly of the country's continued success at attracting foreign investment, particularly within the tech industry.
"The North-East offers a wealth of talented people and local resources which will allow the company to thrive in the years ahead," he added.