AIB has said it plans to cut its workforce to below 8,000 by 2022, a sharper reduction than it had previously flagged, as part of a new strategy announced by the bank today.
The bank had a workforce of about 9,520 at the end of 2019 and it said it was aiming to make the cuts through negotiated voluntary severance.
"We will see headcount reducing to a little bit less than 8,000 at end 2022," Colin Hunt told RTÉ Morning Ireland.
"When I took over as CEO 12 months ago, we had 10,000 employees working in the group. We reduced that by 500.
"That was driven by three factors; retirement in the normal course, people choosing to leave the bank and pursue careers elsewhere and also a voluntary redundancy programme. 
"Those three features will help us reduce headcount over the next three years."
Mr Hunt said the decision was driven by the need for fewer staff working in legacy areas of the banks.
That is understood to include those dealing with mortgage arrears.
We need your consent to load this rte-player contentWe use rte-player to manage extra content that can set cookies on your device and collect data about your activity. Please review their details and accept them to load the content.Manage Preferences
He said it was also a consequence of the significant investment the bank had made in its technology upgrades in recent years.
Mr Hunt said that most of the cuts will be as a result of normal retirements, resignations and a voluntary severance programme. He added it was inevitable that those legacy-related jobs would be cut.
AIB today also reported a fall in profits for 2019 and said that given the wider economic uncertainty, it remains focused "on controlling the controllables in the medium term". 
AIB said its operating profits fell to €1.091 billion from €1.414 billion in 2018. 
Its profit before tax slumped by 60% to €499m and was impacted by exceptional items, including €300m additional provisions to meet potential further liabilities arising from its involvement in the tracker mortgage controversy.
This follows a preliminary decision by the Financial Services and Pensions Ombudsman last month. 
AIB's profits for the year were also hit by the very low rates environment, consistent with the banking industry in general.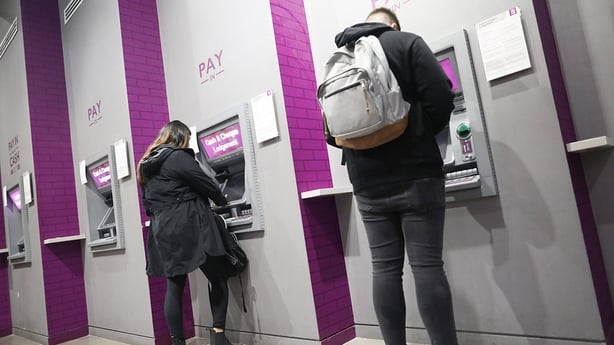 In this morning's results statement, AIB said its performing loan book rose by 3% to €58.8 billion from €56.8 billion the previous year.
New lending increased by 2% to €12.3 billion, while customer accounts increased to €71.8 billion by the end of December from €67.7 billion in December 2018. 
"We're very happy with where we stand in terms of the competitiveness of our proposition. That's neatly reflected in our leading mortgage market share of 31.4%. We continue to keep pricing of our products under review," Mr Hunt told RTÉ.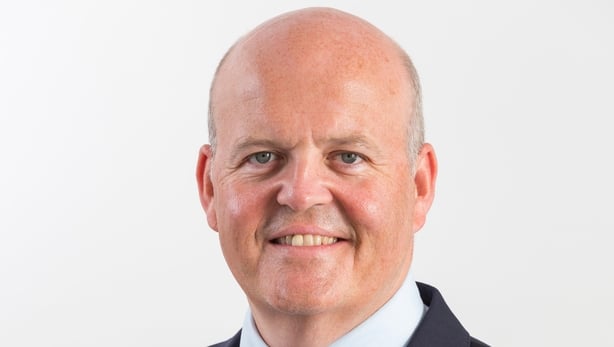 "We have introduced negative rates to our very largest corporate and non-banking financial institution customers over the past 12 months. We keep this under constant review," he said.
AIB said its non-performing loans (NPEs) reduced "significantly" by 45% during the year from €6.1 billion (9.6% of gross loans) to €3.3 billion (5.4% of gross loans).
The bank had targeted a NPE figure of about 5% by the end of 2019.
"This reduction reflects our ongoing engagement with customers as well as two portfolio sales of deep arrears non-performing loans which had a gross value of €1.8 billion," the bank said. 
It added that a further reduction in the level of non-performing loans remains a key focus for the group.
"With all levers at our disposal, we will continue to focus on reducing NPEs decisively lower in the medium term," the bank added.
Mr Hunt said in a statement accompanying the results that the fundamentals of the group remain strong, with sustainable underlying profits and a robust capital base.
"2019 was a year of progress, delivery and planning. Led by our purpose we improved our customer proposition and streamlined service to our c. 2.8 million customers whilst increasing our new lending to €12.3 billion to support economic growth," Colin Hunt said.
He also noted that the bank achieved its milestone of reducing non-performing exposures (NPEs) to about 5%, as it continues to take action on costs. 
"As we announce our new medium-term targets today and embark on our next phase, I am intent on addressing legacy matters of the past so that our future, characterised by a normalised cost base, balance sheet and capital structure, will deliver for our stakeholders and sustainably generate shareholder value," he added.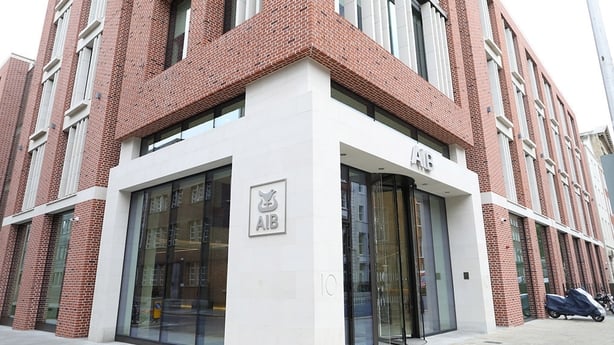 As part of its new medium-term targets, which AIB said would sustainably generate shareholder value, it now expects operating costs to increase by 2 to 3% this year after a 5% rise to €1.5 billion in 2019.
But it would then cut them back down to €1.5 billion by 2022. 
With a fully loaded tier one capital ratio of 16.4%, above its newly increased medium-term target of 14%, AIB said it intends to apply for regulatory approval to begin returning the excess capital to shareholders, ideally beginning this year via a multi-year programme. 
The bank's net interest margin, a metric showing the profitability of its lending, fell to 2.37% for the whole of 2019 from 2.47% in 2018. 
The bank also set a target of a return on tangible equity (ROTE) above 8% by 2022.
Speaking on a call with reporters today, Mr Hunt said that AIB can not predict how serious the outbreak of Covid-19 will be, adding that Ireland is a small, open economy which can be affected by world events.
Mr Hunt said that for some time he has maintained that the economy is closer to an economic slowdown after its recent growth, but said the bank's Brexit preparations has seen some protocols put in place.
He also said the bank is in constant ongoing engagement with customers over their capital needs. He urged them to check on their supply chains and to make contact with the bank if they see difficulties ahead. 
The AIB CEO said that no actual new banking products are need to deal with the virus outbreak, adding that it is key for the bank to remain in contact with its customers
He also said the bank's priority is to protect the health and welfare of its staff and customers.
On non-performing loans, Mr Hunt said the bank aims to reduce the level of NPEs on its book from its current level of about 5% to 3% by 2022. 
He said the bank's perferred option on non-performing loans is to agree a one-on-one agreement with the affected mortgage holders, adding that the bank is also looking at more portfolio sales. 
Shares in the bank were 4.6% lower in Dublin trade today.
Rival Bank of Ireland targeted further cost cuts when it reported a fall in profits last week, adding it would take longer than forecast to hit a return on tangible equity (ROTE) above 10%.