Bank of Ireland has reported an underlying profit before tax of €758m for 2019, down 19% on the €935m reported the previous year.
This was despite a 3% rise in new lending volumes and a 4% reduction in net costs.
The lender has proposed a dividend of 17.5 cent per share for the year, a 9% increase on 2018.
Bank of Ireland said today that its net interest income of €2.15 billion was in line with 2018. 
The bank's net interest margin (NIM) -  the difference between the average rate at which it funds itself and lends on to customers - fell to 2.14% from 2.2% in 2018. The figure was in line with its expectations, it said.
We need your consent to load this rte-player contentWe use rte-player to manage extra content that can set cookies on your device and collect data about your activity. Please review their details and accept them to load the content.Manage Preferences
The bank's chief executive Francesca McDonagh described the results as "progress over hard ground".
"It's a solid performance. We do have good profitability. Operating profit before impairments was up by 10%. We are growing our lending. We've increased our wealth and insurance business very successfully. We are reducing our costs and becoming more efficient, and we're transforming our business," the CEO said.
Ms McDonagh said the bank had helped more than 12,500 people to buy a home last year - over 50 people a day - and it is supporting the construction of around 9,000 new homes.
Irish mortgage holders have some of the highest rates in the euro zone. Smaller banks like KBC and Ulster Bank are driving most of the downward pressure on mortgage interest rates, and this morning AIB announced that it is cutting its rates. 
Ms McDonagh said Bank of Ireland had reduced its rates last year, and remains competitive.
"We believe we have a really competitive offering, and we saw that evidenced through increased market share in the second half of 2019," she said.
"Some of our cheapest mortgages, high value mortgage without cash back, is 2.5%. If it's for a property that is rated 'green' that rate is 2.3% which is very attractive."
The bank also offers a 2.9% mortgage with a cash back offering "which for carpet and curtains for first time buyers is really attractive".
Bank of Ireland has not increased provisioning for a fine following the tracker mortgage scandal, as part of these results.
"We feel that we have identified every single customer that has been impacted. We have contacted and redressed more than 99% of them," Ms McDonagh said.
The bank has been affected by the European Central Bank's negative interest rates. Banks make money from interest rates so when there are zero or negative rates, banks become less profitable.
"We have seen that come through in some of our own margins, but our focus is on growing so that's why despite the margins, reflecting a low interest rate environment, we have been growing our lending by €2 billion, and also diverting away from just lending to providing other services."
She said the bank's wealth and insurance business grew by 11%, adding that is really important in Ireland because we have a growing population and full employment, while people are looking for plans for pensions, for retirement, investing and life protection.
Ms McDonagh also said Bank of Ireland has invested heavily in improving the digital services for customers. Last November, the bank's ATMs, website and app services went down, but she said its broader digital transformation is going positively.
"We are hitting key milestones. We've rolled out our new mobile app to our 10,000 colleagues. We'll be rolling it out to our customers starting in March of this year," she said. "It's taken a bit longer than we expected but that reflects our commitment on getting it right for our customers."
Half a million customers engage with Bank of Ireland digitally every day "so we want to make sure that any migrational changes are well managed".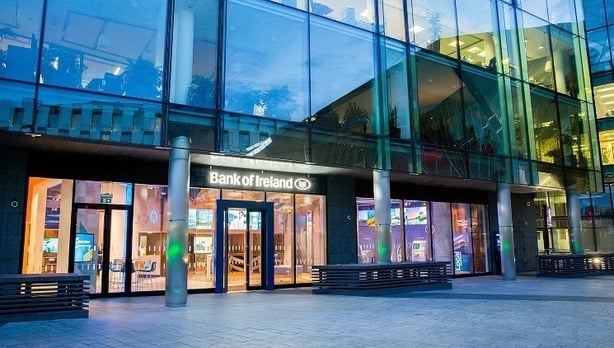 In today's results statement, Bank of Ireland said the environment in which it operates has changed materially and is more challenging. 
Because of this, the bank said it was dropping its previous target of delivering a 10% return on tangible equity (RoTE) by 2021, and is now targeting an 8% rate by next year. 
But it said it still continues to target the higher rate "over the longer term," it said.
It said an impairment charge of €215m compared to a write-back of €42m in 2018 more than accounted for the difference as operating profit before impairment charges rose 10%. 
It also said it increased its cost reduction target by €50m to €1.65 billion by 2021.
In today's results statement, Bank of Ireland said its asset quality remained strong last year with improvements in particular across loan portfolios with elevated levels of non-performing loans. 
Non-performing loans reduced by €1.5 billion to €3.5 billion, equating to an NPE ratio of 4.4% of gross customer loans.
The bank's loan book increased by a net €2.5 billion last year - the second year of expansion in a row after ten years of contraction.
The Bank of Ireland CEO said the bank is mindful of the risks, challenges and uncertainties relating to the global economy, interest rates and Brexit. 
"We will continue to responsibly develop our profitable, long term franchises and to serve our customers
brilliantly in a way that delivers attractive, sustainable returns to our shareholders," she added.
Meanwhile, small and medium-sized enterprises here have not sought to drawdown as much from Bank of Ireland's €2 billion Brexit lending fund as the bank anticipated, Francesca McDonagh also said today. 
Bank of Ireland, the country's largest bank by assets, earmarked the funding a year ago for lending to firms that need capital to adapt to the challenges of the UK's departure from the European Union. 
"Irish SMEs are still cautious about taking on new debt," Ms McDonagh told a news conference, adding that the take up had been "not as much as I would have expected."
Commenting on today's figures, Davy Stockbrokers said that 2019 was equally a year of progress - costs down and lending up - and frustration - interest rate environment and macro-backdrop - for Bank of Ireland.
Davy said the bank's lower near-term ROTE guidance will not come as a surprise. 
"Banking in this environment is a difficult business and we are likely to lower our 2020 forecast earnings by about .5% on higher impairment charges and reduce our dividend," the stockbrokers said.
Bank of Ireland shares saw steep falls in Dublin trade today, along with the ISEQ index of Irish shares overall.