Ireland makes a significant return on its current investment in space-related activity, according to Minister of State John Halligan.
He was speaking at the launch of the country's first National Space Strategy for Enterprise, which sets out a number of targets for the sector between now and 2025.
One of those will see Ireland's public and private investment in European Space Agency projects grow from the current level of around €17m to €32m in six years' time.
Mr Halligan said that increase in spending would represent good value for the money, as companies and organisations here currently get four euro back for every one euro invested.
"As a matter of fact, in some years it's as much as one-to-eight, so there has been a substantial increase in profits and return of our money," he said.
Last year 67 Irish firms were contracted to work with the ESA, with a combined turnover of €300m.
That is expected to grow to €500m next year, while employment in the sector has more than doubled to 5,000.
The new national strategy wants to grow the number of Irish firms working with ESA to 100 by 2025, while also doubling the number of contracts won through the European Union's Horizon programme.
That would help to achieve another of the strategy's aims, which is to double space-related revenue and employment in the country over the next six years.
Work will also be done to increase public awareness of the industry, and attract talent to the roles that will be created.
"The launch of the last number of satellites has had an Irish flag on it, and that's good for our experts, our innovation, our research and developers, our institutes of technology, the government and the universities," said Mr Halligan.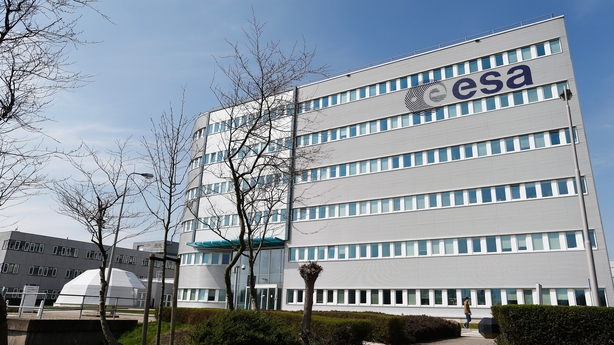 He said that Irish enterprise is already competitive across a range of technological domains related to these sectors and is ideally placed to seize the new opportunities within the evolving space market.
Mr Halligan also pointed out that, while the focus of the strategy is on space-related activity, there is also the potential for its technology to ultimately be transferred to Earth-bound activity.
"The skills and capabilities necessary to develop space technology are often transferable between the space sector and other high value sectors such as automotive, environmental protection, agriculture, maritime and human medicine," he said.
"Irish companies are at the leading edge of innovation and technological developments within the space sector in a range of technology areas," Tom Kelly, divisional manager of Innovation and Competitiveness at Enterprise Ireland, said.