Fears around the impact of Brexit may make it more expensive for Ireland to borrow in 2019, according to the National Treasury Management Agency.
In recent weeks the cost of Irish 10-year bonds has increased compared to the German equivalent, a rise that has not been matched by bond yields in other core euro zone countries.
This suggests that markets now see greater risks around Irish debt than before.
In a statement the NTMA said that, based on feedback, the rise was because investors were increasingly concerned about "Brexit-related developments".
The agency, which manages Ireland's debt on behalf of the State, said it has already met its funding requirements for this year but the rise could have an impact as it seeks to raise debt in 2019.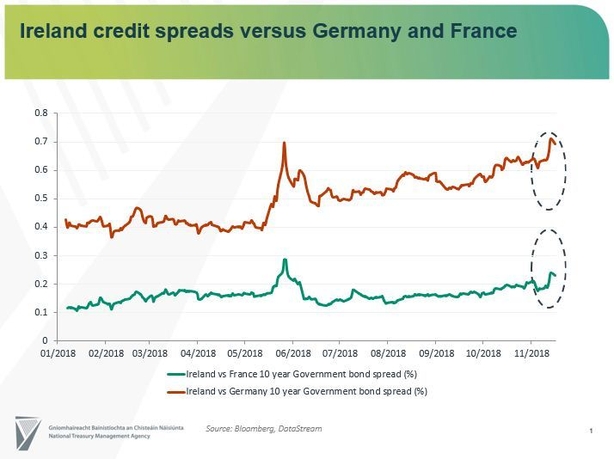 "Irish credit spreads have widened to Germany and eurozone semi-core countries in recent weeks. This has been particularly pronounced over the past week as Brexit risks have come to the fore," said NTMA director of funding and debt management Frank O'Connor.
"While overall interest rates remain low and our credit spreads are tight by historic standards, the recent move in spreads is noteworthy.
"We have completed our funding requirement for this year but Brexit-related sentiment may have more of an impact on our credit spread as we enter 2019".
The NTMA said that the credit spread between Irish and German 10-year yields had recently risen by 10 basis points, bringing it to 65bps. This is its highest level since mid-2017.