The rate at which property prices are growing continued to fall in June and house prices outside of Dublin are still growing at a faster pace than they are in the capital.
Latest figures from the Central Statistics Office show that in the year to June property prices nationally rose by 12%. This compared with an annual increase of 12.4% for May.
However, continuing a recent trend house price growth outside of Dublin continues to outpace that of the capital.
The rate of growth for Dublin in the year to June was 9%, but the rest of the country saw growth of 15.2% over the same period.
In Dublin, house prices increased by 8.4% with apartment prices rising by 12.8%.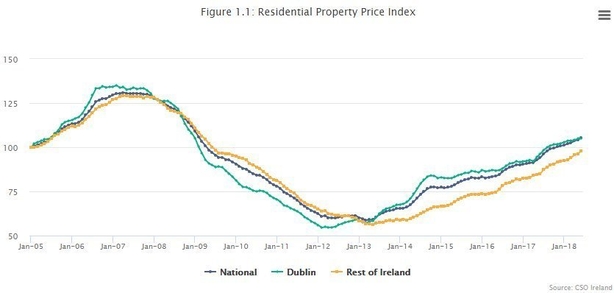 In the capital, the highest increases were in Dublin city (12%), while the lowest rate of price rises were seen in south Dublin (5.9%).
Outside Dublin, the mid-west region showed the greatest price growth in the 12 months to June, with house prices increasing by 22.3%.
The border region recorded the lowest level of price growth for houses at 4.9%.
Apartment prices in the rest of Ireland rose by 20.3% over the same time frame.
The median price paid for a property in Ireland in the year to June was €237,000, with Dublin the most expensive region (€359,852).
Outside Dublin, the highest median prices were in Wicklow (€310,000) and Kildare (€280,000).
The lowest median prices paid for a property in June were in Longford (€92,000) and Leitrim (€95,000).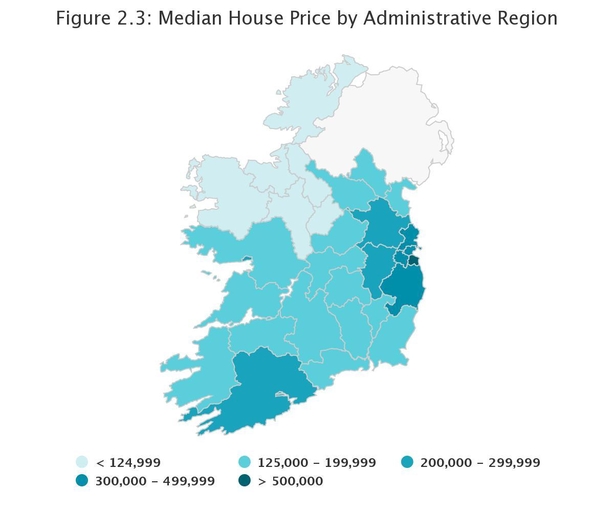 Since the housing market bottomed out at the beginning of 2013, property prices nationally have risen by almost 80%.
Dublin prices have risen by 92.7% since February 2012 and property prices for the rest of the country are 74.4% higher than their 2013 trough.
Despite significant growth in property prices since the financial crisis, Dublin residential property prices are still over a fifth (22.2%) below their February 2007 peak, while prices outside Dublin are almost a quarter (24.2%) lower than their May 2007 peak.
According to the CSO, the number of property sales filed with the Revenue Commissioners in June fell by 2.7% year-on-year to 3,349, while there was a monthly fall of 5.5% between May and June.
Commenting on the figures, Chief Economist with Merrion Captial Alan McQuaid said: "Changes to Central Bank rules mean that in more expensive areas, the trend of increasing house prices will not be as pronounced.
"Previously up to a fifth of mortgages were allowed to exceed a loan-to-income ratio of 3.5. But this has become even tighter this year with only 10% of those trading up allowed to breach that rule.
"The allocation remains unchanged for first-time buyers. Dublin prices will be out of reach for more borrowers as a result, while in other areas where buyers will not need to borrow as much, prices will see stronger growth."