The Central Bank estimates that the banks have made combined provisions of about €900m for what it called the "unprecedented" tracker mortgage scandal.
Central Bank Governor Philip Lane said that in addition to the redress and compensation the banks are required to pay, they are bearing significant administrative costs to conduct the examination in line with requirements. 
Professor Lane was before the Oireachtas Finance Committee today to update members on the scandal where homeowners were overcharged because they were wrongly denied low interest tracker rates by lenders.
"The main lenders have now made combined provisions of circa €900m in respect of the examination, broken down as approximately €600m for redress and compensation and €300m for costs," Professor Lane said.
He added that one lender recently disclosed that it had up to 500 people working on its redress scheme.
The Governor of the Central Bank also told the Committiee that mortgage lenders have been forced to pay out €316m to date in redress and compensation to those affected by the tracker mortgage issue. 
Professor Philip Lane has acknowledged that "it is clear that significant behavioural and cultural issues and challenges in some of the lenders still exist."
"The end-2017 figures show that lenders have been forced to pay €316m in redress and compensation," he said.
"More will follow, as the remainder of the 33,700 customers that were denied tracker products or charged the wrong rates receive redress and compensation and as claims submitted to the independent appeals processes are adjudicated," he said.
"As a result of our challenge there has been a large increase in the numbers of customers between October last and today who will be included in redress and compensation schemes - a further 13,600 customers compared to the numbers in October," he added.
"In short, the examination is delivering for consumers," he stated.
Explainer - how the tracker controversy came about
Professor Lane said that of the initial group of 13,000 customers accepted by lenders up to the end of September, 74% have now received their redress and compensation. 
The majority of the outstanding customers will receive their redress and compensation between now and the end of March, with the remainder receiving payment by the end of June. 
Mr Lane said he was "conscious of the devastating impact that lenders' failures have had on customers, up to and including the loss of their homes and investment properties."
"I acknowledge also that no amount of money will ever fully compensate a person or family for the trauma involved in losing their home," he stated. 
 
He said the Central Bank has heard many distressing personal testimonies from customers who have contacted them and their awareness of the harm caused to so many families has underpinned their drive to ensure that all affected customers receive the appropriate financial redress and compensation.
We will "leave no stone unturned in seeking evidence to support enforcement actions," he added. 
The affected institutions also must repair damaged reputations, Professor Lane said, not only as a result of the original mishandling of tracker mortgages but also due to the partial and delayed engagement of some lenders with the requirements of the Central Bank's probe.
He indicated that it is the Central Bank's view that the vast majority of customers have now been identified.
He said the Central Bank will continue to review, challenge and verify the work undertaken by the lenders and complete their intrusive on-site inspection programme, which is probing lender compliance with all aspects of the examination framework and gathering evidence to support our enforcement activity.  
He acknowledged that it was "clear that significant behavioural and cultural issues and challenges in some of the lenders still exist and that customer interests have not been sufficiently protected or prioritised."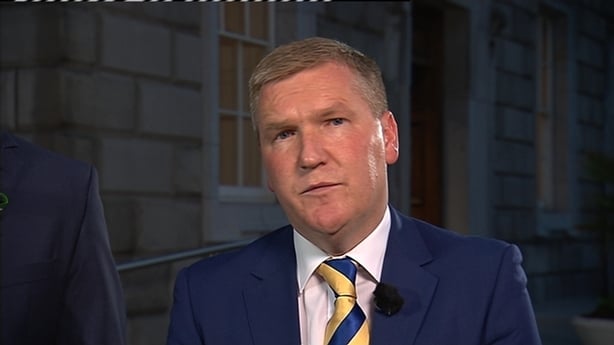 Answering a question from Fianna Fail's finance spokesman Michael McGrath, Professor Lane said the Central Bank is not ruling out that the tracker mortgage numbers could go up.
But he stressed that if further mortgage holders who have been victims of the scandal are identified they will be repaid. 
"We are confirming that it will all be done by the end of June in terms of initial payments. There is an appeals process," Professor Lane said.
Deputy McGrath asked if the Central Bank was satisfied with the level of co-operation from all the lenders. 
Philip Lane said that in the broad scheme of things, he was happy at the macro level. "But at the micro level there is individual niggles. There is back and forth about more minor issues," he added.
Deputy McGrath also asked the Central Bank Governor if there would be individual accountability for the controversy. 
Professor Lane acknowledged that this is a recurrent issue at the committee. "We operate in the legal framework that exists where the threshold for individual accountability is different to institutional accountability," he said.
He said that he does not want to predict what will happen. There is also responsibility on the senior management of the banks to report to the Gardai if they see violation of the regulatory code or criminal law, he added.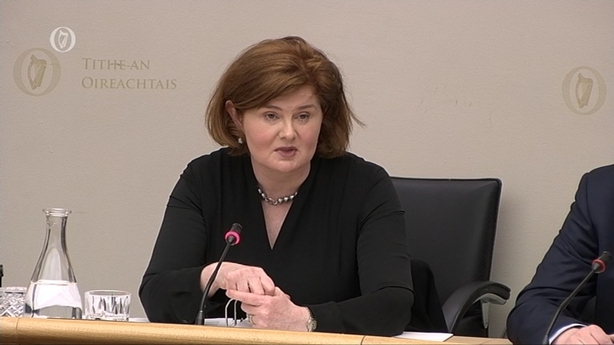 Derville Rowland, Director General of Financial Conduct, told the committee that the Central Bank believes that it is right to bring individuals to task, but added that "you must be able to execute a case". 
She also said that the Central Bank does not go after junior staff as this does not get to the "senior responsible culpable." 
Fine Gael Senator Kieran O'Donnell asked the Central Bank representatives why Ulster Bank were "so much behind the curve" compared to the other institutions on the issue of redress and compensation.
"Ulster Bank are on a timeline and they are following it. They had a target for what to do in 2017," Professor Lane told the committee.
 
Derville Rowland said it was not the Central Bank's practice "to accept sub-standard answers but you can only make a lender do what they are capable of doing, no matter how much pressure you put on them. 
"I would wish this to be different and I can tell you everybody is deadlined to the maximum of their ability to deliver. But I can't make them deliver faster than they or their systems are capable of but what I can do is make sure everybody is timelined," she added.
She said that every lender has been pressed to pay over the money that they owe to affected customers. 
Pearse Doherty, Sinn Fein finance spokesman, said it was "appalling" that Ulster Bank was paying back tracker mortgage customers at a slower rate than other banks.