Tánaiste Frances Fitzgerald has said planning delays in relation to Apple's proposal for a data centre in Athenry, Co Galway have been "very difficult".
Expressing hope that the development would still proceed, Ms Fitzgerald said there was an acute awareness of infrastructural issues that stood in the way of foreign direct investment here.
She said the decision to categorise data centres as strategic infrastructure was an effort to deal with this.
The Tánaiste said the Government would continue to do all it could to ensure Ireland remained an attractive place for such developments.
She said companies were always investing, always analysing markets and always making decisions about where to locate.
Minister Fitzgerald said Ireland had a track record of attracting firms and had successfully attracted Apple.
She said it was in the country's interest to keep working with them for the kind of outcome "everybody hopes to see".
Asked about revelations regarding Apple's tax affairs, which emerged in the Paradise Papers, the Tánaiste said it was clear this was an international issue.
She said Ireland wanted to be "at the leading edge of dealing with these types of taxation issues" but that this had to happen in an international context.
She said the OECD put Ireland to the fore in terms of actions it had taken in dealing with such matters.
EU regulators ask Apple for tax structure details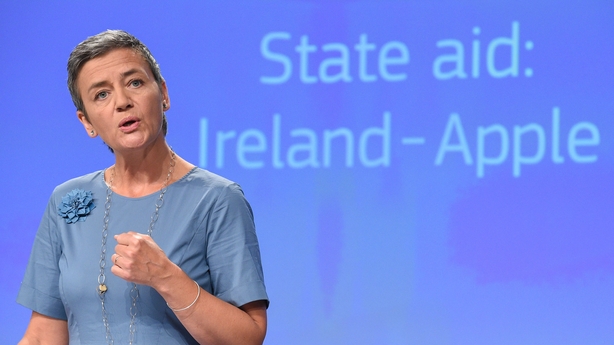 Separately, EU regulators have asked the tech giant for details of its recent tax structure following last year's order to pay back taxes of up to €13 billion to Ireland, Europe's competition chief has said.
European Competition Commissioner Margrethe Vestager had issued the record back-tax bill against Apple in August 2016.
She said she wanted to make sure the company now complies with the bloc's rules which ban unfair state aid.
"I have been asking for an update on the arrangement made by Apple, the recent way they have been organised, in order to get the feeling whether or not this is in accordance with our European rules but that remains to be seen," Ms Vestager told a news briefing.
She made her comments on the sidelines of an international tech summit in Lisbon.
"We are looking into this of course without any kind of prejudice, just to get the information," she said.
Ms Vestager said her request preceded reports based on the Paradise Papers,which showed that Apple shifted key parts of its business to Jersey as an offshore tax haven in a move to maintain a low tax rate.
Apple has said no operations were moved from Ireland.
"We have no contact after the Paradise Papers. We are in the process. There is no particular need," she said.
She also said it was too early to say whether the latest leaks on tax arrangements by companies would lead to any investigation.
"That remains to be seen if we will open more cases after the Paradise Papers," the Commissioner said.
Meanwhile, Sinn Fein's finance spokesperson has said the closing of "double Irish" loopholes in 2014/2015, opened up other loopholes that allowed companies like Apple to benefit to the tune of billions of euro.
Pearse Doherty said the loophole allowed 100% of capital allowance to be set against profit.
He said he believed the then Finance Minister, Michael Noonan, allowed this to happen because he knew there would be a massive onshoring of intellectual property.
Mr Doherty said there were serious questions to be asked as to whether another sweetheart deal has been done with Apple and other multi national companies.