The former head of the World Trade Organisation, Pascal Lamy, has suggested Northern Ireland could become a member of the WTO in its own right, as part of an effort to avoid physical borders on the island of Ireland after Brexit.
Mr Lamy said such a move would require Northern Ireland being given the powers to run its own autonomous customs policy – separate to the rest of the UK – and then choosing to mirror the EU customs regime.
He cited the examples of Hong Kong, Macau and China, which are all part of one country, but which are all individual members of the WTO, operating different customs and trade regimes.
We need your consent to load this rte-player contentWe use rte-player to manage extra content that can set cookies on your device and collect data about your activity. Please review their details and accept them to load the content.Manage Preferences

However he described the idea of not having borders between the UK and the rest of the EU after Brexit as a "fairytale" and "impossible".
As Chef de Cabinet to European Commission President Jacques Delors, he was a key figure in the creation of the EU single market, which has as its core idea the abolition of borders between EU states.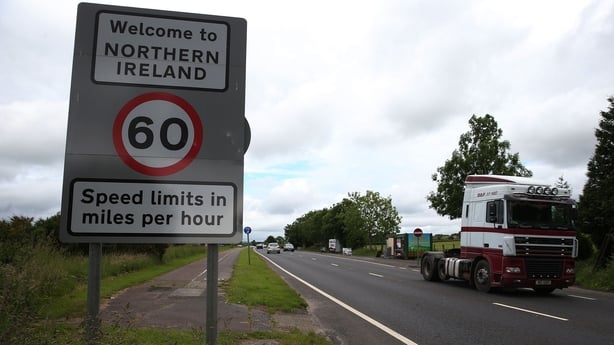 "I personally believe there is no no-border solution – which is why I take issue with the existing consensus in Brussels", he said in a speech at an event hosted by AIB Bank.
He said he disagreed with the view that the Irish border problem could only be sorted out n the context of a UK EU trade deal – "even the best EU-UK trade deal will necessitate a border", he said, adding: "there is no good solution (to Brexit), we only have a choice between bad solutions.
"We have to chose the least disruptive solution: I think putting a border between the North and the South (of Ireland) is not the least disruptive solution.
"Putting a border around the island is less disruptive, as there is a sea in between (Ireland and the UK) anyway. But it is politically difficult, especially with the politics in London today."
He also said he did not believe a Brexit deal can be negotiated in the two year time frame of the Article 50 process.
Mr Lamy said two timelines were needed – one to negotiate a deal, and another to ensure its smooth implementation.
"My guess is that this is five plus five – five for negotiations and five for implementation, starting from June 2016."
As EU Commissioner for Trade between 1999 and 2004, Pascal Lamy negotiated trade deals on behalf of the EU and its member states.
He had also served as Foreign Minister of France, and is considered to be close to new French President Emmanuel Macron.
At the same event the Minister for Foreign Affairs Simon Coveney said that while there has been movement from the British side, it was not enough for the Government here to favour moving ahead with talks on the UK's trade relationship "without more assurances than we have today".
He said negotiating a comprehensive trade agreement between Britain and the EU was simply not possible in a short period of time.
"The idea that two teams are going to negotiate a free trade agreement in six months is not going to happen.
"The best case is that some kind of framework or set of principles can be agreed that will lead to follow on talks to actually solve the problems.
"I'm not aware of any detailed bilateral trade agreement that has happened in six months, particularly not one of this complexity".
He said the EU's chief negotiator, Michel Barnier, was right to say that the negotiation of a trade agreement with the UK will take years.
"Expectations around what is realistically deliverable needs to be tempered. When we hear declarations like we did this week in House of Commons that MPs will be able to vote on Brexit before it takes effect, -  I doubt it as the detail will not be negotiated before Brexit happens", said Mr Coveney.
"What has been promised politically in the UK is simply undeliverable. And the realisation of that has been dropping slow. And the political numbers make the delivery of that message difficult for an already fragile government", he said in a critique of the British government's policy dilemma.
"Leaving the EU cannot result in holding onto to all of the benefits of membership while promising to your people all sorts of goodies - it cannot be done; it will not be done. And that is the fundamental problem here - it cannot be delivered."
Opening the event, the Chairman of AIB, Richard Pym said the State must plan for a "car crash" in case "headbanger" Brexiteers pushing for a hard exit from the European Union get their way.
Mr Pym, who is British and has had a long career in British banking, said Britain's decision to leave the EU was "quite extraordinary" from a business point of view, adding "I can assure you a lot of British businesses feel the same".
An outspoken critic of Brexit, the AIB chairman said the Brexit campaign had made promises it simply cannot keep.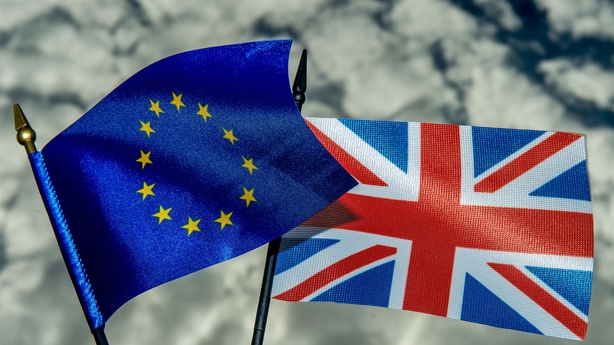 "They promised continued access to single market while controlling immigration, and access to the customs union whilst developing additional trade deals. On immigration, there is ample evidence they can't run the current system - never mind form a new one.
"Their currency has tanked; inflation is increasing; and euro zone growth now exceeds the UK's.
"The macabre irony is that the delay in the implementation of Brexit (announced by Prime Minster Theresa May) means the UK will have to comply with EU rules that they have no hand in making."
The Pro-Brexit point of view was put by British economist Gerard Lyons, a former economic advisor to UK Foreign Secretary Boris Johnson when he was Mayor of London.
Mr Lyons told the conference that being outside the single market was driven by concerns over sovereignty and migration.
Being outside customs union is driven by the economic need to do trade deals.
He said there was an urgency in getting the terms of exit and a new trade relationship wrapped up by March 2019 because of the UK electoral cycle.
This point was attacked by the Minister for Foreign Affairs, who said the terms of the transition period cannot be dictated by the UK's electoral cycle as there were much bigger issues at stake than who wins the next British general election.
He also attacked what he called a "very British perspective" that assumes that when Britain decides what it wants," then that's the way it is going to be – but there are 27 countries involved here - what they want is never a focus of the debate in the UK, never".
---
Comment via Twitter: @seanwhelanRTE