More than 430,000 people will be eligible to receive a GP visit card in a significant development tonight as the Government finalised Budget 2023.
The move will mean that, for the first time, more than half the population will have either a GP visit card of a full medical card.
The change is set to be announced in the Budget tomorrow and it follows extensive discussions between the Minister for Health Stephen Donnelly and his Government colleagues.
Talks agreeing social protection measures in the Budget concluded this evening, bringing the total package of extra spending to around €2bn.
This will include a €500 disability support grant and a €500 payment to all carers.
The monthly Domiciliary Care Allowance is going to increase by €20 while the State pension and weekly welfare payment will increase by €12.
More people are also likely to be eligible to receive the Fuel Allowance under measures which will be announced tomorrow.
A payment of €600 to offset rising electricity bills is set to be paid to every household. It will be paid in installments before and after Christmas.
The Opposition has criticised the plan - insisting that capping bills is a better approach.
A 25% cut to childcare fees from next year is also expected to form a key part of tomorrow's Budget.
Spending increases in the Department of Health are set to include a plan to abolish the €80 adult in-patient charge in hospitals.
A €500 tax credit for renters was also agreed and it will take effect immediately.
The Help to Buy scheme for first-time home buyers is set to be extended for two years following the discussions.
There will be a €1,000 cut to third-level fees this year and a €500 cut for 2023 subject to a family income cap of €100,000 annually.
Small businesses and farms are set to benefit from a new scheme which will pay for 40% of the increase in gas and electricity that businesses are facing, to be capped at a maximum of €10,000 per month per business.
We need your consent to load this rte-player contentWe use rte-player to manage extra content that can set cookies on your device and collect data about your activity. Please review their details and accept them to load the content.Manage Preferences
High stakes budget amid rising inflation
This year's Budget is set to contain a separate cost-of-living package of once-off supports which will be paid before the end of 2022.
It is a high stakes Budget to tackle a level of inflation not seen for decades.
The Government is expected to sign off on a large increase to the point at which the top rate of tax is paid, raising the band to around €40,000.
Double welfare payments soon after the Budget are also anticipated. A once-off payment of €500 for carers of people with a disability is likely to be included.
Parents of primary school children can avail of free school books from next September after Minister for Education Norma Foley secured funding of €47m in the Budget.
The pupil-teacher ratio in primary schools will also drop to 23:1 in 2023.
An extension to the reduction in public transport ticket prices has also been agreed for the duration of 2023, with the measure - a key priority for the Green Party - set to be announced tomorrow.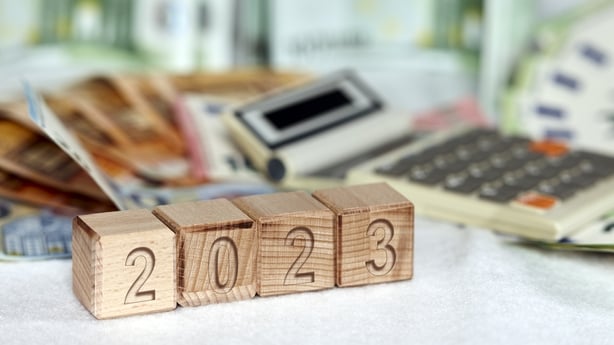 Minister for Children Roderic O'Gorman said people would see "substantial" reductions in childcare costs, adding that childcare is "too expensive" in Ireland.
"Obviously we'll see the figures announced in the Budget tomorrow but that recognition of the very high cost of childcare for families all over the country and how reductions there could make a meaningful impact on families, has always been very much my consideration in these budgetary negotiations," Mr O'Gorman said.
Economic and social analyst with Social Justice Ireland Colette Bennett said that while one-off measures in the Budget would be "welcome", without an increase in social welfare payments, an income deficit will remain.
Speaking on RTÉ's Morning Ireland, Ms Bennett said that everyone is experiencing the knock-on effects of inflation, but those in the bottom 10% - 20% income bracket are "the hardest hit".
"What €208 was buying them last year is now roughly worth about €188, so they've lost €20 in their welfare," she said.
Ms Bennett added that back in 2007 the Government had introduced a benchmark for social welfare payments and at the time it was benchmarked against average earnings.
"What we are looking for is for that benchmark to be reinstated."
She said that at today's rate that would cost €34 extra per week.
Social Justice Ireland has not pushed for a €34 increase, but it is seeking an extra €20, which it said would cancel out the impact of inflation.
Additional reporting: Sandra Hurley