The Government looks set to sign off on a large increase to the point at which people pay the top rate of tax to bring it close to €40,000.
Currently the higher 40% tax rate kicks in on income over €36,800 for a single person.
It is understood Ministers are discussing raising this point by €3,200 with a similar increase for married couples or those in a civil partnership on one income.
The three coalition leaders and the Ministers for Finance and Public Expenditure are meeting this evening to finalise several outstanding measures in the Budget.
On welfare, double payments on many weekly supports are expected to be agreed with these due to be paid soon after the Budget.
A double child benefit payment is also likely to be signed off.
However, the amount of an increase to welfare rates has not yet been agreed with somewhere around €10 possible.
The childcare package has not yet been agreed although Minister for Children Roderic O'Gorman has promised to bring down costs for parents by 50% over the next two Budgets.
Electricity credits amounting to €600 are expected, spread over two or three bills.
For renters, there will be a new tax credit but the precise amount is not clear.
It is understood there may not be tax measures for landlords - something several backbenchers had called for.
An extension to the 20% reduction on public transport fares is expected.
The Green Party has been pushing for this to run for another year.
It is thought unlikely that the VAT cut for the tourism and hospitality sectors will be extended beyond February.
The Help-to-Buy scheme is expected to be extended in its current form.
Minister for Media Catherine Martin has secured €6m to start a new media funding scheme to prioritise coverage of local government and court reporting.
There are also indications that the VAT on print media could be reduced to zero.
Minister for Justice Helen McEntee has secured funding for 800 more gardaí.
It is understood the Department of Health has agreed a budget figure with the Department of Public Expenditure although the amount has not been revealed.
In the Department of Sport, Minister Jack Chambers is understood to have secured funding to enable sports clubs to pay for floodlighting and to cover other energy costs.
There is also €6m to implement the Sport Action Plan, help high performance athletes in run up to 2024 Paris Olympics and to develop a coaching fund.
Start-up grants for Gaeltacht households taking summer college students are to treble from €2,000 to €6,000.
No agreement on social welfare provisions, says Minister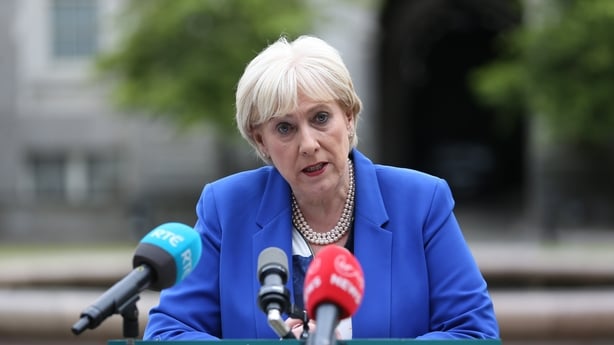 Earlier today, the Minister for Social Protection said that agreement around the social welfare provisions in Tuesday's Budget have not been agreed yet and talks will continue.
Speaking on RTÉ's This Week programme, Heather Humphreys said that a strong package of measures will be put in place to ease the pressures people are facing in terms of the rising cost of living, and that there will also be an increase in the social welfare payments.
However when asked about a €20 increase to core social welfare payments that Social Justice Ireland has advocated for, she said that such an increase would cost over €1.5bn and this would mean less for targeted measures - such as a fuel allowance increase.
The minister said that a €20 increase would be "very ambitious," and would mean that there will not be money left for other measures.
"No matter what we do, it will never be enough," she added.
Minister Humphreys also said that a double child benefit payment is under consideration.
Meanwhile, Social Democrats co-leader Róisín Shortall said that there should be a €15 increase in core social welfare payments and these increased payments should start in October.
Speaking on the same programme, she said that €10 would not "come close to what is required".
Ms Shortall said that the next six months are going to be very difficult for everyone as energy costs continue to increase, but that supports must go to those in need.
She called for the fuel allowance to be increased and extended to those in receipt of the working family allowance.
There also needs to be a targeted approach to cash payments, she said, with those most in need getting the most.
'In the final stages'
The Minister for Public Expenditure and Reform has said he expects Budget 2023 will be concluded in substantive form this evening.
Michael McGrath said he and the Minister for Finance Paschal Donohoe are "in the final stages of putting the finishing touches to the Budget"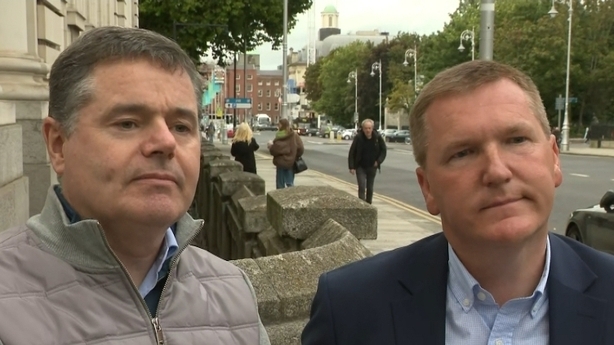 He made the comments as arrived at Government Buildings with Mr Donohoe ahead of a meeting with the Taoiseach Micheál Martin, Tánaiste Leo Varadkar and Minister Eamon Ryan.
"We've been working in concert with the party leaders for a number of weeks and even months at this point, so nothing that we propose will come as a surprise to them," Mr McGrath said.
The Minister for Finance said the Government is "very much aware" of the concerns that people have at the moment in these "uncertain times."
"We do believe we have proposals that will help with the needs of today and also help us with further developments that could take place next year," Mr Donohoe said.
People looking for certainty, says Sinn Féin
Sinn Féin's spokesperson on public expenditure said that people want to know what certainty and help they will see into the winter months.
Mairead Farrell told RTÉ's The Week In Politics programme that a cap on electricity bills would provide certainty for households and is happening across Europe.
SF TD @Farrell_Mairead says a combination of direct cash payments and changes to the USC will benefit people on middle and low incomes by 700 euro if they are on earnings of about 30,000 per year. #budget2023. #rtepolitics #rtetwip. pic.twitter.com/BT24Vsc8qP

— The Week in Politics (@rtetwip) September 25, 2022
She said that Sinn Féin has left a buffer in relation to how much they have allocated for it.
Speaking on the same programme, Minister of State at the Department of Transport, Hildegarde Naughton, said there will be a "substantial intervention" in Tuesday's Budget.
Minister of State @1Hildegarde says a substantial intervention will be seen this Tuesday as the government roles out its #budget2023. Says the budget will be focusing on protecting families. pic.twitter.com/XjbbwuGw0s

— The Week in Politics (@rtetwip) September 25, 2022
She said the Government knows that times are tough and there are huge pressures on people right across the country.
The minister also said that the Government wants to protect as many people as it can throughout the winter period.
Additional reporting Fergal O'Brien