Irish officials will meet senior figures in the European Commission tomorrow to work out mechanisms to avoid a repeat of the Article 16 affair, RTÉ News has learned.
It is understood the Government is anxious that any future EU legislation proposed by the Commission is scanned for any potential impact on Northern Ireland, given its hybrid status under the Brexit Withdrawal Agreement.
The objective is to put in place an alert system so that potential complications caused by Northern Ireland effectively being in two internal markets at the same time are spotted early and avoided.
On Friday 29 January the European Commission caused a major political storm when it sought to trigger Article 16 of the Protocol over an emergency measure to ensure that Covid-19 vaccines had export authorisations before leaving EU factories for third countries.
Article 16 is a safeguard measure which would allow either the EU or UK to suspend certain provisions of the Protocol in circumstances where serious economic or societal issues arise.
RTÉ News understands that new EU legislation will be checked early on to see if it has any implications for the movement of goods between Britain and Northern Ireland.
Where concerns arise, the issue will be channelled through the cabinet of Mairead McGuinness, Ireland's EU Commissioner.
---
Fear and loathing: Return of the Northern Ireland Protocol
---
One example of forthcoming legislation which could have implications is a proposed carbon border tax as part of the EU's Green Deal to bring the bloc to net carbon emissions by 2050.
Officials have speculated if such a tax could mean, in theory, that carbon-intensive goods produced in Britain would incur a tariff when entering Northern Ireland.
Meanwhile, it has emerged that there has been a significant backlash from member states against the letter sent by the UK cabinet office minister Michael Gove to his EU counterpart, Maros Šefčovič, last week in the aftermath of the Article 16 affair.
Diplomats have said the tone of the letter and its demands were unacceptable, with one senior figure saying the letter was "outrageous" and another that national capitals were "incandescent" with anger.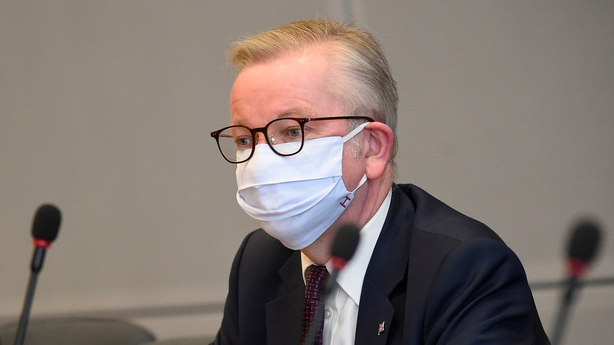 In his letter of 2 February, Mr Gove demanded that the EU agree to sweeping changes to the Northern Ireland Protocol, as well as extensions to two grace periods and facilitations agreed by the UK and the European Commission last December, and endorsed by member states.
Mr Gove said the Commission's proposal, swiftly dropped, to trigger Article 16, had changed the political situation in Northern Ireland, where opposition to the Protocol was building.
However, diplomats have said opposition to acquiescing to Mr Gove's demands was hardening.
"The UK found the perfect pretext for demanding things they intended to demand," said one diplomat, "and on the other hand they're exploiting the moral guilt the Commission had with this [Article 16] play. They're overplaying it. I found the tone of the Gove letter totally outrageous."
Another diplomat said: "Before [Gove] the letter was published there was quite a strong view among member states that the Commission had made a major mistake, efforts will have to be made to clean up after it and so on.  But the Gove letter outraged people.  They were really incandescent."
A meeting of Mr Gove and Mr Šefčovič, who are co-chairs of the EU-UK Joint Committee, is expected in London on Thursday.
In an interview with RTÉ News last week Mr Šefčovič said he believed "outstanding issues" relating to the Protocol could be resolved.  
However, he stressed that the UK also had to meet its obligations under the Protocol and to make use of "flexibilities" the EU had already granted.
Observers in Brussels believe the Gove letter has made it more difficult for the EU to be flexible, and are unclear what can be achieved in this week's meeting.
One diplomat said: "In some ways that letter has been counterproductive. There probably was a growing willingness to look at the situation in a pragmatic way, and the letter has now sort of got people's backs up. People are now more focused on what the British haven't done in terms of their own commitments under the Protocol."
It has also emerged that member states will insist that the European Commission will have to seek a mandate from national capitals before making any concessions to the UK over the implementation of the Protocol.
This is likely to limit Mr Šefčovič's room for manoeuvre in any discussions he has with Michael Gove.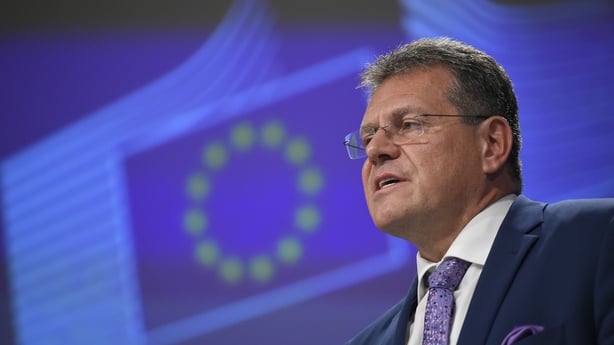 "[The Commission] will have to go to member states first before they take a position," says one diplomat, "and on that basis they can then talk to the Brits.  And not like we have a quick phone call and then to come to the member states and ask them to rubber stamp something that was agreed the week before between Gove and Sefcovic."
The backlash against the Gove letter has coincided with mounting concerns among some member states that the Commission will come under pressure from the UK to grant concessions on the operation of the Protocol, ones that the Irish government may be tempted to support.
"There's a concern that the Commission's interests, those of the UK and those of Ireland might be fairly aligned in this case," says one diplomat, "and that that would lead to compromises which might then be very difficult to swallow for member states."
The Irish Government is in a delicate position, given its expressed desire for a pragmatic approach to the implementation to the Protocol, one that does not amount to wholesale renegotiation.
"Our view is that some additional flexibility is going to be needed, not least because Covid has made it difficult to address the issues, to find alternative suppliers and routes and so on," says one Irish source. "But we'll just have to see."
The ongoing fallout from the Article 16 affair, and the UK government's reaction to it, means a short term reduction of tension between both sides is unlikely.  
British Prime Minister Boris Johnson has pledged to trigger Article 16, or to introduce other, unspecified, legislation to "ensure there is no barrier down the Irish Sea".
British Prime Minister Boris Johnson has said his government would invoke Article 16 of the Northern Irish Protocol if necessary 'to ensure that there is no barrier down the Irish Sea' | Read more: https://t.co/sOn7cUVkvm pic.twitter.com/LxTMnIJ2ky

— RTÉ News (@rtenews) February 3, 2021
Over the weekend the UK's attorney general Suella Braverman told the Daily Telegraph that Mr Johnson would "not let the EU push us around", adding that Mr Johnson "has made it really clear that we're going to do everything that we can, whether that's legislatively, or indeed if it comes to it, invoking Article 16... to ensure that there's no barrier in the Irish Sea."
The DUP has also launched a campaign to scrap the Protocol altogether and has vowed that small tweaks to how it is implemented will not be acceptable.