RTÉ News has learned that Britain has been asking Ireland to intercede with the European Commission to be more flexible on the implementation of the Northern Ireland Protocol, despite reports that the UK is intending to override key aspects of the protocol.
In return for help, the UK has offered to help Ireland with the issue of the UK land bridge.
The offer has been made via official contacts in recent months. However, Irish sources say they have treated the offer with caution.
The Northern Ireland Protocol is part of the Brexit Withdrawal Agreement and means that Northern Ireland will operate under the EU's customs and single market rules.
As such, goods moving from Great Britain to Northern Ireland will be subject to a range of checks and controls and customs formalities as those goods will effectively be entering the EU single market from a third country.
According to a number of senior sources on both sides, London has asked Dublin to urge the European Commission to permit a range of flexibilities on how the checks and controls might be applied.
In return, London has said it would be willing to make it easier for Irish truck drivers to move goods across the UK land bridge from 1 January next year.
Some 80% of Irish exports to the EU rely on the UK land route to European ports via Dover and other exit points.
However, once the Brexit transition period ends in January, Irish hauliers run the risk of being entangled in long queues at British ports, as UK drivers will for the first time have to undergo checks and controls, including customs formalities, when crossing to the EU.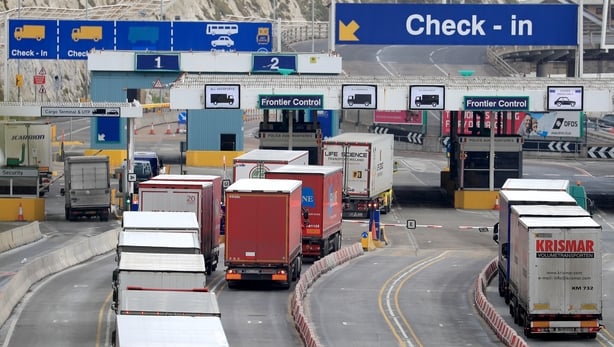 The EU has recognised Ireland's difficulty in using the land bridge, and member states have formally asked Michel Barnier, the EU's chief negotiator, to take account of Ireland's unique geographical position when negotiating a future trading relationship with the UK.
However, the issue has not yet been to the forefront of the EU-UK negotiations.
It is understood that Britain has sought Dublin's help on aspects of the protocol that are the most sensitive to unionists.
In particular, officials have asked the Irish Government to persuade the European Commission that checks and controls on consignments of food destined for Northern Irish supermarket chains should be carried out at depots within Great Britain, rather than at Northern ports.
They have also asked Dublin to push for checks on live animals to happen at abattoirs, rather than at the Port of Larne.
Under the protocol, so-called Sanitary and Phytosanitary (SPS) checks and controls on food and agri-food products coming in from Great Britain will require the building of Border Control Posts (BCPs), which in turn must be authorised by the European Commission.
This has presented problems for the British government, which has long sought to underplay the extent of the checks, and the infrastructure needs, because of their sensitivity to unionists.
Senior sources have said that while the Irish Government is sympathetic to the need for a pragmatic approach to how stringently EU rules need to be applied at Northern ports, they have nonetheless taken a cautious approach to the British overtures.
One reason is that since the Brexit referendum Ireland has resisted adopting a bilateral negotiating track with Britain.
This is because the Irish issues raised by Brexit were handled during the Withdrawal Agreement negotiations by Mr Barnier, on behalf of the 27 remaining EU member states.
Secondly, the Irish Government is wary of getting into a quasi-negotiation with the UK on an issue that both Dublin and the EU believe was already negotiated and agreed.
In essence, says one official, Dublin is concerned that it was being asked to effectively trade its influence with the commission over legal obligations under the protocol to which the UK had signed up.
According to the official: "We won't get in a position where we're teaming up with the British on something and then going back with it to Brussels.
"That's just not how it was done for four years and we're not going to start doing it now.
"We will transparently discuss and explore with the commission and [Mr Barnier's] Task Force whether they'd be prepared to negotiate or explore these ideas, but we won't do it bilaterally, and that still stands."
The EU and UK have set up a Joint Commission to implement the Withdrawal Agreement, including the Northern Ireland Protocol.
Initial reluctance by London to start building infrastructure and put in place the requisite IT systems led to tension between London and Brussels, which lasted several months earlier this year.
The British government has said it will build no new customs infrastructure and denied a request from the EU to allow EU customs and veterinary officials to set up an office in Belfast.
Under Article 12 of the protocol both sides agreed that EU officials would be permitted to oversee, on the ground, the implementation of customs and SPS controls.
European Commission officials say they understand the concerns of the UK over supermarket trade flows.
However, officials insist that any flexibilities must be found within the EU's rulebook and there are concerns in Brussels that the UK is asking the Commission to bend its own rules.
On the land bridge issue, it is unclear what the UK government has offered in return for help with the protocol.
Irish, French, Dutch and Belgian officials have, for over a year, been discussing ways to make the transit of Irish exports to the single market via the land bridge flow as smoothly as possible on the European side.
However, Irish officials admit that asking London to fast-track Irish goods vehicles at UK ports such as Dover, simply because they are moving freight from one part of the single market to another, would be fraught with difficulty.
Some officials have worried about a potentially violent reaction from UK drivers queuing at ports, or even drivers from other EU member states who are returning to Europe having made stops in the UK.
Under international transit rules, Irish trucks would be formally moving their goods in sealed vehicles via the UK, meaning they should not be subject to British checks and controls.
However, that does not deal with the problem of the potential choke point at Dover.
Irish officials say they are unsure of what facilitations might be on offer from Britain on the land bridge, in return for Irish help on the Northern Ireland Protocol.
Sources say Dublin has reservations about the feasibility of some suggestions.
"You could be signing up for something that sounds great in theory, but discover that it's just not possible to operate effectively," says one source.
"If you were guaranteed a fast track that would have some attraction. But we could get resistance from other member states about it, and you would also have to be convinced it would work in practice."
Sources also point out that a significant amount of trade would also move from Northern Ireland to Great Britain via Dublin Port.
These trade flows, too, would be regarded as transit consignments as they would be moving from one part of the UK to another.
It is understood that talks on the issue remain open.