The new EU-UK Withdrawal Agreement leaves an "outside chance" of a future hard border on the island of Ireland, the Taoiseach has said.
Speaking at a post-summit press conference, Leo Varadkar said that the Stormont Assembly could in the future vote to end the customs arrangements and single market alignment. However, he said the move was unlikely.
The Taoiseach said it was a risk worth taking because it was one based on democracy and that he was happy to stand over taking it.
Mr Varadkar said that he was willing to be flexible on a vote by the Northern Ireland Assembly, after British Prime Minister Boris Johnson communicated his strong feeling that there was no democratic means of exiting the previous backstop proposal.
The Taoiseach said unionists in Northern Ireland should not be concerned that different arrangements outlined in the revised Withdrawal Agreement would undermine their place in the UK, and that a change to the constitutional status could only be effected by a democratic vote.
"The Queen will still be the Queen, the pound will still be the pound," he said.
Asked if there was a "Plan B" if the Withdrawal Agreement is voted down in the House of Commons tomorrow, Mr Varadkar told reporters "Plan B is no deal".
"Plan B is no deal, and we're all preparing for that, and we've all been preparing for that since the referendum, but let's hope that doesn't happen," he said.
"Bear in mind this has to be ratified by both the House of Commons and European Parliament, we can be pretty confident it will be ratified in the European Parliament. The House of Commons? We'll see over the next couple of days.
"If the House of Commons does vote yes that will put us in a position to stand down our no-deal preparations, but we won't stop them entirely as there is always an outside chance something could go wrong, so we could stand them down but not abandon them."
Mr Varadkar added that he had hoped the DUP might agree to the deal, but said he was conscious that they do not speak for everyone in Northern Ireland.
Taoiseach says he feared pressure might come from EU to change stance in early part of #Brexit talks, but such calls never came and there was solidarity "the European family when it sticks together is very powerful" - an approach he said should be used in future trade talks

— Colm Ó Mongáin (@colmomongain) October 18, 2019
"At various points you know, I hoped it would be possible for them to come on board, but ultimately they made the decision that they did. I have to respect that," he said.
"They're a political party and they have a right to make their own decisions and decide what they think is best, but I'm also conscious that there are other parties in Northern Ireland too and we should never lose sight of that."
The Taoiseach also said he harboured fears in the early part of the Brexit process that pressure might come from the EU or member states to change Ireland's negotiating stance, but that those fears had proved groundless.
"The call never came", he told reporters. He likened the EU to "the 27 Musketeers, all for one and one for all".
---
Read more:
---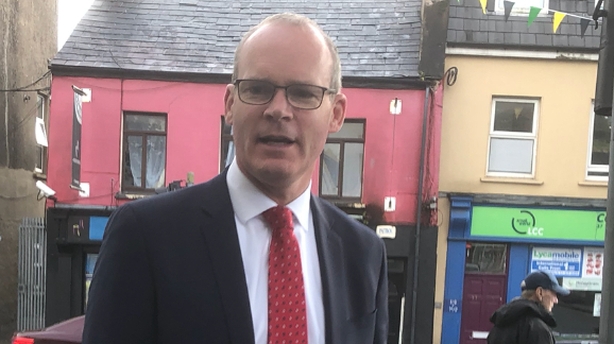 No-deal Brexit far less likely now, says Coveney
Elswhere, Tánaiste Simon Coveney said that a no-deal Brexit is now much less likely than it was a week ago because Mr Johnson had taken ownership of the deal agreed yesterday with the EU.
Speaking in Cork this afternoon, Mr Coveney also said he believes the European Council will "look seriously" at an application from Britain for an extension of the Brexit process, if Mr Johnson loses tomorrow's vote in the House of Commons.
"We have a British Prime Minister that only a number of weeks was saying that he was going to leave the European Union, deal or no-deal, basically saying that a no-deal wasn't so bad," Mr Coveney said.
"I think in some ways that was a negotiating tactic and that's fair enough. But we now have a deal and we have a British Prime Minister who is taking ownership of that deal and wants to sell it as the basis for the United Kingdom leaving the European Union, while at the same time respecting and accepting the unique circumstances of the island of Ireland, that needs a unique solution, which it now has with this deal."
The Tánaiste also pointed out that the British parliament "is showing a strong majority against a no-deal and we have British law saying that a prime minister has to apply for an extension, as opposed to facilitate a no-deal, so there is good reason to say that no-deal is far less likely than it was yesterday or a week ago.
"That being said, we still need to be vigilant and cautious and we still need to be sure that Ireland is as ready as it can be for a no deal to happen, even if that is a lot less likely now than it was before this deal was struck yesterday."
Asked about plans for the island of Ireland should the deal be rejected in London tomorrow, Mr Coveney said: "We have contingency plans in place for all scenarios, from a no-deal, which of course is a worst case scenario, to anything that's better than that.
"But if ratification doesn't happen tomorrow, it's really a matter for the British parliament as to what happens then.
"Certainly, the British Prime Minister will be obliged by British law to apply in writing for an extension until the end of January and he will have to respond to that legal obligation, but what the British parliament decides to do, what they can get a majority of MPs to coalesce behind in terms of approach remains to be seen."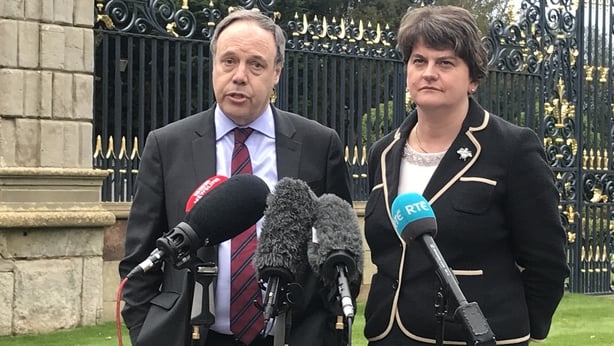 It comes after DUP leader Arlene Foster confirmed that the party's ten MPs will oppose the Brexit deal agreed by Mr Johnson and the EU when it is voted on in the House of Commons tomorrow.
Writing in today's Belfast Telegraph, Ms Foster was critical of the Brexit deal and said Mr Johnson agreed to greater than necessary checks between Northern Ireland and Britain.
She also said that he settled for what she called a "one-sided" consent mechanism involving Stormont.
At the beginning and end of the article in the Belfast Telegraph, Ms Foster stated the DUP wanted to get Northern Ireland moving again.
She also said that the party wanted Brexit to be delivered and devolution restored. 
Ms Foster stated the last three years have been "tough on our public services but also on relationships. The need in Northern Ireland for all sides to work together is great. We cannot allow divisions to keep growing".
Jeffrey Donaldson, the DUP's chief whip at Westminster, said that the principle of consent was "absolutely crucial to us" and he said that some elements of consent in the Good Friday Agreement were done away with and weakened by the Brexit deal.
Speaking on RTÉ's Morning Ireland, he said if there was a change in the relationship between Northern Ireland and the Republic, it required parallel consent and that "is not included in these proposals".
Johnson wants MPs to support Brexit agreement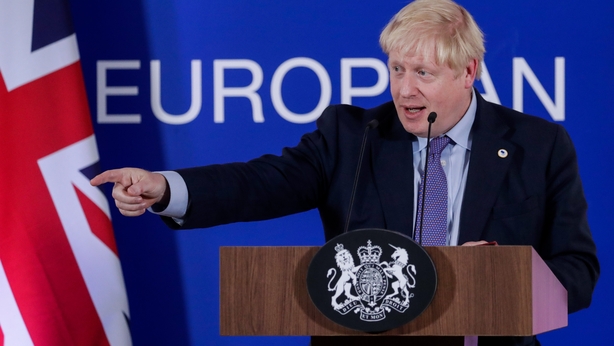 Mr Johnson will spend the day trying to assemble a parliamentary majority behind his Brexit deal. As well as the DUP, all the opposition parties have declared that they will vote against the Withdrawal Agreement.
Mr Johnson will concentrate on three key blocks of votes: hardcore Brexiters within his own party who have voted against all previous deals; Tory rebels who lost the whip for supporting a law designed to stop a no-deal Brexit, and most important of all, Labour MPs from leave-voting constituencies, who feel they must honour the wishes of their own voters above the party line.
Across Westminster, party business managers are engaged in what has been described as medieval levels of whipping to get their members to line up either for or against the deal in tomorrow's vote.
The Labour party's shadow chancellor, John McDonnell, has said that he is against Mr Johnson's deal "because we won't vote for anything that makes our constituents or our country poorer and by any assessment that's what this deal will do".
He added: "It will introduce checks and barriers on our border and it is worse than Theresa May's deal because it removes those commitments that she was willing to offer about a level playing field to protect workers' rights, environmental standards and consumer rights.
"It's a very bad deal ... we can't support it."
The Scottish National Party has tabled an amendment to reject the Brexit deal, demanding an immediate extension to the 31 October Brexit deadline and a general election.
The party's parliamentary leader Ian Blackford, who said Scotland is being "royally shafted", said opposition parties need to "quit dithering, back our amendment, and finally act to bring this appalling Tory government down and stop Brexit".
Additional reporting Tommie Gorman, Conor Kane, PA