European Commission President Jean-Claude Juncker has said he sees no need to delay Brexit following today's agreement, while British Prime Minister Boris Johnson urged MPs to come together and "get Brexit done".
Mr Juncker congratulated Mr Johnson after a deal was finally reached following marathon talks, and said that no further delays to Brexit were now necessary.
"We have a deal, and this deal means there is no need for any kind of prolongation," Mr Juncker told reporters as he welcomed the British leader to EU headquarters ahead of summit talks.
Speaking in a joint press conference, Mr Johnson urged MPs to "come together and get Brexit done", and said the deal agreed was "reasonable" and "fair".
"I do think this deal represents a very good deal for the EU and the UK," he said.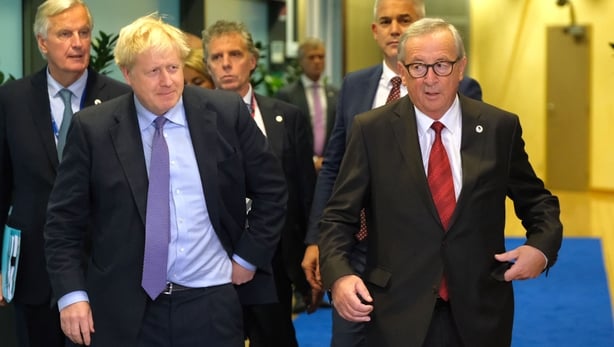 "I think it is a reasonable, fair outcome and reflected the large amount of work undertaken by both sides."
He said the agreement would protect the Irish peace process and allow the whole of the UK to take part in new free trade deals.
Mr Juncker said the deal was "testament to our commitment to finding solutions."
He added: "It provides certainty where Brexit creates uncertainty. It protects the rights of our citizens and it protects peace and stability on the island of Ireland. There will be no border on the island of Ireland. And the Single Market will be protected."
"This deal is not about us, the deal is about people and peace."
"I look forward to continue my conversations with Boris, because we will start the negotiations on the future relations immediately after the deal will have been approved.
"We will start our debates on 1 November, without delay."
He added: "I have to say: I am happy about the deal, but I am sad about Brexit."
Mr Johnson's battle to get the last-minute deal approved by parliament has intensified after the DUP rule out backing the agreement.
He appeared to be directly appealing to the party, saying the deal allowed the UK to leave the bloc "whole and entire".
The deal must still be passed by UK Parliament, and the DUP is standing firm over its objections to his agreement and insisted it would not get their backing.
"I hope very much now, speaking of elected representatives, that my fellow MPs in Westminster do now come together to get Brexit done, to get this excellent deal over the line and deliver Brexit without any more delay," he added.
---
Read more:
DUP insists it will not back Brexit agreement
EU-UK agreement on Brexit deal 'big step forward' - Coveney
More Brexit stories
---