British Prime Minister Boris Johnson has confirmed that he is to table a motion to call for an early general election.
It follows a parliamentary vote in which MPs passed a motion to seize parliamentary time today.
MPs voted by 328 votes to 301 in support of the motion, a majority of 27.
Twenty-one Tory rebels defied the whip to join opposition MPs in supporting the motion.
They will now attempt to pass legislation to force Mr Johnson to seek a delay to Brexit and avoid a no-deal.
Watch: The moment British MPs voted to seize control of parliamentary business #Brexit pic.twitter.com/jqp57ZMYKr

— RTÉ News (@rtenews) September 3, 2019
The move would require the Prime Minister to seek a delay to Brexit until 31 January 2020 if no agreement has been reached, and MPs have not approved a no-deal withdrawal.
Mr Johnson told the Commons: "The consequences of this vote tonight means that Parliament is on the brink of wrecking any deal that we might be able to get in Brussels.
"It will hand control of the negotiations to the EU."
He continued: "I don't want an election but if MPs vote tomorrow to stop the negotiations and to compel another pointless delay of Brexit, potentially for years, then that will be the only way to resolve this.
"I can confirm that tonight we will are tabling a motion under the Fixed-term Parliament Act."
Watch: Boris Johnson says tonight's vote hands control of Brexit negotiations back to the EU pic.twitter.com/FAQ47yrlfq

— RTÉ News (@rtenews) September 3, 2019
Labour leader Jeremy Corbyn said there was no consent in the Commons to leave the EU without a deal and there was no majority across the country for a no-deal.
Mr Corbyn said that if the Prime Minister had confidence in his policy then he should put it to a public vote.
He urged Mr Johnson to get the Brexit delay bill through the House of Commons before trying to get support for an early election.
Earlier, Mr Johnson lost his working majority in parliament when one of his Conservative MPs defected to the pro-European Union Liberal Democrats.
Phillip Lee crossed the floor of the House of Commons just as Mr Johnson began giving a statement on last month's G7 summit.
Welcome @DrPhillipLeeMP – you have joined us at the most crucial time. I look forward to working with you to prevent a disastrous Brexit, and to fight for a fairer, more equal society.

— Jo Swinson (@joswinson) September 3, 2019
"I have reached the conclusion that it is not possible to serve my constituents' and country's best interests as a Conservative Member of Parliament," Mr Lee said in a statement.
"This Conservative government is aggressively pursuing a damaging Brexit in unprincipled ways. It is putting lives and livelihoods at risk unnecessarily and it is wantonly endangering the integrity of the United Kingdom."
---
Read more:

As it Happened: Showdown at Westminster
Johnson set to meet Taoiseach in Dublin on Monday
Judge to decide when to hear Belfast Brexit case
---
Speaking in parliament, Mr Johnson said: "In the last few weeks, I believe the chances of a deal have risen.
"This week, we are intensifying the pace of meetings in Brussels. Our European friends can see that we want an agreement and they're beginning to reflect that reality in their response."
Mr Corbyn said: "The Prime Minister met EU leaders over the summer and the EU Council President Tusk at the G7.
"After these meetings, the Prime Minister struck an optimistic note saying the chances of a deal were, in his words, improving. His optimism was not shared by those who have been at the same meetings.
"The Prime Minister may claim progress is being made, but EU leaders report that the government has so far failed to present any new proposals. Can the Prime Minister clear this up?
"Can he tell us if the UK has put forward any new proposal in relation to the backstop? If so, will he publish them so that these proposals can be scrutinised by parliament and by the public?"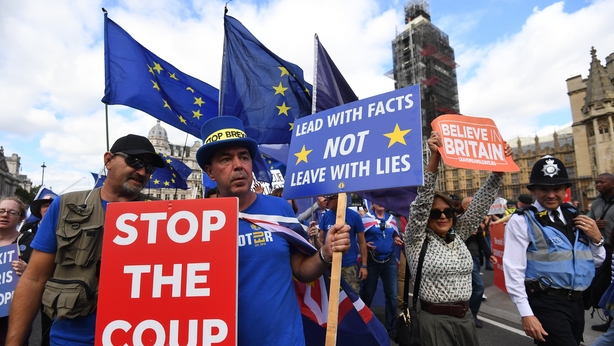 Under the terms of the European Union (Withdrawal) (no 6) Bill, the British government must seek a delay to the UK's withdrawal from the EU until 31 January if there is no agreement with Brussels in place by 19 October and parliament has not approved a no-deal Brexit.
Fears of an abrupt 'no-deal' Brexit were rising elsewhere. The European Commission said such a scenario was a "very distinct possibility" and French Foreign Minister Jean-Yves Le Drian said it was the most likely scenario.
In Ireland, US Vice President Mike Pence called on both Ireland and the European Union to "negotiate in good faith" with the UK on Brexit.
Mr Johnson was also accused of attempting to destroy the Conservative Party as Tory rebel MPs vowed to defy threats of deselection and vote to block a no-deal Brexit.
Former chancellor Philip Hammond accused Downing Street of "rank hypocrisy" and warned of the "fight of a lifetime" if officials attempt to prevent him from standing at the next general election as a Conservative candidate.
Dominic Grieve, who served as attorney general in David Cameron's government, said threats made this week to withdraw the whip from any Tories voting against the government demonstrated Mr Johnson's "ruthlessness" in power.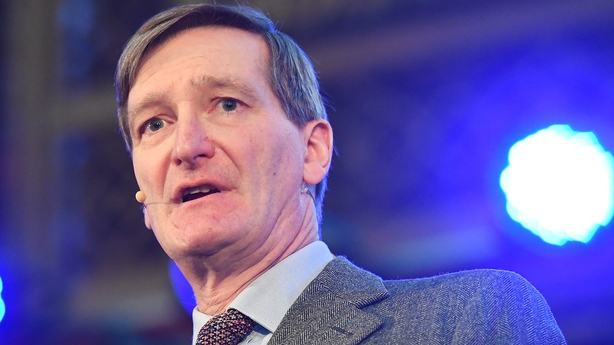 "This is undoubtedly a new ruthlessness on the part of the prime minister and I think for a broad church party like the Conservatives I think it bodes ill for us," he said.
"I simply do not see the Conservative Party surviving in its current form if we continue behaving like this towards each other. This is now becoming a heavily ideological party being led in a way I don't identify as being conservative at all."
Their comments were made after colleague Justine Greening, a former education secretary and remainer, announced her resignation from the Commons at the next election.
She said her fears that the Conservative Party was morphing into Nigel Farage's Brexit Party had "come to pass" and accused the current leadership of "narrowing down" the party's appeal.