Britain's Labour Party has said it will trigger an emergency debate in parliament next week to try to stop Prime Minister Boris Johnson from taking the UK out of the European Union without a withdrawal deal.
Mr Johnson used a parliamentary mechanism yesterday to order the propogation or suspension of parliament for almost a month.
The speaker of the House of Commons, John Bercow, said the move was a constitutional outrage as it limited the time that parliament has to debate and shape the course of British history.
Labour leader Jeremy Corbyn said that as soon as parliament returns from its summer break on Tuesday, his party will initiate a process to legislate against a no-deal Brexit that he said would be damaging for jobs and the economy.
"What we are going to do is try to politically stop him (Mr Johnson) on Tuesday with a parliamentary process in order to legislate to prevent a no-deal Brexit and also to try and prevent him shutting down parliament in this utterly crucial period," Mr Corbyn told reporters.
"This country is in danger of crashing out on the 31st of October with no deal," he said. "We have got to stop that and that is exactly what we will be doing next Tuesday."
Five other opposition parties, including the Liberal Democrats and the Scottish National Party, later issued a joint statement with Labour calling on Mr Johnson to let legislators vote on whether parliament should be suspended.
The prime minister's move to suspend parliament for longer than usual provoked strong criticism from many lawmakers, including some members of Mr Johnson's Conservative Party.
Jacob Rees-Mogg, a Brexit supporter who is in charge of managing government business in parliament, said opponents were making "the candy-floss of outrage" and dared them to do their worst.
There is a small majority against a no-deal Brexit in the Commons, although it is unclear if opponents of Mr Johnson within the Conservatives would collapse his government in a vote of no confidence.
"It does look like next week is essentially the only opportunity that parliament will have to maintain some control over this process and ensure that it has a say before we leave without a deal," former minister David Gauke said.
Mr Johnson's Brexit negotiator, David Frost, was in Brussels for talks with the European Commission yesterday, but Dutch Foreign Minister Stephan Blok said the sides had not managed to bridge divisions.
Johnson hit by resignations amid prorogation backlash
Mr Johnson's administration has received a double blow as Scottish Tory leader Ruth Davidson and a Lords whip quit their posts.
Ms Davidson said she had taken the decision to stand down as she wanted to concentrate her time on her young family.
But she also highlighted "the conflict I have felt over Brexit".
Lord Young of Cookham, a government whip in the House of Lords, was more direct, saying he was "very unhappy" with the prime minister's decision to suspend parliament for an extended period as the 31 October deadline for Brexit looms.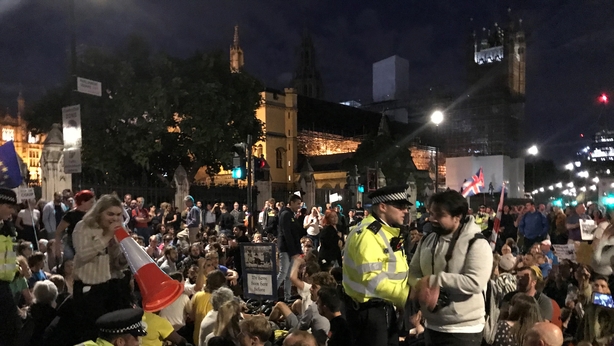 Thousands of people rallied for hours outside Parliament last night, and there were smaller demonstrations in other towns and cities as Remainers reacted to the prorogation announcement.
More than one million people have also signed a petition calling on Mr Johnson not to suspend parliament.
The e-petition on parliament's website gained the 100,000 signatures needed for it to be debated by MPs in just a few hours, and reached a million before midnight.
The petitioners say parliament "must not be prorogued or dissolved unless and until the Article 50 period has been sufficiently extended or the UK's intention to withdraw from the EU has been cancelled".
---
---
Legal challenges against Mr Johnson's decision are mounting, with separate bids launched in London, Edinburgh and Belfast courts seeking an emergency injunction to prevent parliament being suspended.
Barrister Tom Hickman tweeted that anti-Brexit campaigner Gina Miller "has issued proceedings to challenge prorogation. Mishcon de Reya, Lord Pannick QC, Warren Fitt and me acting".
Ms Miller said the Prime Minister was "hijacking the Queen's prerogative power" and using it for "unscrupulous means".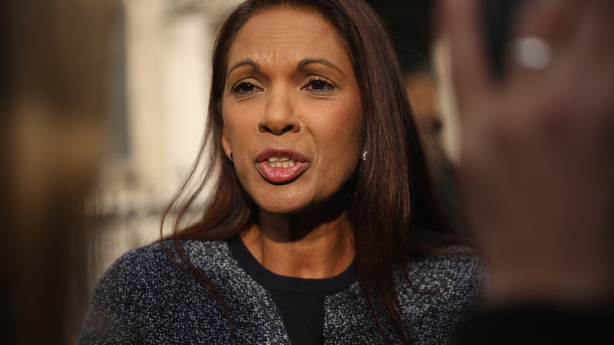 She added: "I think that is what so shocking about this, is that its a very cowardly way of using these powers and constitutional convention.
"Our unwritten constitution is a bit like a gentleman's agreement, and you have to say it's not been used in that manner."
In 2016, Ms Miller launched a successful legal bid, with judges ruling that MPs would have to vote before the government could invoke Article 50 to formally start the UK's exit process from the EU.
A separate bid has been launched by pro-Remain barrister Jo Maugham, director of the Good Law Project, who has filed a motion asking the Scottish Court of Session to suspend the PM request that parliament be prorogued.
Victims campaigner Raymond McCord is seeking an urgent injunction at Belfast High Court, with his lawyers claiming he received assurances that no such assurances would take place ahead of the deadline to the leave the EU.
Mr McCord, whose son Ryamond Jr was murdered by loyalist paramilitaries in 1997, is mounting a wider legal challenge against any withdrawal from the EU without an agreement, claiming a no-deal Brexit would breach the Good Friday Agreement.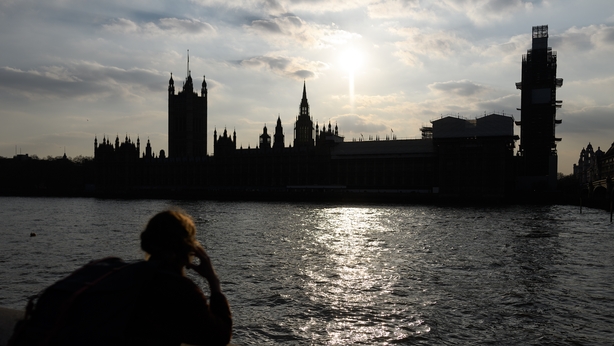 MPs will return to parliament next Tuesday, but just over a week later on 10 September, at the earliest, parliament could be prorogued until 14 October ahead of a Queen's Speech.
The Welsh Assembly will be recalled early to hold a day of debate on 5 September to discuss what First Minister Mark Drakeford called the "constitutional crisis which now faces Wales and the United Kingdom".
The Scottish parliament will sit on Monday, at the end of its summer recess, with a debate on Brexit expected during the first sitting week.
Additional reporting PA