The European Union's chief Brexit negotiator said that the bloc would protect its citizens, businesses and peace in Ireland "in all circumstances".
"Prime Minister Boris Johnson has said that the UK will leave the EU on 31 Oct. In all circumstances, the EU will continue to protect the interests of its citizens and companies, as well as the conditions for peace and stability on the island of Ireland. It is our duty & our responsibility," he said on Twitter.
Minister for European Affairs Helen McEntee has said a no-deal Brexit is more likely given the latest events in the UK.
Yesterday, British Prime Minister Boris Johnson said he wanted to prorogue parliament to bring the current record-breaking session to a close in order to bring forward his government's new legislative agenda.
Speaking on RTÉ's Morning Ireland, Ms McEntee said what has happened in the UK over the last three years is unprecedented with an election, change of government, change of prime minister, policy changes, and votes that have given no greater clarity on what the UK wants.
"The only vote where there has been a majority is to avoid a no deal and yet we now have a prime minister who is suspending parliament for four to five weeks."
She said what is important now is for the Irish Government to remain calm and steadfast.
---
Read More:
Latest Brexit stories
---
"What is absolutely clear to me and to this Government, is for us to remain calm and for us to remain consistent.
"Because throughout all this and throughout all the change we have been flexible and we have adapted as much as we can and there has always been give and take, and we cannot change any further, we cannot change and allow the legal guarantees that we have been given to essentially be wiped clean and replaced with nothing."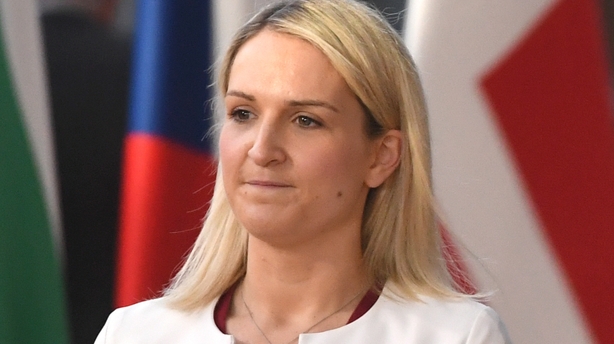 Ms McEnteee said the UK has been asked to put forward proposals that could replace the backstop, but it has not presented any practical alternative.
"What we have looked at is all these possible options, whether it is technology or trusted trader schemes, none of these are acceptable."
She added that all of these ideas have been discussed and talked through the last few years and said they are "not new ideas".
Referring to Mr Johnson's meetings with European Union leaders last week, Minister McEntee said while there are suggestions that the EU is close to a deal and close to changing its mind to the backstop, everyone who met with him has continuously repeated the EU is not going to change its position on the backstop.
Speaking at a event about industry and climate this morning, Minister for Communications, Climate Action and Environment Richard Bruton said Mr Johnson's decision creates a greater risk of a hard Brexit.
"We are not going to get involved in British politics because they have a lot of decisions to make," Mr Bruton told reporters in Dublin.
"Undoubtedly the decisions that they make will have a big impact on us and we need to give them the time and space to do that.
"Very clearly the issue of resolving this is in Boris Johnson's court and we await developments in British politics."
Minister Bruton said it is very difficult to see the "political hyping of the issues" and the "clock ticking away" and a lot of "political positioning" rather than people working on the detail of how solutions can be found.
"I think that is disheartening and it does make the risks greater, that is undoubtedly the case," he said.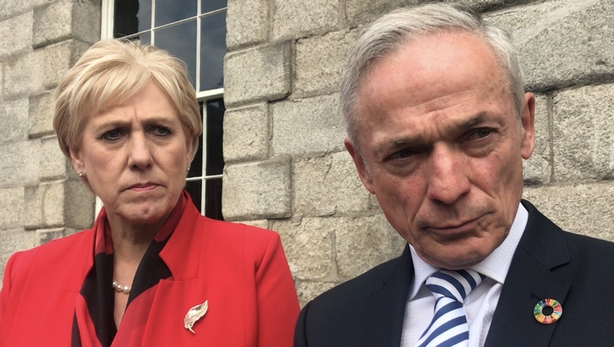 Asked when businesses and farmers would be told about the arrangements for the movement of goods across the border in the event of a hard Brexit, Minister Heather Humphreys said the Government has been telling businesses to prepare for a hard Brexit and businesses know what is needed of them.
"We do not want checks on the border, we have said there will be no checks on the border," she said.
"But there will be checks at some point in terms of protecting the customs union and the single market and we have said to businesses you prepare for the worst possible outcome while we negotiate and continue through the EU to find the best possible solution for Ireland."
She added that there will have to be some checks at some stage and the Government is talking to the EU about that.
"In the meantime we are saying the Withdrawal Agreement is the best possible outcome," she said.
She added that there will be no movement on the backstop.
Asked about a tweet by Minister of State Michael D'Arcy, who compared Mr Johnson's decision yesterday to the actions of Oliver Cromwell, Minister Humphreys said the tweet had been removed.
Additional reporting: Will Goodbody