Five days after Boris Johnson moved into Downing Street, officials are now making preparations for a phone call between the new British prime minister and the Taoiseach.
A Government spokesperson said: "There has been contact at official level and it's expected that the Taoiseach and the PM will speak in the near future."
Speaking as he arrived at the Galway Races this evening, Mr Varadkar told reporters that the talks "won't happen today anyway".
It is expected that Boris Johnson will visit Belfast later this week.
It comes after speculation that there had been a cooling in relations between Dublin and Westminster after Mr Johnson took over from Theresa May.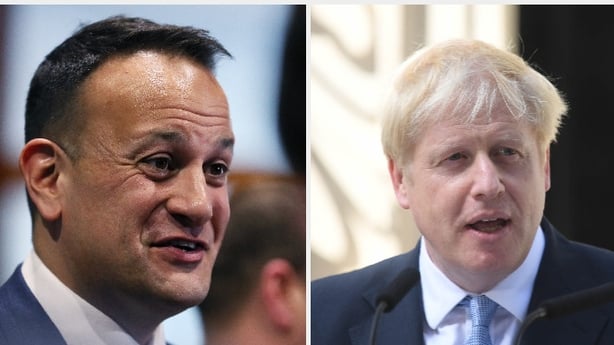 The Sinn Féin leader in Northern Ireland accused the British Prime Minister of being highly discourteous for his failure to engage with the Taoiseach since taking power.
Michelle O'Neill said she made known her views to new Northern Ireland Secretary Julian Smith when she met him in Belfast this afternoon.
She said they had a good conversation with Mr Smith about the potential jeopardy that Brexit could bring.
Earlier, Mr Johnson told European Union leaders he will sit down for Brexit talks when they indicate that they are ready to shift position, otherwise Britain will prepare for leaving without an agreement, his spokeswoman said.
Since becoming prime minister last week, Mr Johnson has spoken to several EU leaders - although not to Mr Varadkar - but has yet to say when he will make his first visits abroad.
"The PM has been setting out to European leaders the position ... that the Withdrawal Agreement with the backstop has not been able to pass parliament on the three occasions it was put in front of parliament. Therefore it needs to change," the spokeswoman said today.
"The Prime Minister would be happy to sit down when that position changes. But he is making it clear to everybody he speaks to, that that needs to happen," she told reporters.
Failure to call is not a snub, says Creed
Minister for Agriculture Michael Creed said Mr Johnson's failure to call the Taoiseach for almost a week after his appointment is not a calculated snub and the two are likely to engage at the earliest opportunity.
Mr Varadkar congratulated Mr Johnson on his election as Conservative Party leader last Tuesday in a Twitter post, but a day later said that Mr Johnson's demand for a new EU withdrawal deal was "not in the real world".
Speaking on RTÉ's Morning Ireland, Mr Creed said: "The UK is our nearest neighbour ... We will overcome the challenges of Brexit and remain on cordial terms with our nearest neighbour. That is an absolute imperative," adding he did not believe Mr Varadkar had been snubbed.
"There will be engagement between the Taoiseach and Boris Johnson at the earliest possible stage and I have no doubt engagements are going on behind the scenes for that to happen," he said.
The British government is stepping up its preparations for a no-deal Brexit as Mr Johnson made his first visit to Scotland to announce a £300 million funding pot for communities in Scotland, Wales and Northern Ireland.
Mr Johnson has set up a network of top-level committees to try to ensure Brexit takes place by the deadline of 31 October.
Speaking before his visit to a military base, Mr Johnson called for a renewal of "the ties that bind our United Kingdom".
"Our union is the most successful political and economic union in history.
"We are a global brand and together we are safer, stronger and more prosperous."
He faces a tense encounter with Scottish Tory leader Ruth Davidson, however, after she announced she would oppose a no-deal exit from the EU.
Downing Street has announced an Exit, Economy and Trade Committee will be chaired by the Prime Minister and meet regularly.
It will "have a broad remit and will handle write rounds", particularly focused on Britain's future relationships around the world.
Backstop must go, says Raab
Britain's Foreign Secretary Dominic Raab said the backstop must go and that £4bn has already been allocated for leaving the EU, with further funds to be set out by the finance minister.
He described Brexit as a "win win" for the UK and the EU.
"We want a good deal with EU partners and friends but that must involve the abolition of the undemocratic backstop," he told the BBC.
"What the prime minister has instructed and the cabinet has accepted is a turbo-charging of those preparations."
Mr Raab said Brussels is "not the only game in town" for future trade deals.
He said he would be reaching out to "all the other countries we want to do business with" while Parliament is in recess.
He said: "I haven't set the firm plans yet, but that will include the US, Latin America, and Asia, because the negotiation with the EU is crucially important and we would love to get a deal that is acceptable to the UK.
"But Brussels is not the only game in town, and the opportunities of Brexit involve many of those growth markets of the future from Latin America to Asia, and we have got a US President who is speaking very warmly about this country."
Asked how he would deal with opposition to no-deal in Scotland, Mr Raab said: "As unionists, we are committed to respecting the democratic mandate of the referendum, which applied do the whole of the United Kingdom, and that was very clear.
"We, of course though, need to make sure that we assure all sectors of the economy and all regions of the United Kingdom, which is why the Prime Minister is up in Scotland today in the first of a series of visits around the Union."
He added: "The mandate certainly wasn't to leave the EU if the EU let us, it was an in/out referendum, and we made clear, those on the campaign, that we should strive for a good deal but, if that wasn't available, that we should go on and make a success of Brexit."
Minister Creed said it was interesting to hear Mr Raab talk about "turbo charging" preparations for a no-deal Brexit, adding that many British politicians and businesses will be alarmed by the prospect.
He added that the EU and Ireland have shown "rock solid consistency" in its approach and the Withdrawal Agreement is the only show in town.
Fianna Fáil's spokesperson on Brexit has said she does not believe that it would serve anyone if the EU was to change its mind on the Withdrawal Agreement and backstop.
Lisa Chambers said the border on the island of Ireland is a European one, which must be protected, but the current backstop is a "British invention".
She added that the requests coming from the UK were very unreasonable and it was disturbing that Mr Johnson has not yet visited Northern Ireland or contacted the Taoiseach.
She welcomed the announcement of funding to help beef farmers in difficulties as a result of Brexit, but said the Government must now make it clear to businesses and farmers what kind of supports they can expect, in the event of a no-deal Brexit which, she said, was a very real possibility.
Additional reporting PA and Reuters