A €100 million fund will be made available to beef farmers experiencing difficulties as a result of Brexit, the Minister for Agriculture has announced.
Michael Creed said the Beef Exceptional Aid Measure, agreed in May, will be jointly funded by the Government and the European Union.
It is aimed at countering problems farmers are facing because of market volatility and uncertainty over Brexit.
In a statement, Mr Creed said he was "keenly aware" that the last number of months have been "very difficult for beef farmers".
He said this fund, combined with the Beef Environmental Efficiency Pilot introduced earlier this year, provides "an injection of up to €120m" to the sector.
Under the scheme, farmers would receive €100 per animal slaughtered between 24 September 2018 and 12 May 2019, with the aid covering up to a maximum of 100 animals per herd.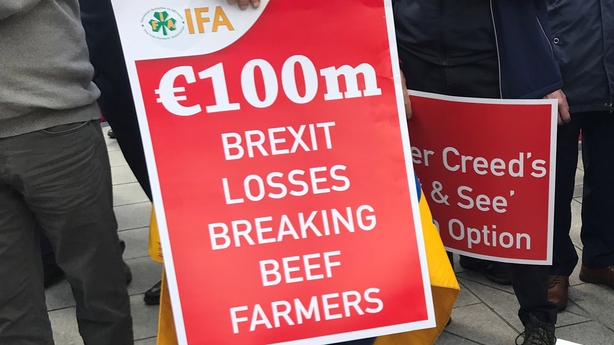 A payment of €40 will also be made on suckler cows that calved in 2018, up to a maximum of 40 suckler cows.
Dairy herds are not eligible for the measure, with the exception of dairy herds of less than 40 dairy cows.
Animals controlled by slaughtering establishments, and dealer/agent herds, are not eligible for the aid.
The scheme will open for applications during the third week of August.
Speaking on RTÉ's Morning Ireland, Mr Creed said that "not a brown cent" from the fund will go to owners of beef factories.
He said he had made a minor provision for small dairy farmers, with fewer than 40 dairy cows, but resisted requests to open the scheme to dairy farmers in general.
The minister said the fund can deliver up to €10,000 per farmer applying and urged anyone who is eligible to apply.
He also said that further supports for the agri-food sector will be needed in the event of a no-deal Brexit.
The Irish Cattle and Sheep Farmers' Association (ICSA) called for the €100m package to delivered to farmers' bank accounts quickly.
The Irish Farmers' Association (IFA) said more money will be needed.
The Beef Plan Movement called on beef farmers to stop trading with marts, meat factories and in their local towns to give people a glimpse of what it would be like if they went out of business.