Sinn Féin President Mary Lou McDonald has said she is very glad that two Sinn Féin representatives were in attendance at the inauguration of Venezuela's President Nicolas Maduro.
His election has been criticised by the EU and America as a fraud.
"We believe the Venezuelan election was open and democratic," Ms McDonald said.
"It's for the people of Venezuela and them alone to decide who their president is."
"There are people in this country who would not endorse Leo Varadkar on the basis that they have endured poverty...we also have to accepted that he is the Taoiseach."
We need your consent to load this rte-player contentWe use rte-player to manage extra content that can set cookies on your device and collect data about your activity. Please review their details and accept them to load the content.Manage Preferences
Asked if she was comparing the legitimacy of Mr Varadkar's election to that of the Venezuelan president's, Ms McDonald said she was simply making the point "that equally here in this democracy you would have people who are very critical of Government of the basis that they are experiencing poverty and that they are having a hard time".
Ms McDonald also said that Ireland is on the path to Irish reunification - "Brexit or no Brexit".
She was responding to comments made from the Northern Ireland Secretary Karen Bradley, who said a no deal would lead to a border poll, as per the Good Friday Agreement.
"I hope there isn't a crash but in the event of that happening there will be an onus on the British and Dublin Governments to seek a border poll," said Ms McDonald.
"I welcome the fact that Karen Bradley recognises you can't have a crash Brexit, with the damage it would entail for this island, and expect Irish people to simply absorb that.
"Brexit or no Brexit we are on the path to Irish reunification," said Ms McDonald.
Sinn Féin refusal to take Westminster seats a tragedy, says Bruton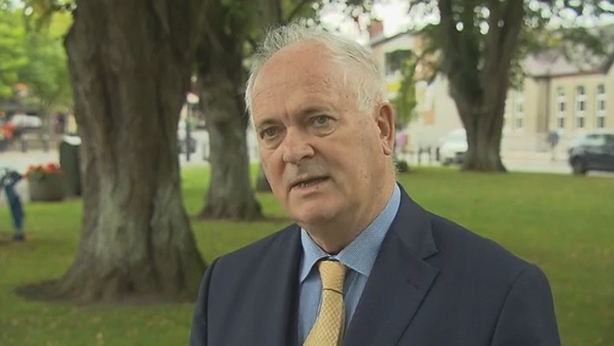 Meanwhile, former taoiseach John Bruton has said Sinn Féin's refusal to take their seats in Westminster and voice their concerns over Brexit is a "tragedy".
He said the voice of Irish nationalism was missing in the debate over the UK's withdrawal from the EU, as he criticised Sinn Féin's "extremely bad" record for not sitting in the House of Commons.
Speaking on BBC Radio 4's Today programme, Mr Bruton said: "I think the record of Sinn Féin MPs not taking their seats in parliament has been extremely bad.
"Ireland was partitioned in 1920 when Sinn Féin refused to take their seats after the 1918 election.
"Sinn Féin have refused to take their seats on this occasion and the most serious threats to the position of Northern nationalists are now about to be realised - with no Sinn Féin, no Northern nationalist voice to argue a different case.
"I think it's a great shame, it's a tragedy."
He also said there would be a hard border between the Republic of Ireland and Northern Ireland if there is no agreement between the UK and the EU.
He said: "There will be a hard border if there is no agreement - that's clear under EU law if you look at the paper that was produced last month by the European Commission - it's quite clear that there will have to be control on the EU's borders and one of those EU borders in the event that Britain leaves the EU will be in Ireland."
And he suggested those opposed to the controversial backstop proposals to avoid a hard border on the island of Ireland do not believe there would ever be an "acceptable agreement".
"One suspects that those who object to the backstop are people who don't really expect there ever will be an acceptable agreement that would avoid a hard border in Ireland or between Ireland and Britain."