European Council President Donald Tusk said he was convinced that the European Union and Britain could still find a compromise over the country's exit from the bloc.
He was speaking after the British Prime Minister said the EU should come up with an alternative to her Brexit proposals, which were rejected by EU leaders in Salzburg.
They said Theresa May needs to give ground on trade and arrangements for the UK border with Ireland.
In a statement this evening, Mr Tusk said: "While understanding the logic of the negotiations, I remain convinced that a compromise, good for all, is still possible.
"I say these words as a close friend of the UK and a true admirer of PM May."
Earlier in a televised statement, Mrs May warned she would never accept a break-up of the United Kingdom, and said that negotiations were at an "impasse".
"It's not acceptable to simply reject the other side's proposals without a detailed explanation and counter proposals," Mrs May said in a televised statement.
"So we now need to hear from the EU what the real issues are, what their alternative is, so that we can discuss them. Until we do, we cannot make progress."
Mrs May said she could not agree to any deal which treated Northern Ireland differently to the rest of the United Kingdom.
She said the UK has "treated the EU with nothing but respect" and "the UK expects the same", adding: "A good relationship at the end of this process depends on it."
"I will not overturn the result of the referendum nor will I break up my country," she told broadcasters in Downing Street.
She also said the best outcome from the negotiations was for the country to leave the bloc with a deal but exiting with no deal would be better than a bad deal.
Mrs May said Mr Tusk did not explain how her proposals would undermine the single market, adding: "We are at an impasse."
Taoiseach Leo Varadkar has said he does not believe that there will be a no-deal Brexit.
Speaking at the National Ploughing Championships, Mr Varadkar said that he is working every day, as well as with other European leaders to avoid a no-deal hard Brexit scenario.
However, the Taosieach warned that Ireland is entering into a rocky passage over the next few weeks in relation to the negotiations.
Mr Varadkar said he is going to be working to secure the deal that Ireland needs before the end of the year, but preferably sooner.
The Department of Foreign Affairs has welcomed Mrs May's statement in Downing Street today, particularly when she confirmed that Britain will bring forward proposals on a backstop.
A spokesman said: "We have been asking the UK to do this since March."
The department has also welcomed Mrs May's reiteration of the UK's commitment on the need to avoid a hard border and that they committed to implementing last December's agreement regarding a backstop in the Withdrawal Agreement.
The statement concluded: "The place for these negotiations to conclude successfully is in Brussels, between the EU task force and the UK team."
May statement receives praise from DUP and disdain from Sinn Féin
Arlene Foster has praised Mrs May for "standing firm" against the European Union.
The Democratic Unionist Party leader also warned the European Union to "stop misusing the Northern Ireland peace process as some form of leverage".
But Sinn Féin President Mary-Lou McDonald dismissed Mrs May's words as "tired rhetoric".
Ms Foster said Mrs May is right to "stand firm in the face of disrespectful, intransigent and disgraceful behaviour by the European Union".
"The United Kingdom will not be treated in such a manner," she said.
"I welcome today's clear statement by the Prime Minister and in particular that Her Majesty's government will not countenance any new regulatory or customs barriers between Northern Ireland and the rest of the United Kingdom."
Ms Foster also repeated her warning that her party will veto any "attempt to undermine the economic or constitutional integrity of the United Kingdom".
"Our red line from day one of these negotiations has been that there can be no border between Northern Ireland and Great Britain," she said.
But Ms McDonald gave a very different reaction, accusing Mrs May of "deflection".
"Theresa May made a statement today which was billed as a major one in respect of Brexit negotiations. It was, regrettably, no more than an exercise in tired rhetoric," she said.
"Rather than accepting that her so-called 'Chequers plan' fails to resolve fundamental issues, Theresa May has engaged in deflection.
"Her focus has unfortunately remained on infighting within her own party and her pact with the DUP, instead of coming to an acceptable negotiating position."
Following yesterday's Salzburg summit, Britain's Brexit Secretary Dominic Raab said some EU leaders had shown unstatesmanlike behaviour in Salzburg and that Britain would not be moved by such moves.
"We've already compromised hugely with the Chequers proposals. We've engaged and we want to hear more about what the real critique of it is and we've got no other credible alternatives on the table," Mr Raab told the BBC.
"What we're not going to do is be salami sliced throughout this negotiation in a typical style that the EU engages in without movement on the other side."
Few diplomats expected any breakthrough from the Salzburg summit as the EU has repeatedly made clear that Mrs May must rework her "Chequers" proposals, which she insisted were the only serious plan.
However, the leaders warned Mrs May that if she does not give ground on trade and arrangements for the Irish border by November, they are ready to cope with Britain crashing out.
---
---
Mr Raab said Britain will set out new proposals to reassure Ireland would not get a "hard border".
However he declined to say whether they would be published before the Conservative Party's annual conference on 30 September.
"One thing we will do is respond to what the EU has said and particularly around the technological approach and we're absolutely clear there will be no customs border down the Irish Sea," Mr Raab said.
The EU has insisted on a backstop clause in any Brexit treaty.
This would keep Northern Ireland under EU economic oversight if London and Brussels cannot agree a trade pact to keep UK-EU borders open after a transition period ends in 2020.
"What we do want to do is resolve that in a sensible way - we've got to come up with a deliverable solution that works for the communities in Northern Ireland and indeed in the republic," Mr Raab added.
'No-deal Brexit unless EU softens position on border'
Britain's Transport Secretary has warned that the UK is heading for a no-deal Brexit unless the EU softens its position on the border on the island of Ireland.
Chris Grayling, who supports Theresa May's Chequers plan which has been rejected by EU leaders, said it was impossible to agree to Northern Ireland having different customs rules from the rest of the United Kingdom.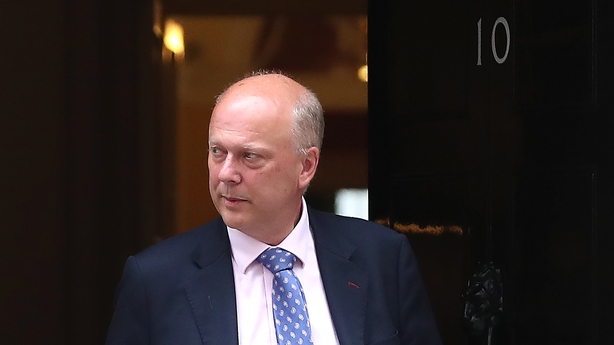 Mr Grayling told the BBC that despite the outcome of the Salzburg summit, he is still confident that an agreement can be reached but warned Britain is preparing hard for a no-deal situation.
He said the UK government would not drop its Chequers plans in the face of "tough" language, adding the EU's demands on Northern Ireland are "impossible" for the UK to accept.
Mrs May now faces calls to abandon the Chequers plan completely from many within her own party who were unhappy with it in the first place.
Her former Brexit Minister David Davis has warned that there is, what he called, a rock solid core of 40 MPs who would vote against any plan reached under Mrs May's Chequers proposals.
The rebellion though would only arise if agreement can be reached first between the EU and the UK.
Meanwhile, Fianna Fáil leader Micheál Martin has said that there should be far more choreography involved at this stage of the Brexit negotiations.
Speaking on RTÉ's The Late Late Show, he said that a no-deal scenario is "calamitous for Ireland, calamitous for Britain and bad for Europe".
Mr Martin said that the focus needs to be on getting a good deal between Britain and the EU in November.
He said: "We need to concentrate and focus on ensuring that a deal gets done in November, and the politics of that is important.
"We are now into the end game of the negotiations; Ireland needs Britain and the European Union to have a good deal."