European Council President Donald Tusk has told British Prime Minister Theresa May she will have to rethink her Chequers blueprint for Brexit, saying the plan will not work in its present form.
Following a working lunch of the remaining 27 EU states at the informal summit in Salzburg, Mr Tusk said that while there were "positive elements" in the Chequers plan, they could not accept any proposal which threatened the single market.
"Everybody shared the view that while there are positive elements in the Chequers proposal, the suggested framework for economic co-operation will not work, not least because it is undermining the single market," he said.
It comes as Britain is set to announce new proposals on the future status of the Irish border in an attempt to break the deadlock in Brexit negotiations.
Speaking at the end of a two-day EU summit in Austria, at which Brexit was high on the agenda, Mrs May said the UK would "shortly" be coming forward with new proposals on the backstop arrangements for implementation at the border if no long-term solution was found.
After what she described as a "frank" meeting with Mr Tusk, Mrs May, who was not present at the lunch, insisted that the plan drawn up at her country residence in July remains "the only serious and credible proposition on the table" for resolving the issue of the Irish border.
She has flatly rejected a European Commission backstop proposal for Northern Ireland to remain within the EU customs area after Brexit, arguing that this would draw a border down the Irish Sea.
Speaking after her meeting with Mr Tusk, she said: "We both agree there can be no withdrawal agreement without a legally-operative backstop.
"But that backstop cannot divide the United Kingdom into two customs territories, and we will be bringing forward our own proposals shortly.
"On the economic partnership, there is no solution that will resolve the Northern Ireland border which is not based on the frictionless movement of goods.
"Our White Paper remains the only serious and credible proposition on the table for achieving that objective."
We need your consent to load this Facebook contentWe use Facebook to manage extra content that can set cookies on your device and collect data about your activity. Please review their details and accept them to load the content.Manage Preferences
Mrs May acknowledged there was "a lot of hard work to be done" to secure agreement on the withdrawal agreement and a political declaration on future trading relations.
But she said: "If the political will is there on the other side, I'm confident we will reach a deal and to do so is in the EU's interests as well as the UK's."
Mr Tusk said the "moment of truth" in the negotiations would now come at the next full European Council meeting in October, when it will be decided whether to hold a special summit in November to finalise the withdrawal agreement.
"In October we expect maximum progress and results in the Brexit talks and then we will decide whether conditions are there to call an extra summit in November to finalise and formalise the deal," he said.
---
Listen: Brexit Republic Podcast
---
Moment of truth for #brexit talks will be October #EUCO. We expect maximum progress and results by then. https://t.co/MTtoEYpVTB pic.twitter.com/GwXBg2HARA

— Donald Tusk (@eucopresident) September 20, 2018
He added: "Today I am a little more optimistic when it comes to a positive outcome of our negotiations.
"Unfortunately we cannot at this stage exclude a no-deal - it depends on both sides of negotiations."
Mrs May said Britain was preparing to leave the European Union without an agreement on the terms of its departure unless there was a proposal it deemed acceptable.
She said that she would only agree to a "backstop" proposal for the Irish border if it worked for the whole United Kingdom.
"If there is no agreement on a deal that is acceptable to the United Kingdom, then we're preparing for no deal," she said.
"I believe we can get a good deal. I believe there is a growing desire to sit down and ensure that we can achieve a deal."
Just spoke to a senior UK official who is worried that the unexpectedly harsh tone towards Chequers in Salzburg could seriously derail incremental but definite progress on the backstop.

— Tony Connelly (@tconnellyRTE) September 20, 2018
Mrs May also said there had been no counter proposal from the EU for a Brexit deal that would be acceptable to Britain.
"There is no counter proposal on the table at the moment that actually deals, delivers on what we need to do and respects the integrity of the United Kingdom and respects the result of the referendum," she said.
Taoiseach Leo Varadkar has said Mrs May told him she would make new proposals on the border but presented nothing in writing.
Mr Varadkar said other states offered him their full support in Brexit talks.
"All of the EU leaders ... gave me their absolute support in standing behind Ireland, saying that an agreement that doesn't work for Ireland, doesn't work for the EU," he said.
"There will be no withdrawal agreement without an Irish protocol."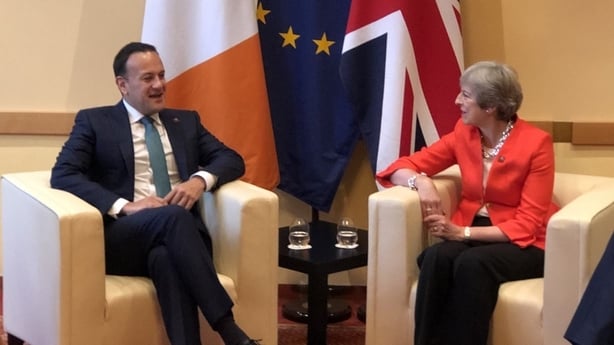 Mrs May's comments come as an Irish Government source earlier described the bilateral meeting between Mrs May and Mr Varadkar this morning as "useful".
However, the source added that Mrs May indicated that she did not think agreement on the backstop would be reached in time for the October European Council.
The source said there was "an open exchange of views" between both sides, with the Irish delegation emphasising that the time was short and "we need to get to the stage where we can consider a legal text" on the backstop.
The source described British proposals so far as "only an outline, and we haven't seen specific proposals from the British side".
Mrs May was "keen to bring negotiations to a conclusions as soon as possible," the source said.
Mr Varadkar and Mrs May held a 40-minute meeting in Salzburg this morning ahead of an informal summit of the 27 EU leaders.
We need your consent to load this rte-player contentWe use rte-player to manage extra content that can set cookies on your device and collect data about your activity. Please review their details and accept them to load the content.Manage Preferences
Following the meeting, Mr Varadkar told reporters that any agreement on the backstop would be between the UK and the European Union, and not between Ireland and the UK.
Asked if Brexit would necessitate either a border on the island of Ireland or on the Irish Sea, Mr Varadkar said there was already a political and a currency border.
He said: "What we want to avoid is any new barriers to the movement of goods, any new barriers to trade, any new barriers to the movement of people.
"Just think of all the people who cross the border every day to work or study. Think of all the businesses who trade across the border.
"That's what we're trying to engineer, a new relationship, so that at least when it comes to those matters it is very much like the one we have now, but that's difficult to do."
The Taoiseach said the UK had yet to put forward written proposals on the Irish protocol, which would contain the backstop, but he said the British Prime Minister was "working hard" on the issue and he described her as "very sincere."
He told Norwegian television: "The EU is very united around our view that we need to protect the integrity of the single market and any agreement on the withdrawal of the UK from the EU, which we can achieve in the next couple of months, must involve an Irish protocol, a guarantee that a hard border doesn't emerge in Ireland.
"I don't think we've made much progress since March. The EU has tabled its proposals which we find workable and legal.
"The UK has yet to table in writing alternative proposals, but PM May is working hard on that. I think she is very sincere and we'll see what they produce."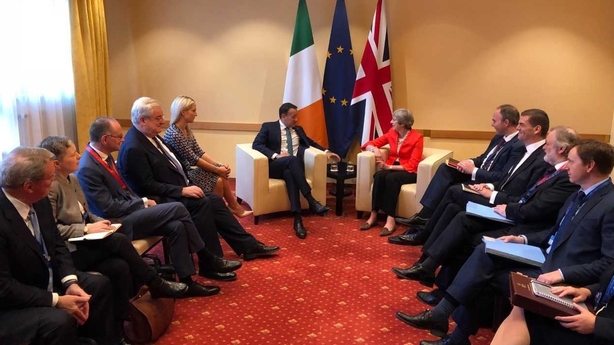 Meanwhile, Tánaiste and Minister for Foreign Affairs, Simon Coveney, has said he believes it is possible for the UK's negotiators to make the significant progress necessary to resolve the Irish border issue, in time for the EU Summit in October.
Speaking on RTÉ's Six One, he said that 90% of the legal text needed for a legal treaty to facilitate the UK leave the European Union in a way that is managed and controlled, has been completed.
He said that the remaining text, which concerns the Irish border issue, was always going to be the most difficult to resolve.
German Chancellor Angela Merkel said that the EU27 were agreed that, "in the matter of the single market, there can be no compromises".
French President Emmanuel Macron said it was unlikely there would be a breakthrough on the backstop during today's summit, but he insisted that the withdrawal agreement had to contain a backstop.
Speaking as he arrived at the summit, President Macron said: "We listened yesterday to Theresa May. We all know the proposal made in Chequers.
"We will have a discussion with Mr Barnier. We have to remain united and consistent with what we want.
"I think Theresa May made some proposals. We have progress. But for sure what we need is a Withdrawal Agreement with the backstop for our Irish friends, and for the integrity of the whole single market."
'What we need is a withdrawal agreement with a backstop for our Irish friends' - @EmmanuelMacron pic.twitter.com/Iub4KB1wVF

— RTÉ News (@rtenews) September 20, 2018
We need your consent to load this rte-player contentWe use rte-player to manage extra content that can set cookies on your device and collect data about your activity. Please review their details and accept them to load the content.Manage Preferences
Last night, at a dinner with EU leaders, Mrs May rejected the European Commission's latest proposals on minimising checks along the Irish Sea in the event of the backstop taking effect.
---
Read more:
'Brexpos' to help businesses get Brexit ready
Taoiseach: No progress in Brexit negotiations on Irish backstop
Theresa May rules out any delays to Brexit
More Brexit stories
---
The differences over the Irish backstop are now coming into starker relief.
The Government and the European Commission are now focusing all their efforts on what is called de-dramatising the backstop.
As reported by RTÉ News yesterday, the EU's chief negotiator Michel Barnier will suggest that of the four categories of checks and controls that would normally apply between the EU and a third country, only live animals and agri-food checks would need to take place at British ports on goods going to Northern Ireland.
The remaining checks, including customs, could be done away from the ports using technology and pre-clearance.
Last night however, Mrs May rejected these proposals, telling EU leaders they were simply not credible and that they would still lead to a customs border down the Irish Sea.
London wants any backstop to be UK-wide as far as customs is concerned, but the EU has so far ruled that out as they see it as a short cut to a long term trading arrangement.
It is understood Mrs May could show flexibility on regulatory checks, as those already take place for live animals. But for the moment London appears to be digging in its heels.
Last night, the Taoiseach suggested that London would have to move, as its proposals on avoiding a backstop were still not acceptable to the EU.
Additional Reporting: Tony Connelly, PA, AFP, Reuters.