Tánaiste and Minister for Foreign Affairs Simon Coveney has said he believes there will be a deal on Brexit, but it will require intensification of the negotiations and that has not happened yet.
He said that there has been no legal text yet from the UK on how the backstop would operate.
Mr Coveney was speaking at the launch of 'Getting Brexit Ready' public events or "Brexpos", four of which will be held around Ireland in October.
He said that the Irish challenges and vulnerabilities on Brexit are being seen as EU challenges and vulnerabilities and it is far too serious to be seen as a bargaining chip.
Mr Coveney said there has never been any suggestion in any of the discussions he has had on Brexit or on taxation that the two should be linked.
He added however that when Britain leaves the EU, Ireland will lose a valuable ally on taxation and globalisation issues.
He said there does need to be flexibility on how to implement border arrangements but there can be no flexibility on ensuring there is no hard border.
The 'Getting Brexit Ready' public events or "Brexpos" will be held in Cork on 5 October, followed by Galway on 12 October, Monaghan on 19 October and Dublin on 25 October.
They are part of a programme to publicise Government supports for businesses as Brexit approaches. 
Speaking at the launch, Minister for Agriculture Michael Creed said he does not want the symbiotic relationship between Britain and Ireland disrupted by Brexit.
He said in the agrifood sector Ireland is Britain's largest export market as Britain is Ireland's. 
Minister for Enterprise and Innovation Heather Humphreys said details of Government supports for businesses will be publicised.
She said a recent survey showed 85% of businesses are taking actions to prepare for Brexit, she said she would like to see that at 100%.
Four "Brexpos" to explain government preparations for Brexit to be held around Ireland in October.  @rtenews pic.twitter.com/COKC32pUY8

— Colman O'Sullivan (@colmanos) September 20, 2018
Meanwhile, the UK's Cabinet Office Minister David Lidington has said he believes the UK and the EU can get to an agreement on the backstop and on the future partnership despite the current difficulties.
Speaking on RTÉ's Morning Ireland Mr Lidington said the UK is trying to be "creative and constructive" in its approach but could not have a customs barrier between one part of the UK and another.
He said the backstop is "the key outstanding element" needing to be resolved.
He said that a lot of important technical and legal agreements are bound up in any agreed backstop and this is the subject of current negotiations.
However, he said any legal text must reflect "all aspects" of the joint report of last December.
Mr Lidington said that the "problem with the Barnier proposal is that it suggested Northern Ireland as a separate customs area to the UK".
This could not happen, he added.
He said the UK has put forward "an alternative customs proposal" which he thinks will work.
Elsewhere former taoiseach Bertie Ahern has said it is essential Ireland keeps the coalition of EU member states behind it and not allow the British to "push and shove" into a future relationship without nailing down the arrangements on the border issue.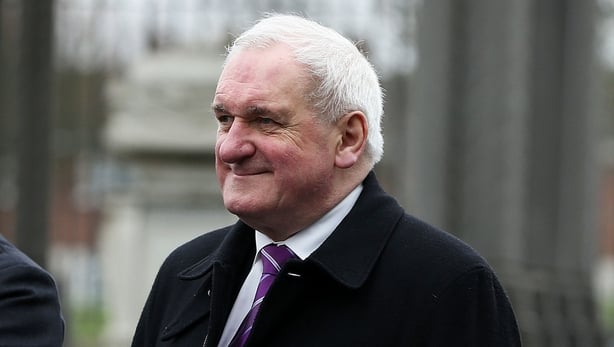 Mr Ahern told RTÉ's Today with Sean O'Rourke that it would be a disaster to allow the UK move to the future relationship and say is a withdrawal agreement until we have "absolute agreement on what happens on the 1st of January 2021".
Mr Ahern said that Ireland may need to make further concessions along the way, adding it is "not unreasonable" that at the point of delivery, for example on the factory floor, that there are proper regulatory checks. 
He said as far as possible Ireland wants a seamless, frictionless border where Northern Ireland is still in the customs union with no obstacles to trade or people moving.
Mr Ahern said he believed the UK wanted to remain in the single market although that is not its stated position.
He said that the UK may also need to make further concessions, but surmised that Theresa May was constrained from changing her position by the upcoming Tory party conference.