Taoiseach Leo Varadkar has said Ireland will have to hire about 1,000 new customs and veterinary inspectors by 2021 to prepare our ports and airports for Brexit.
Speaking after a Cabinet meeting at Derrynane in Co Kerry, he said that "with growing uncertainty" over whether British Prime Minister Theresa May will get a withdrawal agreement through Westminster, Ireland needs to "up our preparations when it comes to Brexit."
He said this includes preparing Irish ports and airports for a change in the rules of trade east-west between Britain and Ireland in January 2021.
"That involves preparing for and hiring veterinary inspectors to carry out sanitary checks on agricultural products and plant-based products coming in from Britain and also customs inspectors," he said.
"We estimate we will have to hire about 1,000 customs and veterinary inspectors to prepare our ports and airports for Brexit."
BREAKING: Taoiseach @campaignforleo has said Ireland will hire 1,000 new customs & veterinary inspectors to prepare our ports and airports for #Brexit . pic.twitter.com/FIEFKHN3yC

— RTÉ Politics (@rtepolitics) July 18, 2018
He added: "In the unlikely event of a no-deal Brexit next March, of course it will not be possible to have 1,000 people in place for then but we will make contingency arrangements in the event that might arise."
However, he said that the main scenario the Government is preparing for is one in which agreement is reached at October's Brexit summit.
The Taoiseach also warned that UK planes could be restricted from flying in EU airspace in the event of a no deal Brexit.
He said the UK could not take back its waters and expect to use EU skies.
"You can't have your cake and eat it," he said.
He added that the Government was also preparing for a situation where "there is a transition period running until the end of 2020, and there is a backstop assuring us that there will be no hard border between Northern Ireland and Ireland."
"That's the central case that we are planning for. But of course behind that we have to prepare for other scenarios like a no deal Brexit," he added.
The Government has also increased resources for Irish diplomats overseas and for Bord Bia to open up new markets around the world for Irish farmers, he said.
Mr Varadkar said €450 million has been set aside for low-interest loans for businesses and the agri-food sector to allow them be prepared for Brexit.
No deal scenario 'very unlikely', says @campaignforleo, 'but yes we have to be prepared for that possibility' #Brexit pic.twitter.com/OdWNcSpOMb

— RTÉ News (@rtenews) July 18, 2018
Speaking on RTÉ's Six One News, Mr Varadkar reiterated his claim that while a no-deal Brexit scenario is unlikely, Ireland has to be prepared for that possibility.
He said preparations for Brexit had begun before the referendum had even taken place.
The Taoiseach said the government had balanced the books and had set up a Rainy Day Fund so that if our economy is affected by an external shock, the country would not face the kind of austerity that they had following the financial crises.
---
Read more: Derrynane House: An apt location for Cabinet meeting
---
It is understoof the Cabinet discussed Brexit for more than two hours at their meeting in Co Kerry.
One source told RTÉ News "there certainly was no panic in the room."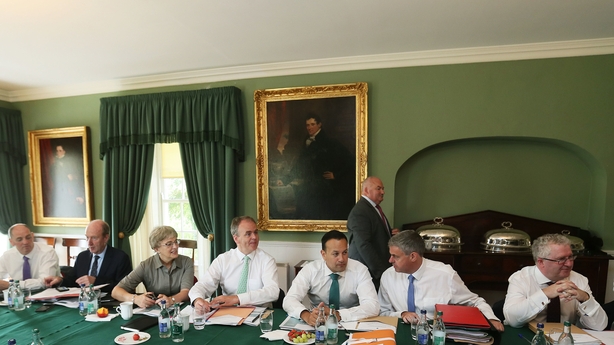 This morning, Tánaiste Simon Coveney said amendment votes over the Brexit White Paper in Westminster this week were "unhelpful".
However, he said that the votes could not determine the outcome of the Brexit negotiations.
On Monday night, MPs in Westminster voted in favour of a law designed to create an independent customs policy after Brexit.
Speaking on RTÉ's Morning Ireland, Mr Coveney said he did not accept that the amendment made the backstop illegal.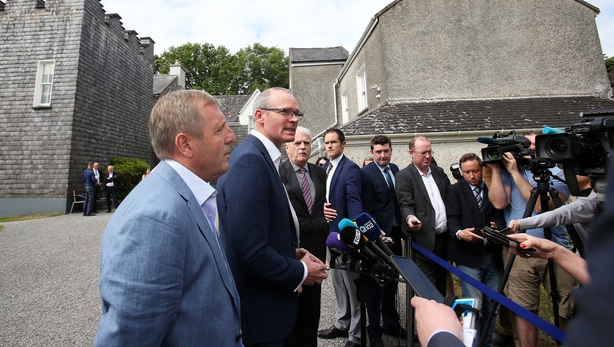 "What we need to do is focus on the white paper that the British government has published and it is up to the British government then to get that through their parliamentary system or get a version of that when the negotiations conclude," he said.
"That is the only way we can work."
He said he believed that what happened in Westminster was an attempt to tie the hands of the British government but he said that legislation could be changed.
The Minister for Foreign Affairs also said the votes were unhelpful as they confirmed how unpredictable it was in terms of how the House of Commons would vote on any final agreements that were negotiated.
He said it was not looking more likely that the UK would leave the EU with no deal. The Tánaiste added that there did not seem to be a majority in Westminster for that either.
Meanwhile, Sinn Féin leader Mary Lou McDonald has said that the Taoiseach must clarify that the backstop is still a contingency plan if there is no deal on Brexit between the UK and EU.
She said that the Taoiseach needs to clarify that the backstop will not be diluted or unpicked and that both the Government and EU will stand by it.
Ms McDonald said she wanted clarity that Mr Varadkar is not shifting his position on the matter.
Given the top item on the agenda, the location of this meeting in Derrynane has a deep historical resonance.
It takes place in the ancestral home of Daniel O'Connell, the politician who more than 150 years ago was seeking to break the influence that decisions in Westminster had on Ireland.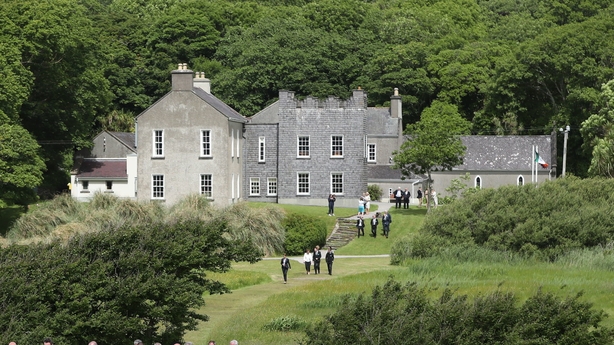 Ironically though, what is happening in London will no doubt frame at least some of today's discussions.
Elsewhere, British Prime Minister is to visit Northern Ireland later this week.
Theresa May will go to a border area tomorrow to hear the views of the business community.  
She is also due to meet the leaders of the political parties and deliver a keynote address in Belfast on Friday.
Additional reporting Mícheál Lehane, Reuters