Áine Kerr takes you through the steps of getting to know yourself better as you continue the journey to reignite your career.
Be Flexibly Stubborn - it's a curious phrase coined by Amazon founder Jeff Bezos when attempting to articulate the need to remain stubborn on a vision but flexible on how to get there. Without a stubborn persistence to your sense of mission, you'll give up too easily, too soon. But if you're not flexible enough, you'll miss out on other solutions and ideas that could help you reach your vision.
But how can you develop flexible stubbornness? You need to know your values, your strengths, the overarching outcome you're seeking, the type of life that you want, and the answer to the question: why do I work? Reignite 1 has three tips to help get you started on being 'flexibly stubborn':
Know your Values
If you're trying to live your values and play to your strengths, you'll have the potential of living a fulfilling life.
The list of values runs to over 200 so we're just giving you a small sample below to get you started. To go deeper, we recommend reading "Squiggly Career" or perhaps seeking out a life/executive professional coach. Figuring out our values and getting real clarity around them is like designing a map to the vision and outcomes that we want.
Have a read of the list and pick out ten values that are most important to you, ranking them in order of importance and considering one over the other. What makes you unique? What drives you? What values get neglected?
If it's helpful, imagine you are going to a strange and possibly dangerous place. What are the ten values you want with you? Have a think about the choices this forces you to make.
Keep this list safe and return to it on occasion. You will constantly change values in and out and change their order - that's normal!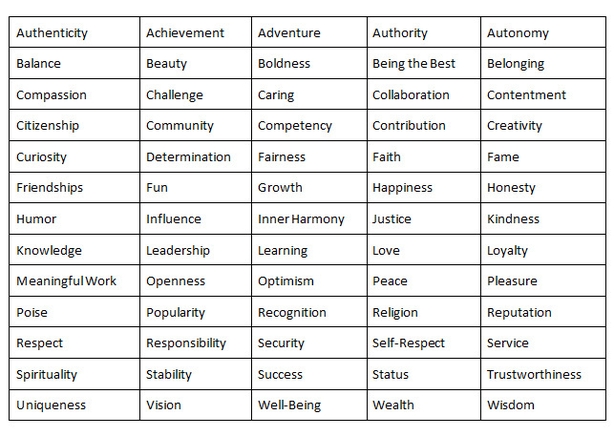 ---
---
Know your Strengths
You'll hear Sarah Ellis speak to the theme of Super Strengths in Reignite 1. She believes strengths are our natural talents and experiences combined. According to Gallup, an American performance management company, people who use their strengths are six times more engaged and effective in their work.
"If your strengths are what you're good at, your super strengths are what you're brilliant at," says Sarah. "Your aim is to use your super strengths as often as possible as work." One exercise Reignite 1 suggests doing is a free survey online with VIA Character. Take a few minutes to reflect on what surprises you, how you can spend more time playing to those strengths.
Fall in love with the problem
You'll hear us talk about this a lot from Reignite 1 to Reignite 5: the importance of problem definition. You can have all the great ideas in the world but if your idea isn't actually solving something people want or need, like a pain point in their lives, or giving them some emotional or functional benefit, then your idea is highly unlikely to succeed.
So, how do you interrogate an idea from the outside-in, from the point of view of people? Get a sheet of paper, write down your idea, but frame it as a problem in the middle of the page. Think about something someone has mentioned to you, an experience you've had that was substandard, a time when you've thought 'what if'.
When I started one startup we had an assumption that people were fed up going to multiple news websites and platforms, constantly scrolling to find something meaningful, and getting irritated at losing passwords or getting a lot of pop up ads. What if you could build one curated, personalised, meaningful news experience?
Next, do the so-called '5 Whys'. You can do this yourself or get a friend to ask you the questions and then write down the answers on the top fold. [Keep the bottom fold for Reignite 2].
Why is this problem occurring? From each of the answers, ask why four times more, using wording from the previous four answers. Done well, you will get to the heart of the problem.
Taiichi Ohno, the architect of the Toyota Production System in the 1950s, was one of the best proponents of the method in order to get to the root cause of problems. Here's one of his examples:
---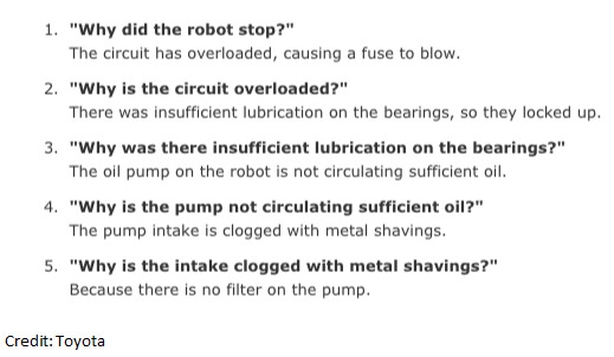 In Reignite 2, we will talk more to the 'how' of getting started.So keep the answers to your 5 Whys. If this whole area of problem definition and design thinking is of interest and you want to go much deeper, check out the D School at Stanford University who provide lots of free materials and tutorials.
---