As the country basks in the sunshine and the suburbs hum with the sound of lawnmowers and birdsong, spare a thought for the tens of thousands of teenagers who right now have other things on their minds, one other thing to be precise.
"My friends have gone to the beach," Fatima Ismail told me over the phone, "and oh my God I just wish I was there".
Fatima is among more than 60,000 17 and 18-year-olds who will begin their Leaving Certificate exams this coming Wednesday.
Alas, no beach for her. But Fatima laughed as she described her frustration. "We are so close to the finishing line, and this is the hardest moment."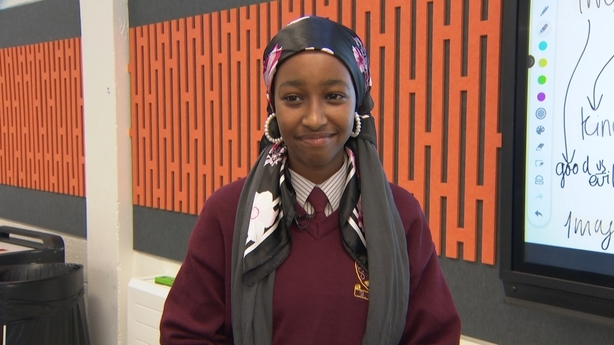 On Thursday at Bishopstown Community School, I met Fatima and five of her classmates in person. The school has set aside a special room for them to study in, during and after school hours. Fatima loves the room and has found studying in the supportive environment of her school reassuring.
"The teachers they are helping us to manage the stress," she told me, "and seeing other people studying, it just helps to calm the nerves I think."
On Thursday, she and her classmate Presley Jeche were revising in a way that I have never seen before.
Standing at an interactive whiteboard they discussed kingship, power, ambition, and gender roles in Macbeth, jotting down quotes and ideas on the whiteboard as they went.
Their classmate Áine O'Mahony, revising separately nearby, joined in from time to time.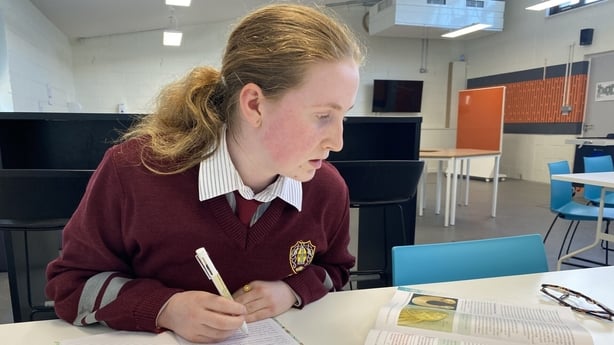 "We are trying to really dig into the themes, and the different characters that are involved," Fatima explained.
It works for both of them. "When we're doing it like this I'm not just thinking my own way, I can hear Presley's way too and we can expand on it way more."
Presley was listening and nodding: "The old way of just using the book and jotting things down, it's really hard to remember things.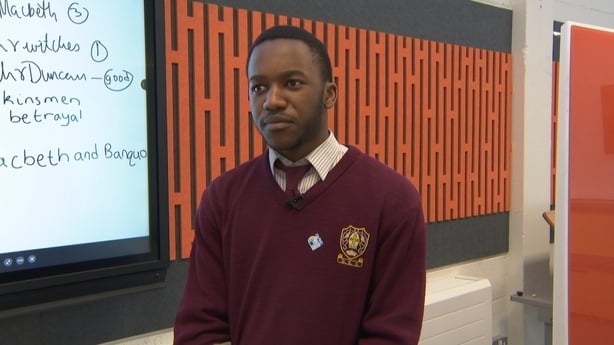 "It's more conversational when you're talking to somebody and discussing something like Macbeth or the comparative, because these are really difficult texts and you have to go in depth," said Presley.
But on Wednesday morning Fatima, Presley, Áine and tens of thousands of other 17- and 18-year-olds will be on their own.
Seated in halls and classrooms across the country, in a series of exams over the coming days and weeks, they will be given two to three hours or thereabouts to prove themselves in English, Maths, Irish and a host of other subjects.
For the more than 60,000 students expected to sit this year's Leaving Certificate exams, this will be an entirely new experience. They have never sat a State exam before; their Junior Cycle exams were cancelled as a result of the pandemic.
We need your consent to load this rte-player contentWe use rte-player to manage extra content that can set cookies on your device and collect data about your activity. Please review their details and accept them to load the content.Manage Preferences
Their school experience was disrupted in other ways too by Covid-19. But they have no reason to worry about any of this now.
It has been taken into account by the authorities in modifications made to this year's exam papers. And the class of '23, like that of last year, has also been promised that steps will be taken to ensure that their results will be in line with last year's. So they don't need to fear any disadvantage compared to previous years when it comes to competing for college entry.
All of the students using the study hub at Bishopstown Community School on Thursday have their own individual passions that they hope soon to be able to pursue.
Rían Ó Luasa wants to become a vet. His face lit up as he talked about work experience on a farm earlier this year and how he helped with birthing lambs.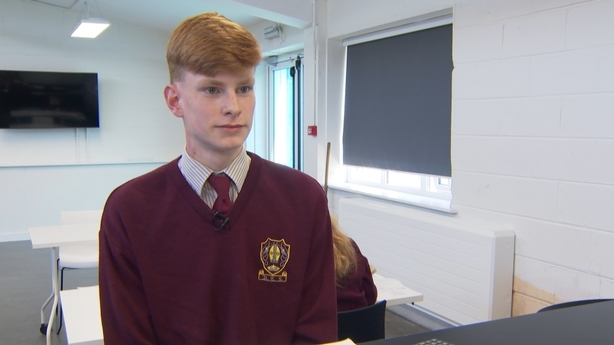 "It's really amazing to see such a new life come into the world and to hold something so young," he said.
Presley has his heart set on medicine. Describing his passion for the science subjects and especially biology he said: "Most of my family has a medical background.
"There's a couple of nurses, a couple of paramedics, but nobody's ever gone that extra mile to be a doctor, so I would love to be the first one."
Fatima has a family background in medicine too - her mother is a doctor - but her involvement on the school's student council has given her a taste for activism and she hopes to study International Relations.
Chrystal Daly is undecided between becoming a paramedic, or studying social care. Even though she has much of her assessment already completed - she studied the Leaving Certificate Applied course - she is still a little anxious about her upcoming exams.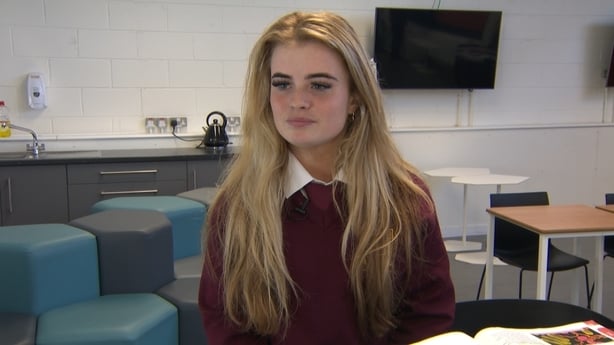 "I'm feeling nervous and excited at the same time, but mostly nervous," she said.
Chrystal is deaf and Irish Sign Language is one her Leaving Certificate subjects.
Debate around the Leaving Certificate often centres on how the pressure to accrue points can narrow the student experience and warp learning, but these students display an approach to their work, and attitudes that seem so healthy.
Marcus Bryan decided to take on Japanese as an additional subject. He taught himself, outside of school, and he has really enjoyed the experience, he said.
So how are his nerves?
"I'm feeling alright, I've done my work coming up to now and I'm on track to get the points that I want so there'll be a squeeze, but I'm sure I'll be fine," said Marcus.
I ask three of these students what one thing would they change if they were Minister for Education right now and all three say that the way Leaving Certificate students are assessed needs to change.
They all want far more continuous assessment and more of a focus on things like project work. In this they are in tune with Government plans for Senior Cycle reform.
"I think it's a bit ridiculous that three years of work go into a two or three hour exam," Marcus said.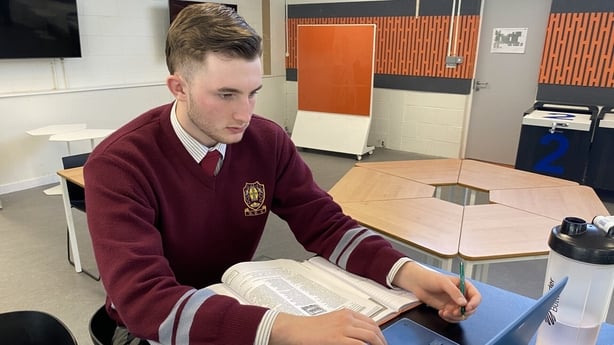 Rían used the example of engineeering. He already has 50% of his marks in the bag in that subject. "So I'm going to go into an exam now in a few days time, but it's only worth 50%," he said.
Áine O'Mahony agreed. "I'd like the work that we do in class to count more towards our final grades, like during Covid.
"I know in my brother's year he had predicted grades and I think that was a lot less pressure for them. So that's something I'd like to see more of."
Áine is feeling the pressure. "I'm just trying to stay calm. I am trying to take breaks, and not to study all the time."
She has already received a proportion of her marks in two subjects, art and music. But while she supports the idea of more continuous assessment Áine does say too that those assessments, held during the year, did cause her a considerable amount of stress. There are no easy answers to this it seems.
Áine has set her heart on languages and music at UCC. Marcus wants to do mechanical engineering.
All of these students are on the cusp of something new and exciting. But there is just this pesky Leaving Certificate to get through first.
"Sometimes I do get a bit nervous, other times I'm feeling OK," Rian said on Thursday. "I think just sitting down and doing a bit of work helps."
Work and breaks - that is what the experts recommend for the coming days.
"I think it's very important that they plan ahead in terms of what time they're going to start studying, and what time they're going to switch off, " says principal of Bishopstown Community School Edwina Gottstein.
"I tell my students all the time that it has to be a balance."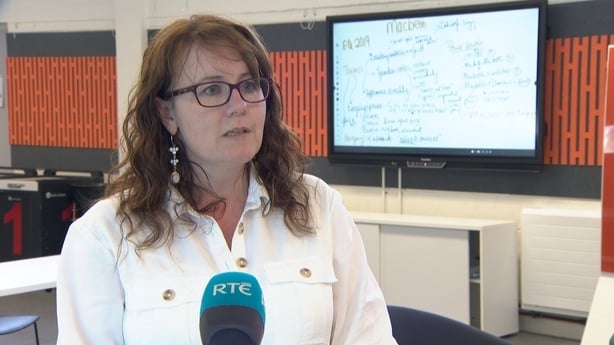 "So spend some time going back over your notes or your exam papers, but also make sure you build in your breaks, and don't get overwhelmed, because when we get a little bit overwhelmed and a bit anxious, we start to panic and our brain won't do the job it's supposed to do," she said.
Edwina also advises students to stay connected with friends and to take "little walks". No hanging out on the beach then? Hmm. Best avoided it seems. "There'll be time enough for that," said Edwina.
Those of us who are older than Fatima and her classmates, and who have been through all this ourselves know that it passes, and quickly. The sound of pigeons cooing in a yard, or children playing outdoors, or some other summer sound will transport so many of us back, vividly, to the days before our own exams when we too struggled to shut 'life' out and focus on revision notes and texts.
We know it will pass.
On the phone yesterday Fatima laughed and sighed in equal measure. "I just have to maintain discipline. This is the hardest moment, but it will be worth it in the end."