This was by far the most explosive set of revelations presented by the 6 January Committee.
Among the standout points from Cassidy Hutchinson's appearance:
Trump knew some 6 January protestors had guns
There may be a link from the Proud Boys paramilitary group to the White House
Top aides Rudy Giuliani and Mark Meadows asked for pardons
The committee thinks they have evidence of witness tampering
And it's not just the shocking tales of a raging Mr Trump attacking his own secret service chief as he tries to seize control of the presidential limo, or the ketchup-stained walls of the White House dining room after a plate-throwing Trump tantrum.
It's the evidence of a legal quagmire that all the president's men were wading through in the days leading up to, including, and going beyond 6 January - evidence that makes it highly likely that some at the top of the Trump White House will face criminal charges.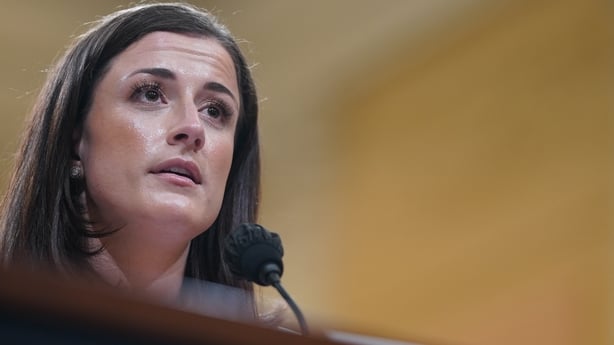 Cassidy Hutchinson was an assistant to White House Chief of Staff Mark Meadows and had an office on the top floor of the West wing, in between Meadows and Jared Kushner, just steps from the Oval Office.
She was an eyewitness to much that happened on 6 January, and the days preceding it.
The 26-year-old Republican activist - a former staffer for Senator Ted Cruz - is now under police protection because of her testimony; a testimony driven by, in her own words, her disgust at the "unpatriotic, un-American - we're watching the Capitol building get defaced over a lie".
She has made four depositions to the committee, the most recent coming just last week. Her testimony, over 20 hours of recordings, were seen as cross-cutting through so much of the committee's work, that they decided to bring her in as a single witness yesterday.
She appears to be a pivot, around which the committee can organise its case. According to one committee member, what she said in public is key to understanding things the committee will lay out in the weeks ahead.
Those presentations will focus more intensely on what Mr Trump knew and did during the crucial period around 6 January.
But Ms Hutchinson's testimony adds to the committee view that the events of 6 January itself was just the tip of an iceberg-sized attempt to subvert the result of the presidential election.
She provided more detail on what key Trump aides were saying about what would happen at the rally of Trump supporters that would take place on the Ellipse, a parkland between the White House and the National Mall, the long museum-lined strip that leads down to the Capitol.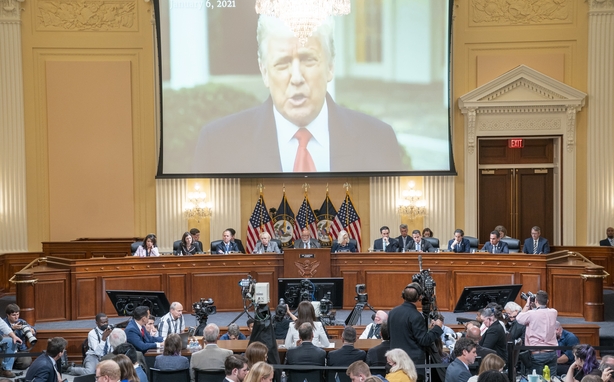 One was Mr Trump's personal lawyer, former New York mayor Rudy Giuliani, who told her on 2 January - four days before the official counting of the Electoral college votes by Mike Pence and the Joint Session of Congress - what would happen.
"Cass, are you excited for the 6th? It's going to be a great day ... we're going to the Capitol. It's going to be great. The President is going to be there, it's going to look powerful," Mr Giuliani said according to Ms Hutchinson.
She also told the committee that Mr Giuliani sought a presidential pardon.
She reported this conversation to her boss, Mark Meadows, who told her "there's a lot going on, Cass, but … I don't know, things might get real, real bad on Jan 6."
Pat Cipollone, the White House legal counsel, and a figure the committee badly wants to hear from, told Ms Hutchinson that they had to stop Mr Trump from going to the Congress for legal reasons. On the morning of 6 January, he told her "we are going to get charged with every crime imaginable" if Mr Trump carried out his plan to march on the seat of Congress.
Ms Hutchinson also said of Mr Cipollone: "In the days leading up to the 6th, we had conversations about potentially obstructing justice or defrauding the electoral count."
During a previous interview with the committee shown on video, she said on 3 or 4 January that "Pat was concerned ... that it would look like we were obstructing what was happening on Capitol Hill, and he was also worried that it would look like we were inciting a riot or encouraging a riot to erupt on the Capitol, at the Capitol."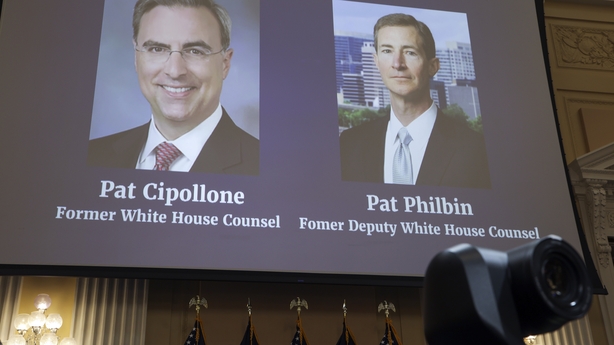 'Somebody is going to get f***ing killed'
In later evidence, she told the committee that when Pat Cipollone told Mr Meadows about the attack on the congress and urged him to tell Mr Trump to call the mob off because "somebody is going to get f***ing killed and the blood will be on your head", Mr Meadows allegedly replied, "he doesn't want to do anything about it."
She reported overhearing part of a conversation in the Oval Office in which reports of the crowd chanting "Hang Mike Pence" were relayed to the president, who allegedly replied that he deserved it.
Mr Cipollone later confronted Mr Meadows over the remarks, saying "we need to do something more - they are literally calling for the vice-president to be f***ing hung." Ms Hutchinson testified that Mr Meadows' reply was "you heard it Pat, he thinks Mike deserves it, he doesn't think they are doing anything wrong."
She told the committee that Mr Meadows asked Mr Trump for a presidential pardon before leaving office. Mr Meadows is not co-operating with the committee, which has recommended that he be charged with contempt of congress.
Mr Cipollone is only partially co-operating with the committee, but they have not, so far, thrown the book at him. He says he is concerned about breaching lawyer-client privilege if he does. But others claim he works for the White House, not Mr Trump personally, so has no conflict.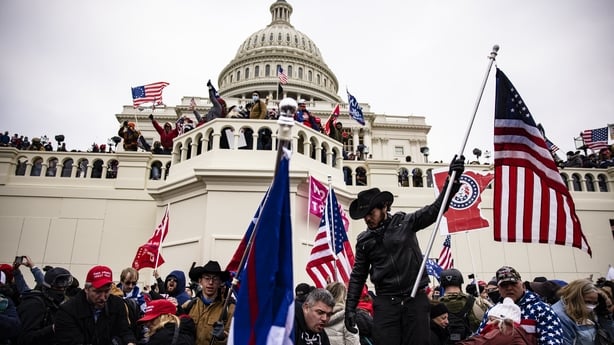 The committee are hoping to coax and squeeze him into testifying voluntarily. From all the testimony so far, it's clear that Mr Cipollone could be critical in standing up - or collapsing - the most serious charges being laid against the former president.
Ms Hutchinson told the committee she heard the names of the paramilitary groups the Proud boys and the Oath Keepers mentioned in the White House in the days running up to 6 January, especially when Rudy Giuliani was around.
Republican Congresswoman Liz Cheney, the deputy chair of the committee, noted that Ms Hutchinson "has no detailed knowledge of any planning involving the Proud Boys for 6 January".
Dozens of people connected to the two organisations have been arrested, and the leaders of the two organisations have been charged with seditious conspiracy.
The committee investigating last year's assault on the US Capitol has heard that former president Donald Trump tried to take the steering wheel from his Secret Service driver in an attempt to join the crowd marching on the Capitol | https://t.co/s1dnps01a8 pic.twitter.com/J2uj8pKzaP

— RTÉ News (@rtenews) June 28, 2022
The committee played audio recordings of police radios from 6 January, showing how officers responded to reports of sightings of men with AR-15 type rifles and "glock-style" pistols on the edge of the crowd trying to get to the Ellipse. One man with a rifle was said to have climbed a tree.
Metal detectors on the entrances to the rally were detecting knuckle-dusters, bear spray, knives, tasers and blunt objects that could be used as weapons being carried by people. Mr Trump was told of these discoveries before he took to the stage to address supporters. According to Ms Hutchinson, he was more concerned about maximising the size of the crowd on the Ellipse.
According to her, Mr Trump said "something to the effect of I don't f***ing care if they have weapons. They're not here to hurt me. Take the f***ing mags away (referring to Magnetometers, metal detectors). Let my people in, they can march to the Capitol from here. Let the people in, take the f***ing Mags away."
Within hours of the testimony finishing, the Secret Service was letting their contacts in the US networks know that the agency wishes to testify under oath about what happened in the motorcade taking Mr Trump away from the demonstration and back to the White House.
One source told ABC News that the Secret Service would deny an assault on one of its agents by the president, and would deny that the president attempted to grab the steering wheel of the vehicle.
"What they said to me is as long as I continue to be a team player, they know that I'm on the team, I'm doing the right thing, I'm protecting who I need to protect, you know, I'll continue to stay in good graces in Trump World"
Donald Trump responded to the allegations made by Cassidy Hutchinson on his own social media platform, Truth Central. He claimed he "hardly knows her" (a common charge Trump makes against insiders who have turned against him).
He said he had personally turned her down when she requested a job with his post-presidency staff at Mar-a-Lago in Florida. Mr Trump implied her testimony was driven by revenge for not getting a job, saying she was "very upset and angry that I didn't want her".
Ms Cheney, closed the session with a veiled warning that it was looking into possible attempts to intimidate witnesses into either not co-operating at all, or of pulling their punches, reading out two extracts from witness statements about "Don Corleone-style" messages they had received.
The first was a phone call that a 6 January witness described receiving.
"What they said to me is as long as I continue to be a team player, they know that I'm on the team, I'm doing the right thing, I'm protecting who I need to protect, you know, I'll continue to stay in good graces in Trump World. And they have reminded me a couple of times that Trump does read transcripts and just to keep that in mind as I proceeded through my depositions and interviews with the committee."
A second witness, according to Ms Cheney, also received a phone call before their deposition.
"Someone let me know you have your deposition tomorrow. He wants me to let you know that he's thinking about you. He knows you're loyal and you're going to do the right thing when you go in for your deposition."
It was this, according to former Trump acting Chief of Staff and Northern Ireland envoy Mick Mulvaney, that is the real bombshell from this session of the January 6 Committee.
Mulvaney also predicts that Mark Meadows will end up co-operating with the committee.